We know you have a lot of questions and concerns about your R-22 AC unit, and we're here to help. In 2015 it became illegal to use hydrochlorofluorocarbons (HCFCs) in the United States. This includes the ozone-damaging refrigerant gas known as R-22 that is often used in refrigeration, heat pumps, and other HVAC systems. R-22 was regularly used in AC systems prior to 2004 and has been phased out since 2010 in many countries. Its prohibition has had a serious impact the HVAC industry and homeowners alike. Here are three important reasons why you should replace your R-22 AC unit right away.
Impact on the Environment
For decades, R-22 has been the most frequently used refrigerant in residential HVAC systems. Because R-22 (also known as HCFC-22 or Freon) has been phased out due to EPA regulations, manufacturers and installers of residential air-conditioning systems are providing replacement products that use more ozone-friendly refrigerants. The new gold standard refrigerant is R-410A, a hydrofluorocarbon that does not deplete the ozone.
While this replacement refrigerant isn't harmful to the ozone, it can still damage the environment if it's not handled carefully or if it's released into the atmosphere. Therefore, replacing your system with a more energy-efficient system that doesn't run on R-22 is better for the environment as well as for your family.
Future Costs
Homeowners have two options: replace their outdated equipment, or use an alternative refrigerant. The cost of alternative refrigerants is increasing as demand goes up. You have a number of things to consider when evaluating these two options, including the age of your current AC system, its overall efficiency, the current condition of your system, and whether alternative refrigerants are even compatible with your existing system. Regardless of which option you choose, the older the equipment and the longer you wait the more it's going to cost you. The good news is there might be tax incentives for installing an energy-efficient system.
Better Efficiency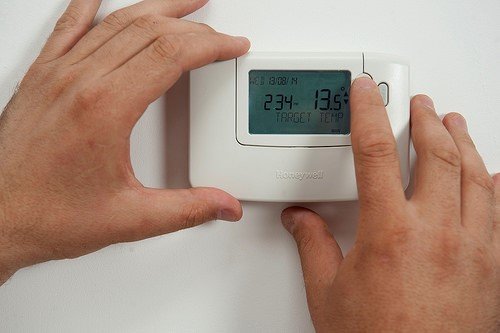 Image via Flickr by CORGI HomePlan
Many manufacturers and HVAC companies warn that using modern alternative refrigerants in modified older AC systems can cause poor equipment performance and increased energy costs. Obviously, increased energy costs are something we all want to avoid. Fortunately, new air conditioning units that use R-410A are energy-efficient. They run cooler than old models, can endure greater stresses, and have less wear and tear.
No one likes the thought of dealing with the hassle of a large household project, especially when that project involves major systems such as your HVAC. Replacing your R-22 AC unit, however, will offer you benefits for years to come. A local qualified HVAC professional can check your unit's refrigerant to determine whether you need to switch from R-22 to R-410A, make recommendations specific to your situation, and provide an estimate of the costs. Replacing your unit now will save energy, help the environment, and ease any anxiety you might have over your HVAC. The longer you wait the more it will cost both you and the planet.