I know that not all places in Germany are as unfriendly to shoppers as they are in Hessen, but one thing I am not a big fan of is being looked at like a crazy person when I go stand in line somewhere because I have a shopping cart full of stuff.
The typical way of grocery shopping in Germany is to buy what you need as you need. This likely stems from many issues here in Germany such as limited availability after the war and before The Wall came down, and more importantly, most people just do not have much space in their home to store staple foods and extra rolls of toilet paper.
In my world, the last thing I want to do 2-3 times a week is stand in line waiting to check-out in a store. Not only do I not have time for it, but I would end up with all sorts of things that looked good but I wouldn't actually need. Not to mention it's a little more time consuming to go shopping with small kids — although a whole lot of fun!.
So in case you would like to cut back on the number of places you go during the week or month to take care of your basic shopping needs, here are a few places that I frequent online and recommend you check out:
Schlecker
Website: www.schlecker.com
You've probably seen their retail stores around, because they seem to have them in even the smallest cities in Germany, but their online store is fully stocked with everything they carry in the stores and much more online. I regularly buy baby stuff (diaper, wipes, creams, food, formula, etc), household goods (paper goods, detergent, cleaners, etc) and cat stuff (food and litter) from them because it's just that much less I need to get elsewhere. I'm not crazy about their selection of paper goods so I prefer to get these elsewhere. But the stuff they carry is still better than no toilet paper at all!
Prices: Comparable to those in their stores and at other retail locations in our area.
Shipping: Minimum order of €15 and only €1.99 shipping. For orders over €75, shipping is free. Always sent via DPD and orders are generally very quickly processed and delivered (well within a week).
Promotions: They love to give away samples in the boxes they ship and there are often other special promotions. For example, earlier this week, I got a free bar of Milka. 😉 There is also some sort of points system called Webmiles, and you can redeem them for all sorts of stuff, including magazine subscriptions.
Schecker
Website: www.schecker.com
Not to be confused with the website above, Schecker is for dog lovers across Germany. They only sell dog products and carry mostly their own brands of dog food which are made just for them. Ayla loves their dry and canned food…and the lung waffles are apparently the best thing she's ever eaten.
Prices: Comparable to name brand foods at Fressnapf with quality ingredients.
Shipping: Flat fee of €4.95, regardless of order size. They ship via DHL and pay absolutely no attention to how heavy the boxes are which can be a problem. But our (super nice) delivery guys always offer to bring them inside if they are too insanely heavy. One of these days, I will call and complain to Schecker for doing this — but I know they're just trying to minimize their own shipping costs.
Promotions: There is some sort of little bag of baked treats in every order which I think is nice, and at Christmas time, they usually give away some sort of free dog toys. They run lots of sales on various items throughout the year but most of the products they promote are totally not interesting to us.
Jako-O
Website: www.jako-o.com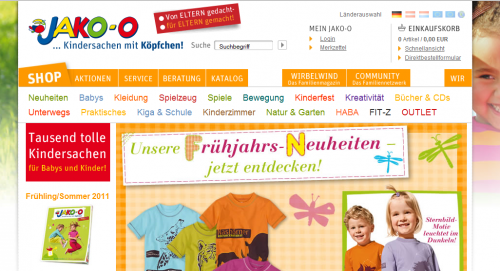 This is a fantastic source for things for babies and children, even though I have no idea if I'm ever pronouncing it correctly. Jako-O is actually owned by the HABA group (you've probably seen their awesome wooden toys before) and Jako-O has some of the most unique and interesting things I've seen in a long while…and so many really cool products to unplug your kids. Mackenzie used to carry around their catalog everywhere she went and would pick stuff out that she liked. Oh, and if you're having a birthday party for kids, they also now offer themed rental boxes of costumes and other supplies parties — €50 will cover up to 12 kids…any more than that and you'll be crazy by the end of the party anyway! They're delivered a day before the party and picked up at your home the day after.
Prices: Unfortunately, their prices on most items are very high. I usually use them for inspiration and then shop around. The one thing that they have great pricing on is their own clothing line.
Shipping: Flat rate of €3.95.
Promotions: They have sales and closeouts throughout the year and if you really look around orbuy stuff in advance for your kids, I'm sure you can find some great deals, especially on clothing.
H&M
Website: H&M Shop
I know this a really international company now and not just relevant to those in Germany. It's one of the few places I actually like shopping at, even though I'm not really all that crazy about H&M's clothing for myself (I'm sure it's because I'm either 10 years too old for the stuff or just not trendy enough), but they have really great kids clothing at fantastic prices. It can be rather hit or miss, because they seem to get a set amount of items for each season. Once certain sizes sell out, that's it and you're just out of luck. That's another reason why I don't end up with much clothing for myself from H&M — because the stuff is usually sold out in my size by the time I get around to shopping for it.
Prices: Competitive with everyone else on most items and quite good for most of their children's clothing. Rarely been disappointed with their quality — but if it's really cheap, there's probably a reason for it.
Shipping: Flat free of €4.90. Everything is delivered by Hermes Versand in plastic bags similar to H&M shopping bags which I think is really creative.    

Promotions: If you purchase something from them, you'll likely end up on their snail mail list, so you'll get seasonal catalogs and 10% off discount coupons from time to time. Sales and closeouts are often announced via their email newsletter.
bofrost
Website: www.bofrost.de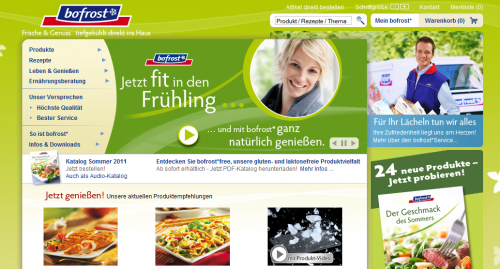 I became a bofrost customer about a year ago and although I find a lot of their foods to be extremely overpriced and just not for us (I buy hardly any pre-marinated or prepared foods), they do have a few things which I just love. Their ice creams and cakes are completely drool worthy…I cannot let the bofrost guy leave without giving us a package of the little ice cream bon-bons…they are heavenly! And I also really like their Mediteranean bread which is a bit like foccacia. Otherwise, we love most of their french fry versions, the frozen parsley (wish they offered more chopped, frozen spices), the cut up frozen veggies (use the julienne style in stir fry all the time.)
Prices: They're not cheap but still comparable to brand name stuff in the store. Plus you can't beat the variety and the fact that they come right to your home.
Shipping: No delivery fees and you receive a flyer every month with a designated day and time range when your bofrost delivery person will visit you. Just give them a list of numbers or the names of stuff you want, they go get it out of their truck, bring it inside for you and pack it into your freezer. Although it kinda creeped me out at first, I totally I LOVE that they do this now!! It doesn't hurt that our delivery guy is super nice.
Promotions: They always have some special item that they suggest to you before they close the sale. It's often some special item for the season and/or wine. We bought some of their wine once but have yet to actually drink it. The bofrost guy says it's great. There are also collect and win promotions from time to time.
Biokiste /Gemüsekiste
If you're not lucky enough to have a market stand in your city or town, there are tons of companies that have popped up which deliver wonderful fresh (and sometimes even organic) vegetables. We have a great little market here locally, but only a small portion of what they sell is produced in this area. The majority of it is still trucked in from all over the place via Edeka wholesale. It's not that the quality is bad or anything; but if I have the choice over local organic tomatoes versus hot house ones from Holland, I'm definitely going for the ones that are local since they'll likely be nicer and have more flavor. That's not to say that everything marked with a "bio" sticker is better — in fact a lot of what they sell in chain stores that is "Bio" I wouldn't touch if you paid me to eat. And it does of course cut down on availability since not everything can be grown year round.
Most of the Gemüsekiste (vegetable box) services offer boxes that they assemble themselves, based on seasonal items. You will often find general, fruit, vegetable, raw eating and other specialty boxes. A lot of them offer not only fruits and vegetables, but also breads, honey, pasta, eggs, meats, and so on. It's like visiting a farmer's market with your fingers.
Just go to google and type in gemüsekiste and your city — I'm pretty sure you'll find several places, assuming you don't live in the boonies.
A few that I know of in the Frankfurt area are:
Paradieschen — In the Main Kinzig Kreis area. Also have a sample box for €15 plus they give you a preview of what will be coming up in the next week's box (veggie, fruit, cheese, bread, yogurt, etc) plus recipes. So smart 🙂
I have unfortunately not been able to try any of them yet but when I do, I will leave some words about my experience. I think I will try Paradieschen soon because I just saw they have Weißwürst available in about a week…and fresh Weißwürst, not out of a plastic package is something I rarely can pass up!
Jentry in Germany also recommends http://natur.com/ which I have not tried out myself but it appears that they only sell organic foods, and they come from all over the world.
Do you shop online in Germany? Where are you favorite places to go?