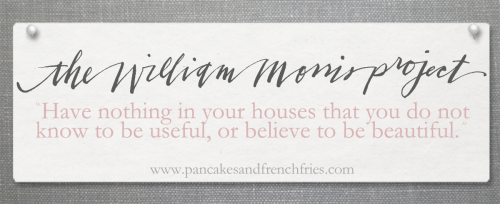 As part of the official clean out the farm project which ruled our lives recently, we decided to go ahead and get some order in the barn…and especially the workshop. I don't have too many before photos of what our barn looked like before we started giving stuff away on Freecycle and throwing out the pure junk…and I can assure you that the results are just as dramatic as what we did in the workshop.
The problem with having a farm and a barn and a workshop is that you tend to just let things lay where they may. We did a lot of shuffling from other side buildings around the farm, and eventually things just got to a point where we really needed to go through and see what was actually still useful (and would be used by us at some point) and what was just useless junk left over by the previous owner. Like a bag of old fuses. Or industrial wall socket housings. Or 30,000 screws and nails.
Seriously, the guy that used to live here seemed to save everything he ever came into contact with which could have been useful over the course of his life. I doubt that he ever really needed to visit a home improvement store because he could probably find what he needed to just make things work. We did the same thing many times in the last six years. But from the feedback we've received over the last couple of months as we've had the farm listed ourselves, we've come to the conclusion that so much "stuff" really scares a lot of people. And when you walk into a place and have no idea what is there in the first place, it's hard to imagine that anything can be really useful among all the clutter.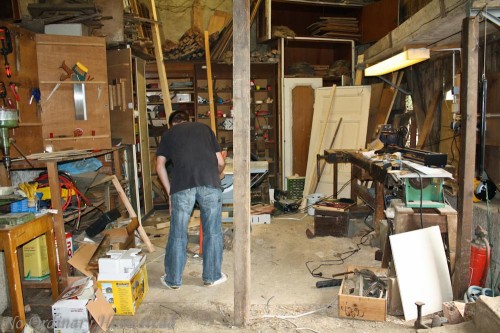 Speaking of things that the previous owner collected…how about big piles of scrap wood and random pieces of furniture. Believe me. I know that for a carpenter who builds furniture, this your greatest find ever. But unfortunately, most of the people who are interested in a place like ours have no interest at all in taking up carpentry.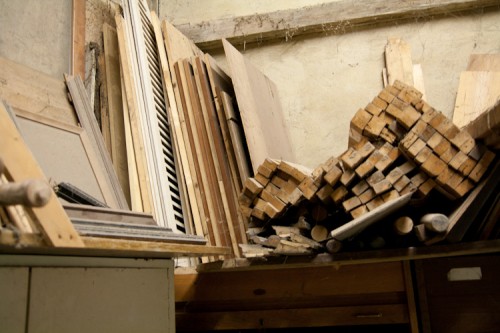 All the wood had to go. And we tried Freecycle in the past which got rid of a bit of stuff. But not nearly enough to make a difference. We also thought we might be able to just burn it so we wouldn't end up paying to have it trashed, but that didn't work out either. The fire was a big failure and I guess the old wood just wasn't interested in making our lives easier. So into a trash container it went.
We have sold most of our workshop power tools to the neighbor, who will certainly put them to good use. And now the area just needs a good cleaning.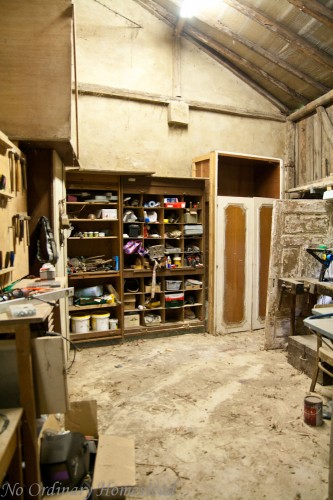 To be honest, we've cleaned even more of this stuff out of these shelves since these photos. A lot more. So much so that the shelves are nearly empty. And it feels incredible. Although some people who have never seen what it looked like before don't recognize the change, those that do know how chaotic it was are amazed.
Some things we found in the shelves will actually likely be useful for us in Berlin. Like some window safety devices my mom gave us when we moved over to Germany a million years ago. And the grommet equipment which Stefan used to repair one of my favorite belts (I so love having a man who can do anything at home — thanks Honey!) But all the truly useless stuff — yeah, that's all outta here. And we're wondering once again what made us wait so long to get all this cleaned up…
For more fun purposeful living projects, check out the William Morris Project on Pancakes & French Fries(although you won't find one there this week since Jules is taking a few days off to enjoy her family and relax. Go Jules!)