From October 6-10, 2o11, No Ordinary Homestead will be hosting the Refueling Power Moms giveaway event. Comments on this post DO NOT count as an entry.
Visit the giveaway entry page to enter
I know from comments on NOH that many of your are moms with very full schedules. Chances are, you're a mom that works — whether you're working outside of the home, within your home or "just" a mom and homemaker for your family (believe me, I know that's hard work of its own!) Since I'm one of those moms myself, I thought it would be fun to put together a prize package for those moms out there which keep their businesses and families running each and every day with grace and poise (most of the time) and could use a pick me up!
The prizes are things which will help you organize your life,  keep things running more smoothly, help you if you are running a business of your own and allow you to relax (for a change.) They will allow you go get back in touch with yourself and remain on top of your A-game, no matter what the world throws at you.
Two prize packages will be awarded valued at over $730 EACH; one to a lucky winner in the US, and another to a winner in Europe.
There are more prizes to be announced over the next month as well — so be sure to check back here often. Plus I will be showcasing each and every sponsor of the event over the coming month on NOH. So go mark your calendar for October 6th — You don't want to miss your chance to enter!!
If you would like to see your company featured here, send me an email at tiffany AT noordinaryhomestead.com. 
---
Check out the Confirmed Sponsors:
My Yoga Online
My Yoga Online is an amazing resource for anyone who wants to become more in tune with their body, learn more about yoga or pilates (where you are a beginner or a well-practice Yogi), and who are seeking a more natural lifestyle. The site is loaded with tons of articles and videos to help you create your perfect self, even if you are only a free member.
I highly encourage anyone looking to delve more into a holistic lifestyle to check out MYO today and sign up for at a least a free membership. The knowledge base there is really pretty amazing, whether you want to learn how to meditate, find yoga poses to help reduce stress or just learn how to live a healthier lifestyle.
Learn more about My Yoga Online and read my review
Prize: One Year Unlimited Membership to MyYogaOnline.com
Retail Value: $114.90 each
Two Winners: one USA, one Europe
Find out more about My Yoga Online and connect with them online: 
Lslie Art Bags
Lslie Art and Babimini bags are practical, stylish handmade bags that you are going to love carrying around. They are quality products made in Germany which your friends will adore and maybe even envy!
Catch a glimpse of some of my favorite Babimini bags
Prize: One Yoga Mat Bag from Lslie Art
Retail Value: $38 each
Two Winners: one USA, one Europe
Visit Lslie Art and Babimini online: 
E-Mealz

E-Mealz is the ultimate solution for busy moms who just don't have to the time to think about meal planning. Not only will a menu be emailed to you each week but they will also help you save money by tailoring the menus to what is on sale at your favorite stores. You can choose from a wide range of menu plans, from just a regular family plan or dinners for two, to low carb diet, special needs and more.
Wondering if E-Mealz is right for you? Check out their sample menu plans to get a better idea of just a few bucks a month will buy you!
Read more about E-Mealz and what I think of the service
Prize: One 3-Month Subscription to the E-Mealz Menu Plan of your choice!
Retail Value: $15 each
Two Winners: one USA, one Europe
Find out more about E-Mealz  and connect with them online: 
Prinz Apfel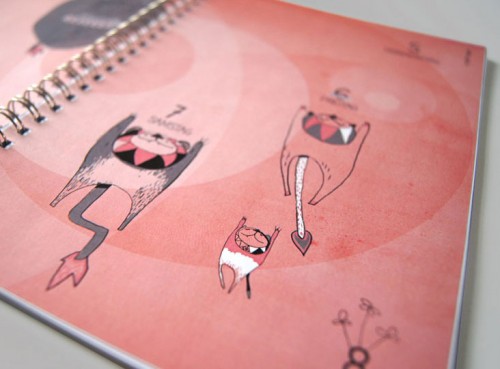 Absolutely one of the most fun and exciting date books you've ever seen, the Prinz Apfel calendars are not to be missed. Filled with wild graphics and illustrations, they are almost too pretty to write in. They also make a great distraction for younger kids who will love flipping through them for hours on end.
Prize: One 2012 Prinz Apfel pocket calendar
Retail Value: $12
Two Winners: one USA, one Europe
Stop in at Prinz Apfel online and get a sneak peek:
Dotz Cord Organizers
How many times of you had to move something in your kitchen or office and went to unplug it, but ended up removing the wrong plug? Are you cables a chaotic jumble behind your desk or within your desk drawers? With your Dotz you will never have to experience those problems again! Plus the fun colors and easy to read icons will actually make you enjoy organizing your cords!
Prize: One combo pack of Dotz cord organizers
Retail Value: $49.99
Two Winners: one USA, one Europe
Visit the Dotz Shop and check out all their cool cord organizers:
Pia Barile eco-friendly accessories
About 7 years ago, Pia Barile was inspired by ceramic beads she received as a gift. She realized she could make her own amazing ceramic pieces for jewelry and never looked back. She continues to make amazing ceramic, gemstone and vintage-inspired jewelry, but Pia wanted to expand her creativity. So she began using recycled textiles to make the most lovely accessories, such as arm warmers, neck cuffs, scarves, ankle warmers and even textile jewelry.
Learn more about Pia and her lovely creations
Prize: One pair of recycled wool arm warmers
Retail Value: $26
Two Winners: one USA, one Europe
See all of Pia's wonderful eco-friendly accessories and connect with her online:
Tell Your Time
Tell Your Time: How To Manage Your Schedule So You Can Live Free by Amy Lynn Andrews is the ultimate ebook about how to take control of your time (and your life) in just 30 pages and four easy steps. No sifting through a bunch of mumbo jumbo…just the keys to searching your soul and creating a more fulfilling life.
Tell Your Time has already started changing my life
Prize: One copy of the ebook Tell Your Time 
Retail Value: $3.99 each
Two Winners: one USA, one Europe
Have Your Cake and Eat It Too
How to Have Your Cake and Eat It, Too, was written as a guide for every mother who has always wanted to pursue her passions in life but never managed to make it work, as well as for those women who are living the dream but just struggle with making everything fit into life like family and friends.
Although the ebook was written with stay-at-home moms who want to pursue their passion or work-at-home moms who are already juggling both roles, it is so much more than just that. There are plenty of valuable tips for women who work outside of the home, serve in a ministry or volunteer organization, or who just want to find time to pursue a hobby as well.
Learn more about this amazing ebook
Prize: One copy of How to Have Your Cake and Eat It, Too
Retail Value: $12
Two Winners: one USA, one Europe

Simple Blogging
If you're a blogger, you know how difficult it can be to find the time to really grow your blog without spending hours in front of the computer. Rachel Meeks is a genius when it comes to living a simplified life and spending time where it counts most (with your family) instead of running around chasing your tail. 
Simple Blogging is the ultimate guide in achieving your goals to create a powerhouse blog with limited input so that you can enjoy life instead of feeling trapped by it.
Read my full review of Simple Blogging
Prize: One copy of Simple Blogging
Retail Value: $8
Two Winners: one USA, one Europe

Newf Brand Bath & Body Care

Never have to worry about razor burn or shaving rashes again with the Venereous shaving trio. The Venereous line of products from Newf Brand Bath & Body Care were created to pamper women of all walks of life. Indulge your senses and restore your skin, naturally, without going broke in the process. You'll also love the new Wicked Good unisex line of shaving products.
Be on the lookout for the newest facial care products from Newf Brand, too!
Read all about loving your skin naturally with Newf Brand 
Prize: One $25 gift certificate
Retail Value: $25 each
Two Winners: one USA, one Europe
Learn more about Newf Brand's products and get in touch with them online:  
McAfee All Access
The days when you owned just one computer to connect to the online world are long gone. Everyone is using multiple computers, their phones and other devices to surf all over the place online, opening yourself up to security risks on a regular basis. McAfee All-Access is a a single solution that protects consumers' PCs, Macs, smartphones, and tablets from online threats — plus it will help you make sure that your kids are not getting into trouble online either. Try out most of the McAfee security products (including All-Access) with just a few simple clicks!
Prize: One copy of McAfee All-Access Security software
Retail Value: $99.99 each
Two Winners: one USA, one Europe
Learn more about all the great McAfee products available: 
Cloudberry Lab Backup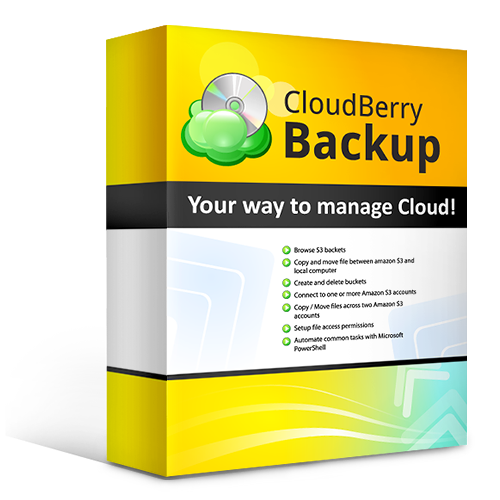 If you've used a PC for a while, you've probably experienced a virus, head crash or other calamity that has led to the loss of major amount of vital information which was stored away in your computer. Cloudberry Backup Desktop allows you to make sure your data remains backed up without causing your computer to get logged down. You can even get a free trial of Cloudberry Backup to see how you like it. Trust me; it couldn't be much easier to set up.
Let your mind be at easy about your data so you can think about the things that matter most in life.
Read more about the Cloudberry Backup software and how important backups are
Prize: One Cloudberry Backup Desktop software 
Retail Value: $29.99 each
Two Winners: one USA, one Europe
Find out what else Cloudberry Labs has to offer and connect with them online: 
arma communications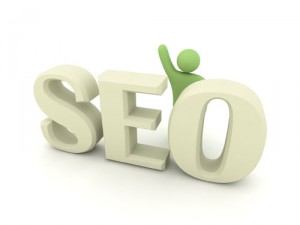 If you've got your own website or blog, you know exactly how difficult it can be to build traffic. arma communications performs a wide range of business consulting, strategy development, web design, marketing and outsourcing services. And one of their most popular online marketing strategies involves search engine optimization for websites of all shapes and sizes.
Learn more about all the ways arma communications can cultivate the presence of your business.
Prize: One Multi-Platform SEO Package for up to 3 keywords
Retail Value: $177 each
Two Winners: one USA, one Europe
Take your business to the next level and connect with arma communications online: 
17 Cent Hosting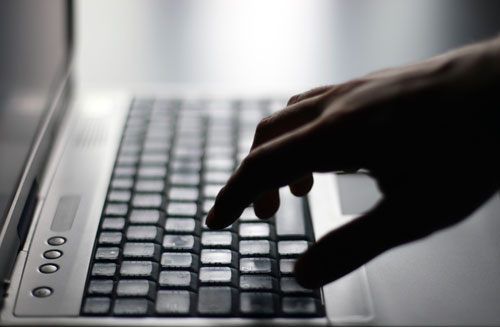 Who says web site hosting has to be expensive or unreliable? 17 Cent Hosting specializes in low cost web hosting, with packages start at only 17 cents per MONTH! It's hard to imagine, but it really is enough hosting to power your basic business website or a starter blog.
More about why I think 17 Cent Hosting is so great
Prize: One Free Year of Platinum Hosting
Retail Value: $84 each
Two Winners: one USA, one Europe
Learn more about the low cost hosting packages at 17 Cent Hosting and meet up with them online: