Much has been written online about boosting your home's curb appeal by enhancing the entrance. However, if you are picking out a new door with a fresh lock, don't think decor only, because the last thing you want to do is make yourself vulnerable for a break in or burglary.
In the past, Consumer Reports has tested many different entry doors, and many of them wind up failing when a battering ram is used. It rarely matters what materials are used in the construction of the door, underlining the importance of a secure lock and how critical it is for home safety.
If you are in the market for a decorative lock but also one that is secure, Consumer Reports has outlined a few criteria that the lock must have, regardless of decoration.
Only use locks that come with a dead bolt that is 1 inch in length and features a reinforced-metal box strike.
When you install the lock, use mounting screws that are 3 inches in length so that you can lodge into the framing that goes beyond the doorjamb. Also do this for the door that goes from your garage to your home's interior.
Choose dead bolts over the more common key-in-knob style locks; these are easy to open using just a credit card.
Dead bolt models that were tested by Consumer Reports were usually single-cylinder and operated through a thumbturn. If you want a high-security lock, expect features like distinct pin configurations and hardened cylinders. The testers put many weeks into things like drilling, picking, prying, hammering, and pummeling. After all that, three specific models came to light as worthy of your consideration:
The Medeco Maxum 11*603
This high-security lock comes at a higher price point than most standard locks, typically retailing at $190. However, it proved excellent across all the various tests, particularly resisting attempts at drilling, picking, and kick-ins.
The Kwikset 980
Suggested to retail at $30, this standard door lock came out on top of its class. The sturdy strike plate helped it resist every assault the testers threw at it, including their kick-in and picking attempts, with the notable exception of drilling.
The Schlage Camelot Touchscreen
This connected door lock costs around $200. It's a highly rated piece of hardware and also app-enabled. It put up a good fight in the kick-in testing, although it did fall prey to a cordless drill in less than three minutes.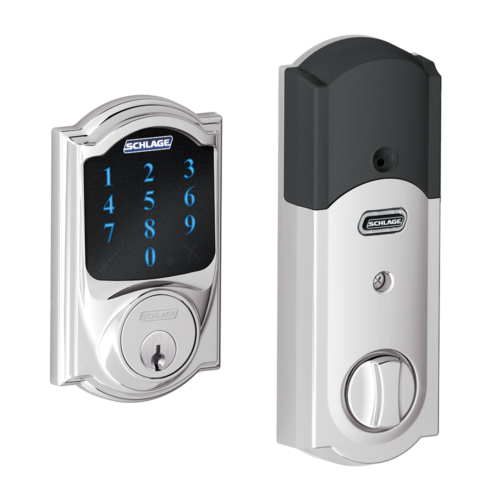 Another piece of advice is to never install these on your own. You'll want an expert home locksmith that really knows what they're doing. You don't want to destroy your new door, or that lock you just shelled some cold, hard, cash for.
One word of caution should be noted: you have to use a key to open up double-cylinder dead-bolt locks from both the outside and inside. Many homeowners prefer them since they mean burglars can't just break glass and reach inside to unlock a door, however a number of localities have actually passed and enforce bans on them since they make egress harder during an emergency, like a fire. Always make sure you check your local building codes before installing one, and if you do put one in, leave a key close to the interior lock just in case.