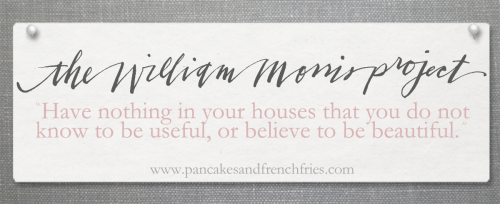 Any time you move into a new place, it seems to take a while until everything finds it's new "home". From flower vases to drinking glasses to clothing, you've got to figure out where to put things (aside from inside the boxes that are piled around) or just get rid of it. And so, that is primarily what we have been trying to do, little by little, over the last 2 weeks. Of course, things are somewhat compounded in Germany because there is rarely any built in closet space. I'm not 100% certain why that is, but they just don't really do built-in shelving or closets here…and you also usually rent an apartment without a kitchen. Thankfully our place did have a kitchen (with a rockin' gas stove which we have been thoroughly enjoying cooking on lately) but very little other storage space. I'm pretty sure that next week I'll go further into what sort of storage options we've ended up with here, using both old and new furniture pieces — but for now, I'm going to focus on our bathrooms.
You see, for the last few weeks, we had no clue what to do with all of our bathroom supplies which were now combined into one space after being spread across 3 bathrooms at the farm. And since we had so much bathroom space, we also happened to have a lot of extra stuff which was purchased when things were on sale.
We actually do have two bathrooms here in the apartment, but one of them is long and narrow and offers virtually no storage options — so we are doing our best to store any excess stuff together in Mack's huge master bathroom area and only keeping what we absolutely need in our bathroom. And for the next 6 -12 months, we probably won't need to buy any shampoo, body wash, toothpaste or deodorant, which is kinda nice too.
Until a few days ago, the shower in Mack's bathroom looked like this — and there were a few more boxes in the hallway just begging to be unloaded.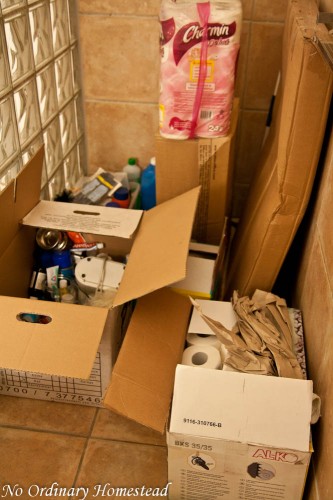 Now before you get all grossed out that we haven't been showering for the last 4 weeks, we have another shower in the "guest bath" which we use daily. Mack's bathroom also has a tub in it, which she uses to bathe/swim and so it seemed like a wise choice to just use this for storage in the meantime. But having things strewn all over the place and in 5 different boxes was not making it any easier for us to find the things we needed when supplies started to run out.
So we were thinking and thinking…and had almost decided to get an EXPEDIT shelf from IKEA…and then we realized that we basically hope to be using up nearly everything that will be stored in this area (minus a few random things like travel bags and our standard first aid stuff) which meant it would be a bit silly to buy some big shelf when it would eventually be sitting empty.
And that's when we had the idea to get these which are similar to the ones we have for a bunch of Mack's random loose toys…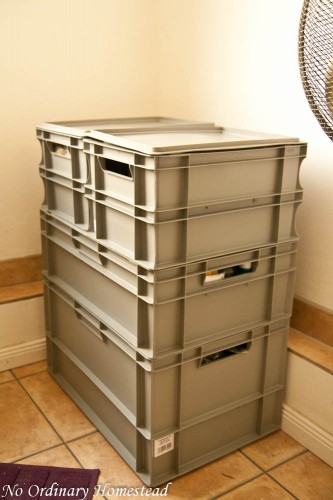 And as I look at them again, it's obviously that a big shelf would have been complete overkill for this situation.
We ended up using the biggest on the bottom for the first aid kits and travel bags (which is nice since Mack can't lift these off each other and get at that stuff), the next one up for most of the sunscreen, bath stuff and other things we've accumulated over the years (it's insane the number of bottles of sunscreen you collect when your husband is an analyst for company that makes sunscreen and other generics) and the two tall yet smaller bins on top are cleaning supplies and some other random OTC medicines, Band-Aids, cotton balls and so forth. The whole thing is now also topped with a big basket of towels, which (again) Mack can't get down easily. I'm just thankful every day that she's a girl and doesn't get as many crazy ideas at this stage as boys do!
It's not the sexiest, most super organized thing I've ever done, but it cost about 1/3 of the shelf price and is so super practical, even if I do have to root around for a few seconds to find what I want. A way better alternative than all the random boxes filled with whatever would actually fit into them.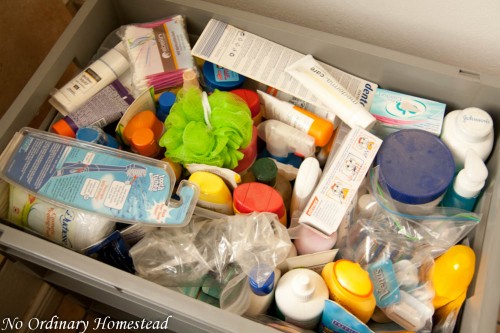 As for the other bathroom, it was intended as a guest bath and our space is quite limited. We have the bare necessities in there plus one back-up bottle of things like shampoo, body wash and so forth — mostly so we don't have to go traipsing into her room in the middle of the night if we realize we've run out of something.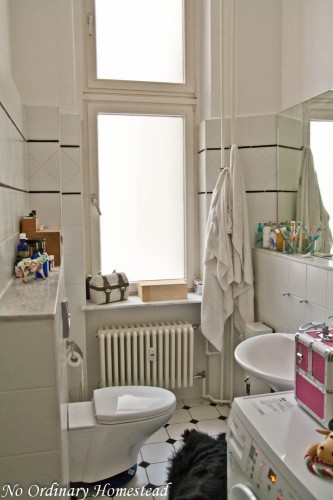 We were smart enough to snag the towel shelves we bought for the farmhouse and bring them with us to the apartment, otherwise we also would have no space to put towels or any sort of storage at all. And that rack happens to fit perfectly between the wall and the washing machine, which is exactly how I envisioned that going down.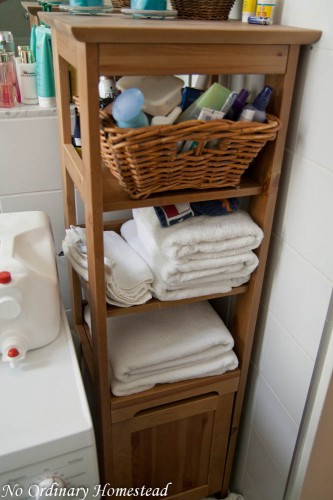 I know for a fact that sinks here can be bought with storage cabinets under them here in Germany; we even used to have them at the farm. But I cannot for the life of me figure out why no one ever puts them in apartments or houses here, aside from maybe they think they'll get ruined? Or people just don't keep anything in their bathrooms here? I totally don't get it.
While we've got most of the extra stuff in Mack's bathroom for now,  there are some things which I just don't like giving her full access to…like finger nail polish. It's not that she's done anything too crazy with it in the past (although there was one incident when it ended up on the couch) but she just doesn't need to be able to get at it quickly when she's tired at not and not thinking quickly (not that she ever gets to that state of mind…)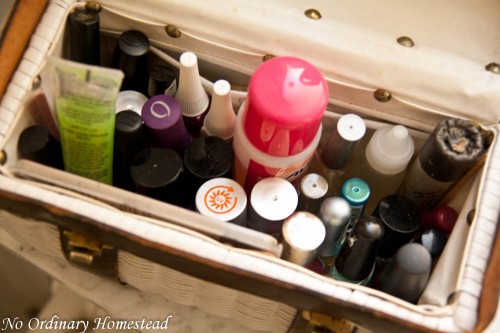 So as luck would have it, I've had this little wicker "purse" for many, many years and was always too in love with it to part with it — but I didn't actually have any real use for it. Until now. I've got all of my nail polish and other nail stuff in there now — although I did have to toss a few that I never actually wear to accomplish the task of fitting it all in. But it sits comfortably in the window sill of our bathroom and everything is still hidden away while looking cute. (BTW, I can't promise that I won't occasionally pull all this stuff out and actually use this as a purse one day — in Berlin, I could totally pull it off.)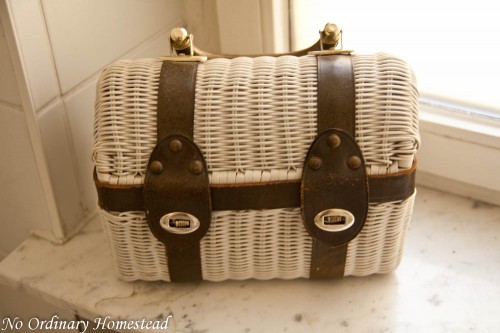 And as I was writing this post, I actually had a smart idea of what to do with my aromatherapy stuff. I love being able to whip up concoctions that help us with all sorts of ailments and can alter our moods, but all those little vials just have to be corralled in some way or they start taking over the place. Plus they also need to be kept away from light whenever possible, and I definitely don't want Mack having access to them. So if you look in the window sill pic above, you'll see a little wooden box next to the little wicker purse. That used to hold some recipe cards (which I will sort through one day soon since they have been hidden away in our attic — perhaps I should just trash them from the get go) but it's also perfect for the little bottles. Depending on how things go, I might even devise some sort of dividers for it so the bottles stay lined up nicely.
What kinds of fun repurposing and decluttering projects did you do this week?? Pop over toe Pancakes & French Fries for more William Morris awesomeness.