I first published this buttermilk pancake recipe on March 1, 2011. We'd been in Germany for nearly 10 years and good pancakes were very hard to come by. We learned to make many things out of necessity while living there, especially when it came to food. And I'm glad we did. It gave us a whole new appreciation for food and cooking, and we still love cooking to this day — mostly because it just tastes better and it's so much cheaper too.
I'm republishing this recipe today because it's an awesome one and we make these pancakes all the time. It's a great time to come together with family and friends, whether for breakfast, lunch or dinner. I hope you and your family enjoy this recipe as much as we have over the years. It originally came from the 30 Years of Southern Living Cookbook which is a fantastic addition to any Southern chef's cookbook repertoire.
Germans and Pancakes
Pancakes are one of the true American breakfasts that people in Germany just don't seem to get. You'll find some Germans chowing down on them when they visit the States, but others find the syrup too sweet and the process odd.
On the other hand, Germans do appreciate crepes, especially around Christmas, and fill them with all sorts of delicious things like Nutella, bananas or strawberries. But those are far from real pancakes.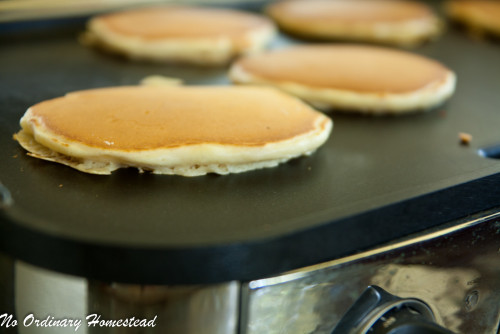 On the very few occasions that we saw "pancakes" on the breakfast menu of a restaurant there, they ended up being crepes. And I don't think they even served them with butter or syrup but rather jelly or fillings only. Now if you have lived there, you know a traditional breakfast for Germans involves fresh baked rolls (like Kaiser rolls or mini-baguettes or delicious, hearty full flavor rolls with sunflower or pumpkin seeds on top), sliced cheese and sliced meats. Kinda like what Americans might serve up as a sandwich bar for lunch — but with butter on the rolls instead of mayo, mustard or ketchup.
At any rate, pancake mix was available in almost every grocery store in Germany — but it's those "just add water" containers which just require you to shake and pour. A true Southerner like myself doesn't even classify the result as real pancakes. So having a good pancake recipe from scratch is essential for the survival of expat families in Germany, especially if they enjoy a good brunch — or pancakes for dinner!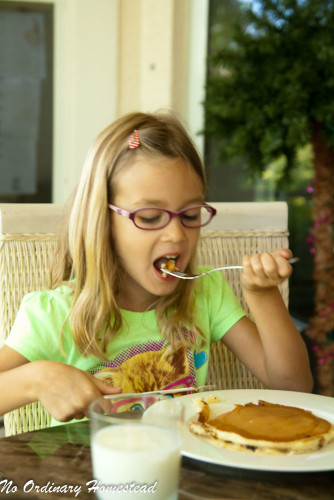 I would venture to say that we are connoisseurs at this point, having tried many a pancake recipe over the years. But this is by far our favorite. It produces light, fluffy delicious pancakes that practically melt in your mouth.
Although I grew up making quite a few pancakes in my life, Stefan is the pancake master in our house now. In fact, he's the breakfast master in general…but I'm a darn good sous chef!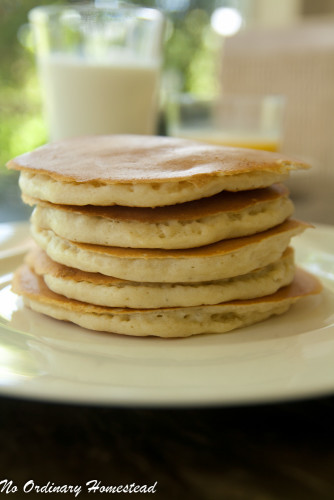 A few tips about this buttermilk pancake recipe
In case you're not prone to keeping buttermilk at home, an easy buttermilk substitute is 1 cup of milk with a teaspoon of white vinegar added. Just mix the two together and let it sit for at least 10 minutes. You should notice a thickening of the milk when it's ready.
Make preparation super quick by mixing this up with a hand-mixer or your KitchenAid. The pancakes may be even fluffier when you use the whisk attachment!
A word on done-ness: If you're a pancake novice, once the uncooked side pancake is full of bubbles and edges are no longer gooey, your pancake is ready to flip.

Cook pancakes on a griddle or in a pan with the lowest sides possible to keep from burning yourself while flipping
Make your own flavored syrup to go with your pancakes: Just pour about 1/4 cup syrup (for 2 people) plus a few spoonfuls of strawberry or other jam/jelly. Microwave it for about 30 seconds, stir and microwave again for another 30 seconds. Not only does this taste great and add variety to your pancakes, but it's also a great way to use up jellies and jams you might not use otherwise.

Melt just a bit of butter (1-2 tablespoons) to spread on our pancakes, which keeps you from chomping down on a hunk of unmelted butter — and I think you end up using a bit less butter this way too.
For a special treat, top your pancakes with your favorite fresh berries or other fruit, and whipped cream!
Homemade Buttermilk Pancake Recipe
Easy and delicious buttermilk pancake recipe which makes fluffy, scrumptious pancakes. Great for freezing too!
Ingredients
1 1/4 cups all-purpose flour
2 tablespoons white sugar
2 teaspoons baking powder
1/2 teaspoon baking soda
3/4 teaspoon salt
1 egg, beaten
1 1/4 cups buttermilk
3 tablespoons vegetable oil
Instructions
Combine flour, white sugar, baking powder, baking soda and salt. In a separate bowl, mix together egg, milk and vegetable oil.
Stir flour mixture into milk mixture and mix well. Let sit for 5-15 minutes.
Heat a lightly oiled griddle or frying pan over medium high heat. Pour or scoop the batter onto the griddle, using approximately 1/4 cup for each pancake. Cook until pancakes are golden brown on both sides; serve hot.
Notes
Have leftover pancakes? Stick them in a plastic bag and add to your freezer. When you're ready to eat them, stick them in the toaster at low heat (or utilize your defrost option if you have one). You may need to toast twice to get them fully warmed.
http://www.noordinaryhomestead.com/buttermilk-pancakes-from-scratch/