Hello to my dearest friends!
You may have been wondering what has been going on in my head since we moved to Berlin. I've had a few ups and downs, but mostly I've really been enjoying myself. I get to go out and explore with the family all the time; and every time that we are out and about, tons of people want me to stop and talk to them. Seriously, we get stopped by at least two or three people every time we are out…and since we're out for a walk 2+ times a day, I'm definitely getting lots more loving than I expected here.
Mom has told people for years that if you want to get to know an area and the people in it quickly, you should get a dog. And Schöneberg is definitely a big fan of Newfies. We've never lived in a place where so many people actually know what kind of dog I am and coo at me on the street. We ran into an older lady who was dressed very nicely and she said she'd had Newfs in her family for over 30 years, although she no longer had any now. Apparently she misses our snuggles and crazy moments — and the humans assured her that I was always available for endless cuddle sessions whenever needed.
On our very first day here, we actually ran into a 3/4-Newfie with her human mom and fur sister. That Newfie is a therapy dog — and to be honest, I'm kinda wondering if I could get in on a gig like that too. Mom didn't even know they did that over here in Germany. But since we've been here in the last two weeks, TWO people have asked if I do that sort of work. So I'm definitely curious about applying for the position if it means lots of people loving on me and giving hugs which in turn makes their days better.
In fact, the attention is getting so crazy around here that mom and dad just bought me a new harness (it's pink!), a new dog brush that is supposed to be the best brush ever (gah!) and I'm even getting little signs for my harness that say "Free Hugs." Mom and dad seem to think they're pretty crafty for coming up with that slogan…and if people are still intimidated on the street by a dog in a pink harness with a request to hug her on it, well, they're probably scared of their own shadow too.
There's also talk of drool bibs and they keep wiping my face in public too — it's almost as if I've become the baby in the family again. And I can't say that I hate the attention completely…
Now you might have heard that we live on the third floor and there is no elevator. And I have to be honest with you — those 3 flights of stairs give me (and the rest of the family) a run for my money every time I climb them. But it's getting better. And the more we explore our surroundings, the more I feel comfortable and at home.
In fact, I've found my favorite spots in the apartment, already. The best one so far is a wonderfully cool bathroom with tile (one of the only places without hardwood floors in the whole apartment) which has a spectacularly cooling drafty window that is always cracked for my pleasure — and a toilet that just barely holds my entire head (although it does leave my ears wet after I'm done drinking). This is by far the best room in the apartment, aside from the kitchen of course! It is a bit snug, though, when someone insists on using the toilet, brushing teeth or doing anything else in the bathroom. But as long as they don't step on me (much), I'm not bothered by their presence. I do appreciate a few pats on the head or a nuzzle of the ears if you happen to stop by, though!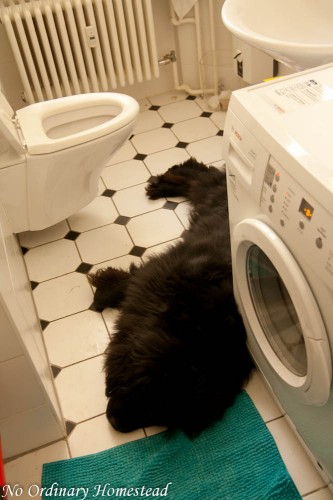 So all in all, I'm enjoying the new lifestyle of a city dog and to be honest, I was always kinda meant for it. I have always loved our trips to Venice and the never-ending attention there…and I guess I have just been trying to make sure that this new place is actually "home" and not some freakishly strange hotel that has all of our stuff in it which we'll be leaving soon!
Soggy kisses from Schöneberg!