Welcome future tourists!
Have you ever been to Berlin?
Would you love to see the sights of the city with a knowledgeable local guide at your side?
Well have no fear — Ayla is here!
And all I ask for as compensation for a great tour, is a warm place to nap and some yummy treats.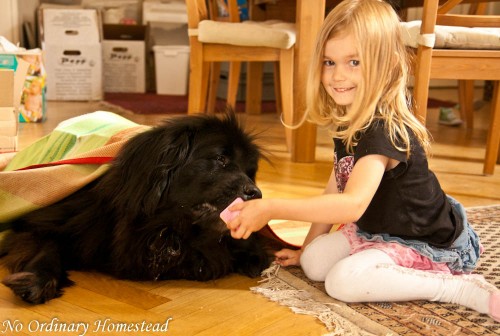 (BTW, for a good tip, I also pose for pictures!)
The last few weeks, I have really started to feel more and more in my element. I like to lead the walks around here, and have my set locations that I like to frequent…and also a few corners around here that I still have on my list to explore. Mom and dad can be a bit stubborn about following after me at times; but after I firmly plant myself on the ground with all fours and give one of them "that" look, they almost always have to give in. My center of gravity is lower and I weigh more than mom, anyway. She doesn't stand a chance
(Whoever said that Newfies aren't stubborn definitely never had one.)
We actually went back to the farm last weekend to celebrate the Lantern Festival. I suppose that mom and dad thought I would spend all my time outside when we got there and be totally content; but to be honest, I was dying to get back home. Somehow it just wasn't the same. I did appreciate the lack of furniture which meant I could sleep anywhere I chose…but it just wasn't the same. I guess you really can teach an old dog new tricks…and habits.
I was super excited to see my old friend Reiner and catch up on all the news I've missed. But I had no desire to lay outside in the courtyard or even use the bathroom out there like I used to do. I've become quite the refined city dog with very few of my old habits. So in case you're still wondering if I'm happy here in the city after all that country living, the answer is yes. Despite the fact that I've barely known anything else, whenever I have been to a big city, I adored it. And really, it's mostly about the attention.
From afar I can recognize the dog lovers and the ones who just won't mind that I leave a bit of drool on their sleeves. And I really pour on the cuteness as they approach, so that they will gush over how cute I am — and maybe even ask if we can stop for a quick loving session. Little dogs may be more common in the city, but a big dog is still something extra special!
And as it turns out, I don't have to ask like such a hard core Newf with dogs that rub me the wrong way anymore either. There are just so many dogs in the city, that you can't be grumpy with all of them…unless they are Whippets. Those dogs are just unnaturally thin and fast, and they look at me the wrong way on the street.
So if you're thinking about visiting Berlin and really want a good guide, just look me up!
Soggy kisses!