You may remember that at the end of April, we visited Berlin for an initial test to see how we might like living here. We stayed at the Grand Hotel Esplanade, which was really beautiful and even inspired a post about all the great design elements they used in our suite.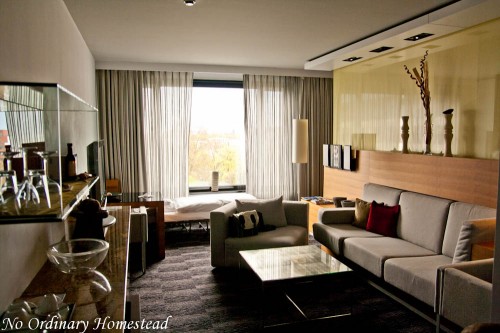 It's a very nice hotel but at the time, my knowledge about Berlin was pretty limited — and it seemed as if the hotel was in the middle of no where. In fact, I said in my review post:
The Grand Hotel Esplanade is a bit off the beaten path as far as hotels go. There's not much happening around the hotel itself and you'll need to travel with a cab or public transport to Potsdamer Platz (maybe 10 minutes by cab in traffic and about  €9-10 cab fare with tip), Alexander Platz or any of the burroughs like Mitte, Prenzlauer Berg, Kreuzberg or Friedrichshain. I also didn't notice too many restaurants in the area, but there is a taxi stand right outside the hotel so you can go anywhere you need to go for a relatively low price (compared to Frankfurt anyway).
Boy was I wrong.
At the time we stayed there, we were completely focusing our efforts on Mitte and Prenzlauer Berg, because we thought those were the places we'd be most happy. Mitte was special because it's really close to Stefan's office and there's a lot of history in that part of the city. And just about everyone you talk to wants to live in Prenzlauer Berg if they could live anywhere in Berlin. But the more we spent in both of these areas and the more apartments we looked at, the less certain we were that either of those areas was really for us. P-Berg just seemed to be more overrun with tourists, broken bottles, homeless and hippies every time we visited. And while some love that gritty, grungy feeling (as do I at times), it became clear to us that it wasn't the ideal place to have Mack or walk a dog every morning. The last thing I want to do is carry a broom with me on the walk so the dog doesn't get injured on the way to a park.
Most out of necessity, we started to open up our search to areas like Schöneberg which were extremely central for Stefan's commute and ultimately totally awesome when it comes to quality of life. We'd only heard a tiny bit about Schöneberg before we visited and figured it wasn't going to work for us since it's known for having a very high gay population…and little else. Really, that's pretty much the only thing people say about it — or perhaps that's how they like to promote it so that the riff-raff and tourists stay out! Because I'm telling you, after living here just 3 weeks, it's totally clear that this area of Berlin totally rocks in just about every way possible. Shopping, nightlight, restaurants, farmers' markets, kid's stuff, etc — it really is a fantastic location.
Open Mouth, Insert Foot
Once we moved in to our new apartment and started exploring the area, we realized that we walk by Grand Hotel Esplanade at least one or twice a day. It is literally less than 5 minutes walk from us. Granted, it is in the opposite direction from the restaurant and bar scene near Nollendorfplatz and Winterfeld — but we're talking about a walk of 5-10 minutes versus our walk of about 5. So to say that there is nothing happening here and it's off the beaten path was definitely unfair. It's also walking distance to the Berlin Zoo & Aquarium, KaDeWe (and the entire shopping district around it), and plenty of other attractions. Plus it's fairly easy to get around here with the U subwaylines and buses.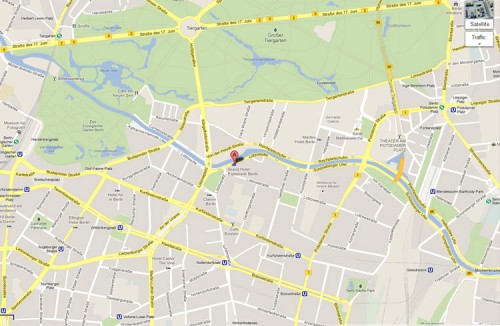 Unfortunately for us, we were just too uneducated about all the different areas of Berlin to know that we could have been living it up right outside the front door of the hotel. And we might have even saved us some hassle and concern about finding an apartment — because the one we are in now (which is a dream) was already on the market then.
Amusingly enough to me now, I might even use their website to learn more about the places we should explore around us soon…because it has a lot of good info about places centrally located from here.
Don't I just feel like a silly no-nothing tourist now…