Today's awesome interior design post is from Brooke Whistance, a passionate home and lifestyle blogger who was wise enough to reach out to me recently and ask if she could share some of her smart with you on NOH. Currently, she is working for Home and Social, an interior design and home decor blog. Follow @IamBrooke94 on Twitter for more details.
---
The world of fashion has influenced the world of interior designing to an extent that these two worlds have merged into collaboration. Not only the fabric you wear is according to the current vibes in fashion but also the fabric you are living with is receiving the same vibes.
Your home is a reflection of your individual perspective and expression of your personal interest and choices. If you love some kind of colour or fabric you vote it by wearing it. Similarly, your homes demand the same — your living spaces should reflect your personality.
Clients want to go trendy with interior décor, but what is trend? Well, trend is not a passing by fashion but it is a thing that inspires you and you see a reflection of your taste in it. All trends are not for your interest but some can occupy a special place in your heart and that becomes your trend.
Fashion Trends in Interior Decor
Mod and Mid Furnishing
The first thing that stands above all in interior design is, arranging furniture. Just imagine, 90 % of your home's overall look and feel depends on the furnishing.
Fashion trends for furniture is an amalgam of old and new. The gold of old and the fresh of new are combined to make customized furniture which reflects the peculiarities of both ages. The rise of custom made furniture is back in town. Remember, when there were no interior designers to guide people in their experiments of numerous furnishing ideas. People use to select their furniture on the basis of what pleased their eyes and affordable according to their budget. Custom made furniture is a bit costly but their aesthetics can be of your personal taste.
Mixing the modern fabric with the old furniture and accessorizing it with some pillow cushions, couch styled table instead of a glass top, along with a rocking massage seat can change the entire look of your room and make it look trendy.
The decorative matching furniture is likely to be outdated and wood is back in fashion, although, it was never out of race. Wood is back in town with its modern curves and designs with a vintage royal feel. Classic wood furniture can never go out of vogue; in fact, gets more elaborate and elegant, with time.
Wall Treatment
Walls serve more than their usual purpose, these days as they are treated as canvases to be given a new look, altogether. Walls showcase your interest either by their colour, themed wall papers, through an artwork or by any means of wall décor.
Say goodbye to those plain white and beige walls which reflect neutrality and dullness. People want to spice up their walls by applying vibrant colours, designs or something unique. Contrast has taken place of mix-match theory which states that: wall colours should match with the furniture and flooring.
Some people who often think of longer investments are also not behind in the race of wall décor. They treat their walls with DIY options (thanks to YouTube and Google for remodelling ideas and cheap solutions). Wall decals and murals are a classic and trendy addition to your plain walls. Also a framed collage of family snapshots and artwork displayed on the walls gives a colourful and tasteful impact. Walls which are painted with rustic colours and textures can be adorned with mirrors, trust me, it'll look so classy and trendy that you'll love it.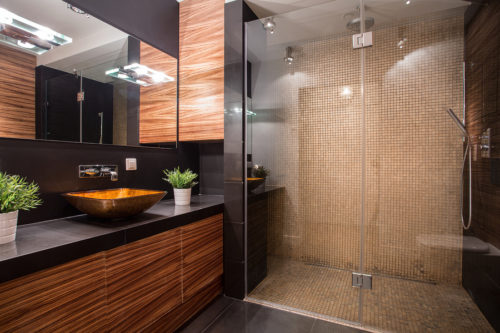 Comfortable Feet Are Not Less Than a Feast
Fashion inspired flooring is half-naked. If you want to give your home a contemporary feel with sophistication then opt for hardwood flooring, as they never go out of style and are preferred due to their durability in the long run. Although, a bit expensive but the feel it gives to your house's interior is worth spending.
Rugged floors are the most common floorings and are followed by leading interior designers. Say goodbye to your old fully carpeted floors. Area rugs will not only give a rugged matte feel to the flooring but it also doesn't hinder the look of the actual floor.
Lighting Can Change the Spectrum
Lightings can change the ambience and mood of a particular space. Bored of old traditional lights? Play with the trends. Those huge chandeliers and hang-on lights are not only for dining and living room but they can also be used in other spaces of your home. Current trends of lighting involves, both, energy saving units with stylish designs and look.
Change those traditional bulbs with beautiful lamps with dimmer, ceiling fluorescent lights, chandeliers in huge spaces and hanging customized lights in small spaces. Ample source of light can enhance and sometimes change the look of your space.
Accessorizing is Inspiring
Accents are inspiring figures which can never go unnoticed; instead, they give off a luxurious feel to your spaces whether it's a sugar bowl changed to a showpiece after keeping some colourful lights in, a simple flower vase, a painting, decorative pieces or some DIY produces.