In all aspects of fashion, nothing stands still. This applies to the clothes we wear, the homes we live in and even the cars we drive. Here are five trending fashions in interior décor. Just like every other area, there is a mixture of innovative ideas and reimagining of old classics.
Modern Flooring Solutions
First, we had carpets. After that we had tiles. Then we entered the age of good quality laminate. What is next? Well, some of the latest trend-setters in Russia have been experimenting with a blend of tiles and parquet flooring. As you can see from this website, the results are truly stunning.
Why not pick your favourite coloured floor tiles and then see how they can be blended with some parquet flooring from Discount Flooring Depot? You can be sure to achieve a unique result, and if anyone asks, just say it was a little Russian inspiration!
The Sandwich Effect
A fashion that might sound a little crazy, but can have a very special effect, is what is being called the "sandwich" design. The idea is to have the floor and ceiling in matching designs, with the content of the room forming the filling in the sandwich.
Light coloured tiles are an obvious way of using this effect, but if you prefer your sandwich on wholemeal, you could even use wood, to create a "ship's cabin" look.
Flowing Lines
Particularly relevant in kitchens and bathrooms, the futuristic, angular look is rapidly being eschewed in favour of ergonomic curves. This can create something truly innovative, particularly with flowing, wavy worktops in the kitchen.
The same effect also looks great in your smallest room, with curved bath tubs and wash hand basins becoming all the rage.
White is All Right
White never goes out of fashion, but some people are a little afraid of it, fearing the result will look stark and clinical. The truth is, however, that you simply cannot beat a white theme for a fresh, airy atmosphere.
It also provides the perfect canvas to project your own unique design ideas to really make the room a reflection of your personality, whether it is through flashes of colour or distinctive accessories or furnishing that are effectively brought to the fore by a white background.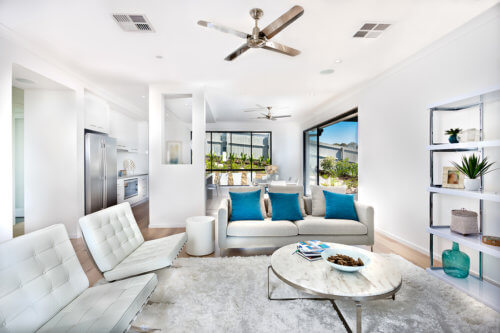 Internal Shutters
In some respects, it is strange that curtains are still as popular as they are. They are cumbersome, they are fiddly to tie back and they are a real nuisance to keep clean.
Little wonder that so many people are getting wise to the idea of wooden shutters instead. They add a contemporary freshness to a modern design, but can also be painted to fit in perfectly with a more traditional theme.
Add to that the fact that they are easy to keep clean by simply wiping them down and they provide additional insulation against winter weather and sound pollution, and you can see why they are such a practical option, as well as an attractive one.