Well, we're officially moved in.
The majority of the boxes have been unpacked, the rugs have been laid, the furniture is built and filled with whatever belongs in it and we're starting to finally think about finding a rhythm and some "normalcy" again. We've already made two trips to the home improvement store as well as the dump to rid ourselves of excess packing paper and a few crummy boxes…and we're helping to keep the trash men busy in our building as well by continuing to get rid of stuff that we never should have moved in the first place. Freecycle in Berlin will be feeling some love from us very soon as well! But it definitely feels like home here…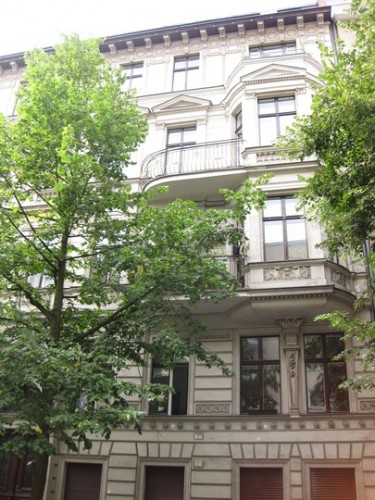 Now here's the horrible truth
To be honest, the last few weeks have been nothing less than insane for us. From wrapping up the last loose ends in Schöneck to scheduling last minute things at the farm to coordinating hookups at the new apartment and so on, there has been a nonstop barrage of things that needed to get done. And now, in the last couple of days, we're finally starting to be able to release the tension and start thinking about settling into new routines.
But I have to admit, it has not all been easy. In fact, the last week here I have apparently been a real bear from sun up to sun down. Thankfully, I'm snapping out of my funk and getting myself back on track. As I've picked up the pace again with writing and blogging, I'm quickly starting to feel a groove developing and looking forward to being back at work. I know Stefan is also looking forward to being back at work, too. It's not that we don't love spending time together (because we actually do) — but at some point, you just start to feel like your purpose of moving is waning as there are fewer boxes to unpack each day — and you start seeking out something to do with yourself that doesn't involve sightseeing or spending money.
Just keep swimming…
If you are a regular reader of No Ordinary Homestead, you know I have been less than talkative lately. A major part of that reason is that we have been so busy cleaning out the farm, packing up our stuff and just getting ready for this move that there was no energy or charisma left at the end of the day to try to be fun and witty in my posts. And I'm sure no one wanted to hear a list of all the junk we'd thrown out or packed up that day. And so I began to enter the doldrums.
As a blogger, it's in our natures to focus on the good and the interesting as much as possible. In general, I try to be an optimist and I'm not one to focus on the negative or try to bring everyone down. I feel like doing so is only going to attract more negativity. But that doesn't mean that I don't have my days where I just am in a total funk and have no idea how to get out of it.
When we got here to Berlin, things were going pretty good the first couple days…until I began to realize that I needed to get rid of even more stuff than I'd originally thought. Let me be honest — I tried to be brutal on myself and get rid of anything that we never use or that I hated. But as I unpacked more and more boxes here, I realized that I should have let go of more. Much more.
I guess the good news is that while the living space in our new apartment is larger than what we had at the farm, there are less corners and storage spaces to stash things in. Which means that if it doesn't have a home yet, it either needs to be switched out with something that already is in a home but really isn't needed, or it has to go. And as someone who has some slight hoarder tendencies, that's not always the easiest of tasks.
Thankfully I'm managing to stay the course — or maybe rather to get back on the horse. Over the last two days, I've managed to unpack all but two boxes in our dining room, and one of them is deco stuff which I need to go through and then figure out where to store it in the basement. I'm pretty thrilled as you might imagine. The playroom/office overflow space is a bit more chaotic at this stage, but it's also getting there. And once we've got pretty much everything squared away in the apartment, we get to start on the basement. Thankfully, it's not as fully as the movers made it out to be, but it will take some shuffling…
Why I keep on blogging
With so much going on in our lives and my absence from blogging for a while, some might have thought that I would just stop for a while and perhaps never come back. But blogging is in my blood, and without it, I start to feel like something in my life is just not complete. I have been blogging for 6 years and was always a journal writer before that anyway. For me, blogging is a means of therapy, a way to put my ideas into concrete thoughts, a way to help others and a process of knowing that I'm not necessarily as crazy as I might sometimes think I am.
When I do things around the house, I try to make sure I take a few photos that I can use for a blog post later on. I'm always looking for a way to turn things we do or places we visit into a post. And when I don't, I kinda feel like I'm cheating myself in the long run because I fail to express myself fully when I have to say things immediate in words. I'm a listener and a thinker…but not the best conversationalist (although I'd like to become much better at the latter — and surely now that I'm out and about on a daily basis instead of heading toward hermit hill, that will improve).
So I'm looking forward to beginning this new chapter in my life and a new chapter for NOH. I have a few things up my sleeve for the future, from a new blog design to elaborating more on my blogging and entrepreneurial sides to letting you discover Berlin with us first hand. This will be in addition to the regular features like notes from Ayla, letters to Mack, recipes and so on.
But if there's ever been anything you've wanted to ask me in the past or things you wonder about our lives, now is an awesome time to ask!