As you may know, when we decided to move to Berlin, our first instinct was to sell both of our cars. But we learned shortly thereafter that we'd be better off keeping the Cayenne for now, despite the fact that we don't expect to use it much. And in fact, we have used it about once a week on average. It was extremely helpful to have during our first few "moving in" weeks when we needed to run to IKEA or drop off some boxes at the recycling center. And we've realized we're going to need to head back to the farm every four weeks or so just to check on things (and bring a few of the less-essential things back with us that are still there.) But otherwise, having a car in Berlin is totally not essential, thanks to a fantastic public transportation system, as well as the easy of renting a bike or car whenever you need one — and even if it's only for a few hours.
Trains, Trams & Buses
The city of Berlin is extremely well networked when it comes to U-Bahn (underground train), S-Bahn (above ground trains that generally go further distances), bus and tram connections. And not only is it well connected, but the U-Bahn trains literally run every 5 minutes, around the clock. This is a massively huge difference from Frankfurt, where you can easily wait 10-15 minutes for a train within the city. In rush hour, the trains run every 3-4 minutes (barring any mishaps) and it's just awesome.
I have to admit that I have a slight fear of getting on a train somewhere and becoming totally lost in the process, but that has a lot to do with a rather confusing system in Frankfurt. By our front door, we can get to just about any part of Berlin that we want to visit via 1 of 4 U-Bahn lines, and we haven't even begun to think about the buses running through here. But the crazy thing is that many times the stations are so close together that you can actually walk it almost as fast as you can ride. You can also plan out where you need to go online at BVG.de (in both German and English).
Whether you are visiting for a few days or living here for the long haul, there are great ticketing options for the train system. Daily tickets can be purchases for singles or groups, and monthly or yearly tickets are also available — and all can be purchased right at the regular automated ticket machine (in a variety of languages). But if you buy a single trip or daily ticket, make sure you also stamp your ticket at the nearby stamper to validate it.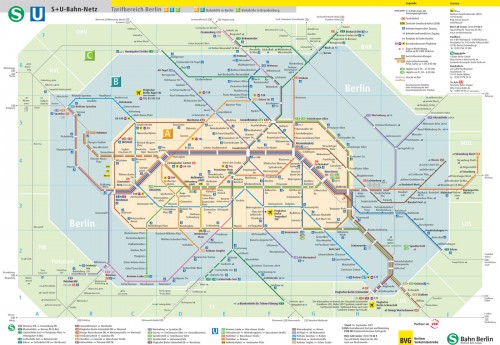 And speaking of buses, if you're visiting the city and want to take one of the numerous tour buses that guides you through the city on a hop on/hop off bus for €10-20 — you can also experience the same thing (without the recordings and announcements) for about €2.30 (the price of a single daily ticket). Take bus 100 to go from Alexanderplatz to the Berlin Zoo (Zooilogischer Garten). Or you can take bus 200 which makes most of the same stops in the city, but ventures a bit further into the East and Prenzlauer Berg. A lot of people do know about this "insider tip" now, so if you're trying to avoid a rush of tourists, bus 200 is probably the safer bet. And in rush hour you can expect additional delays on any bus you take.
Bike Rentals
Although there are a lot of bike rental services which are typically used by tourists, there are also short term rentals available for bikes. For example, if you just need the bike to go from work to home or vice versa, and know that there is a station nearby where lots of rental bikes are available, you can use the Call a Bike service. After the initial setup fee, you can rent by the minute (€0.08) or by the day (as low as €9 if you have a BahnCard). And they seem to be adding new stations in Berlin all the time.
Or you can just try for one of the local bike rental places. In Berlin, there are ads all over the street for rental bikes, especially near hotels. But do look around a bit before you commit to one. On any given street, you may see prices range from €8 per day up to €12. It's all a matter of what hotel or business you're renting from and the area you're in! Some of the places which cater to tourists will also give you a multi-day discount, such as Fat Tire Bike Rentals or Berlin on Wheels.
If you happen to be on Couchsurfing (and you should definitely check it out if you like to travel on the cheap), you can also rent a bike for free from one very generous Berliner at BikeSurfBerlin!
Car Sharing & Free Trailers
Although there are many large chains like Europcar and Sixt that you can rent cars through, there are also some businesses that specialize in short-term rentals too. So if you just need a car for a few hours to go on major shopping spree for a party (for example), you can use them. Services like Flinkster, DriveNow and Car2Go have car depots all over the major cities and you can just go online or to one of their mobile apps, register that you want a car and what type, and then pick it up without having to interact with anyone. There is usually an initial setup fee to join the service, but the rental can be as low as 29 cents an hour on the compact cars (including gas). There are also often local services that offer even more impressive rates, but you'll have to dig a bit deeper in your area.
Or, if you like to mingle and meet new people, you can also try carpooling with someone who's going in your direction and offering up a free seat. Usually you share the price of gas and if you're going to more major cities, it an be a great way to get from A to B. A friend of ours used to use the service Mitfahrzentrale often when he wanted to come visit us in Frankfurt from Munich.
By the way, did you know that if you buy something at IKEA and you buy more than you can actually fit in your car, you can get a little trailer from them for free (up to 3 hours?!) And if you don't finish up by then, it's only €5 for each additional hour? We've never taken advantage of this because we only just learned it exists…but it's definitely a nice service for those that have a trailer hitch on their car or truck.
Taxis
During our first visits to Berlin, we often took a cab where we wanted to go. Taxis here in Germany are usually light beige and clearly marked as taxis, with a photo ID always on display. Cabs are generally not the most common way to get around in Berlin, but they can be practical if you're out on the town and don't feel like killing your feet in those heels any longer. They can also be useful if you're going somewhere more off the beaten path or just don't really know where you're going in general.
Taxi stands are prevalent in Berlin, and often found near hotels and major U-Bahn & S-Bahn stations. There are also really handy phone apps like MyTaxi that allow you to order a taxi to your current location, know exactly when it will arrive and even pay over the app with your credit card or PayPal.
In Berlin, if you know where you're going, you can also often haggle with a driver; and anything under 2km is a considering a Kurzstrecke (short trip) which should only be €4 fare. But there are many drivers who hate this ruling and will go to great lengths to avoid it. Plus, it supposedly only applies if you hail a cab on the street and not if you get in at a taxi stand or order a cab.
---
And if all this is just too much to handle, "hoofing it" is another great option. We've been walking here more than ever before (3-6 mi /5-10 km per day)  and the pounds are just falling off. So if you know you're going to be spending a lot of time eating the delicious food and sampling the beers, consider taking a walk from your hotel to the restaurant instead of catching a cab or taking the U-Bahn.
No matter how you decide to get around in Berlin, do keep in mind that there is no real tourist season here. During the summer, there are more people visiting than usual (due to kids having vacation) but even in the winter the city seems to be crawling with people. There are constantly cheap flights which can be snagged up all over Europe and even the US, and as the capital of Germany with tons of cool places to see and things to do, it's a very hot travel destination in Europe. And remember, whatever your plans are while in the city, know that things run a bit more slowly around here — and we like it that way!
This post is part of the monthly Expat Bloggers Stammtisch. For more posts about transportation in Germany, be sure to check out the posts below.