I know I've already gone on quite a bit about Hessenpark and how fantastic it was…but I'm not quite finished. Since I have a few more photos to share just about their herb gardens, and a bit of info as well, I thought I would break this down into a separate post.
I was really hoping to find a bit of inspiration for our garden while we were there as I assumed they must have at least a couple of areas where they had set up typical farmer's gardens. One of the first things when we walked in was actually a garden just like that…but they hadn't labeled anything so that only partially helped. Thankfully we were able to identify quite a few things.
Then we came to another garden which had a really cute little woven fence around it. Inside were mostly herbs and everything was marked with their own little wood signs. Now I don't know about you, but I am constantly looking for ways to label my plants in the garden. I have not yet found the perfect system (nor have I really started any system) but I'm liking this one because we have lots of scrap wood around here all the time that would perfect for these. Plus you can easily move them from year to year if you're using them for veggies.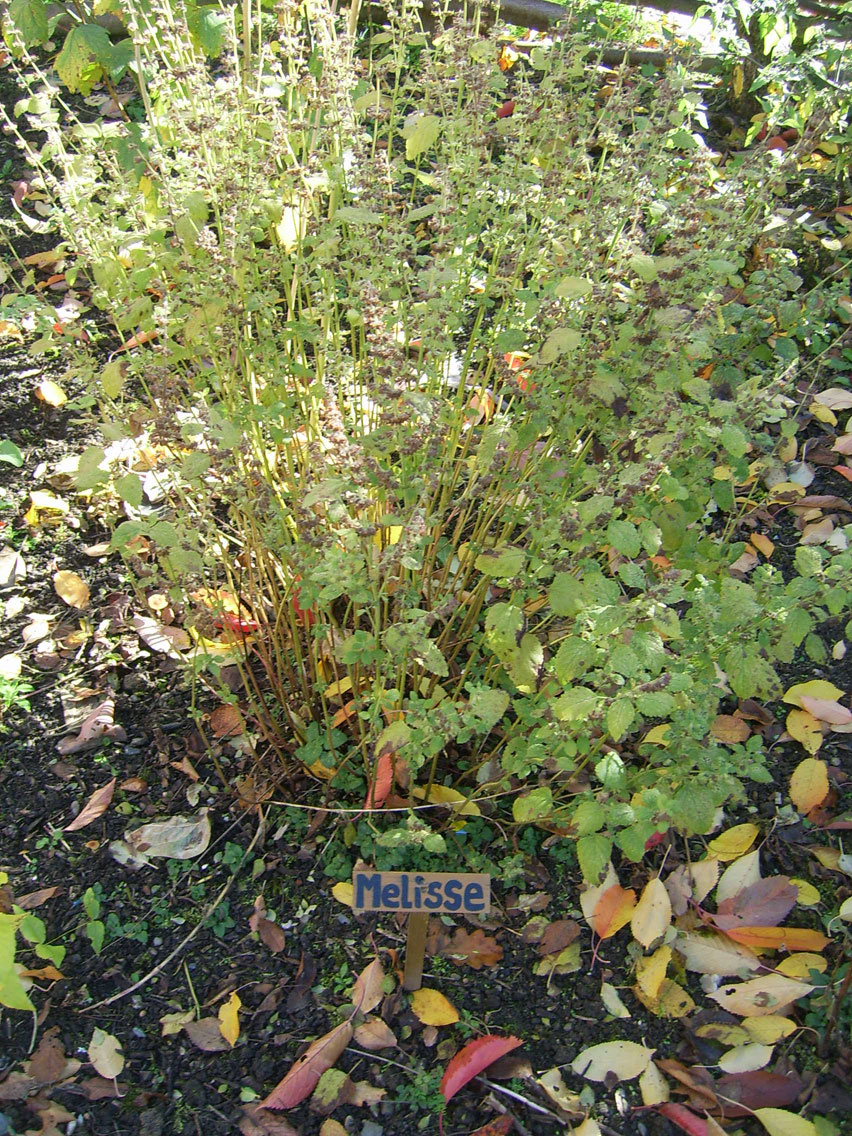 But even more exciting than this idea, was a fascinating garden near the wine they had growing on the house. A sign had been placed on the edge of the garden which gave the overall layout of things…and not only said what every herb was, but also how it was used for cooking AND healing! Click on the image to view it more closely…it is all in German though.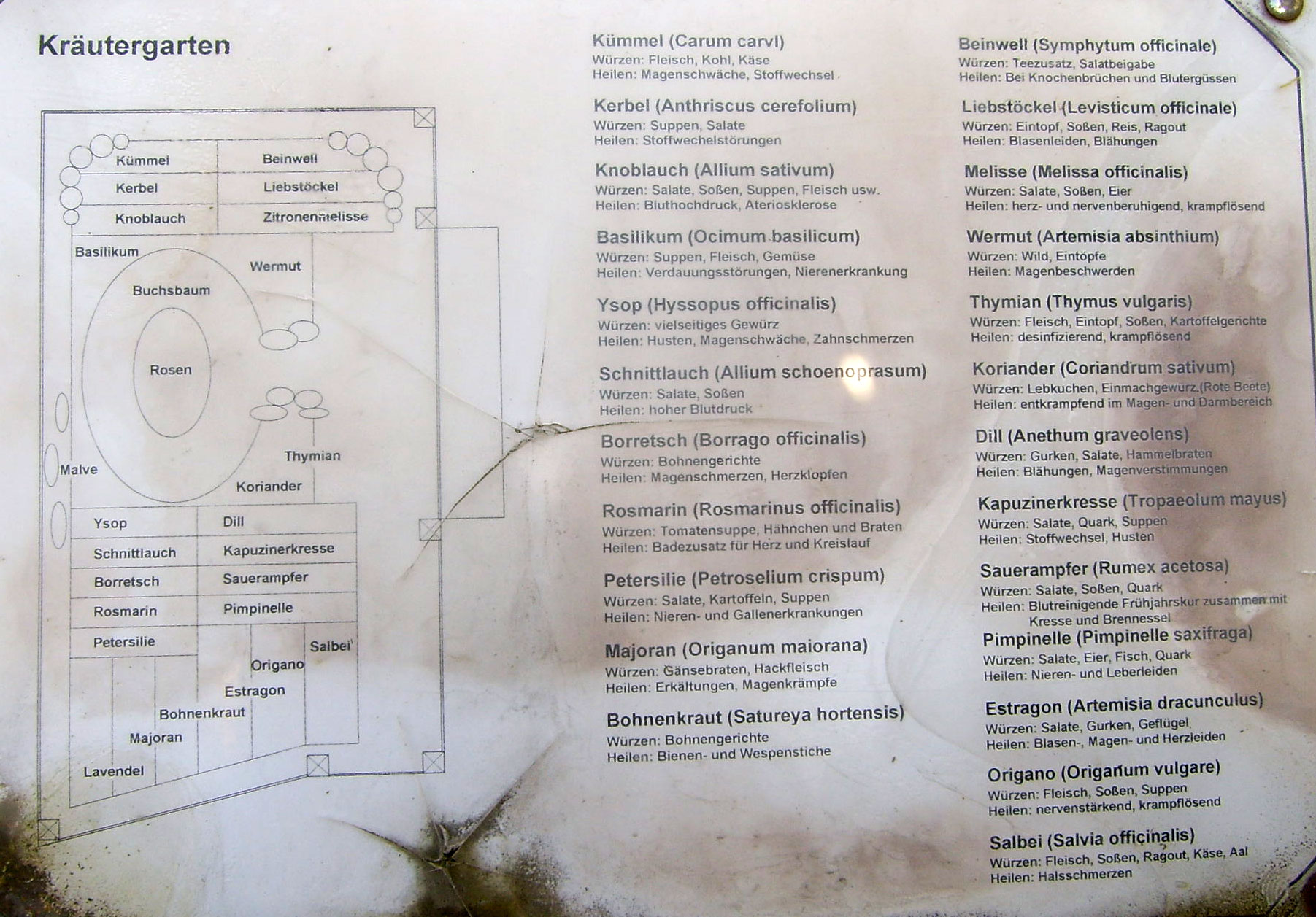 And because it's in German, I'm going to translate it for everyone…because it's just that interesting! But first, a photo of part of the garden. Unfortunately I couldn't get above it to take a full view, but you get an idea of what it would look like from their little diagram. This would be the bottom part of the garden, under the circle.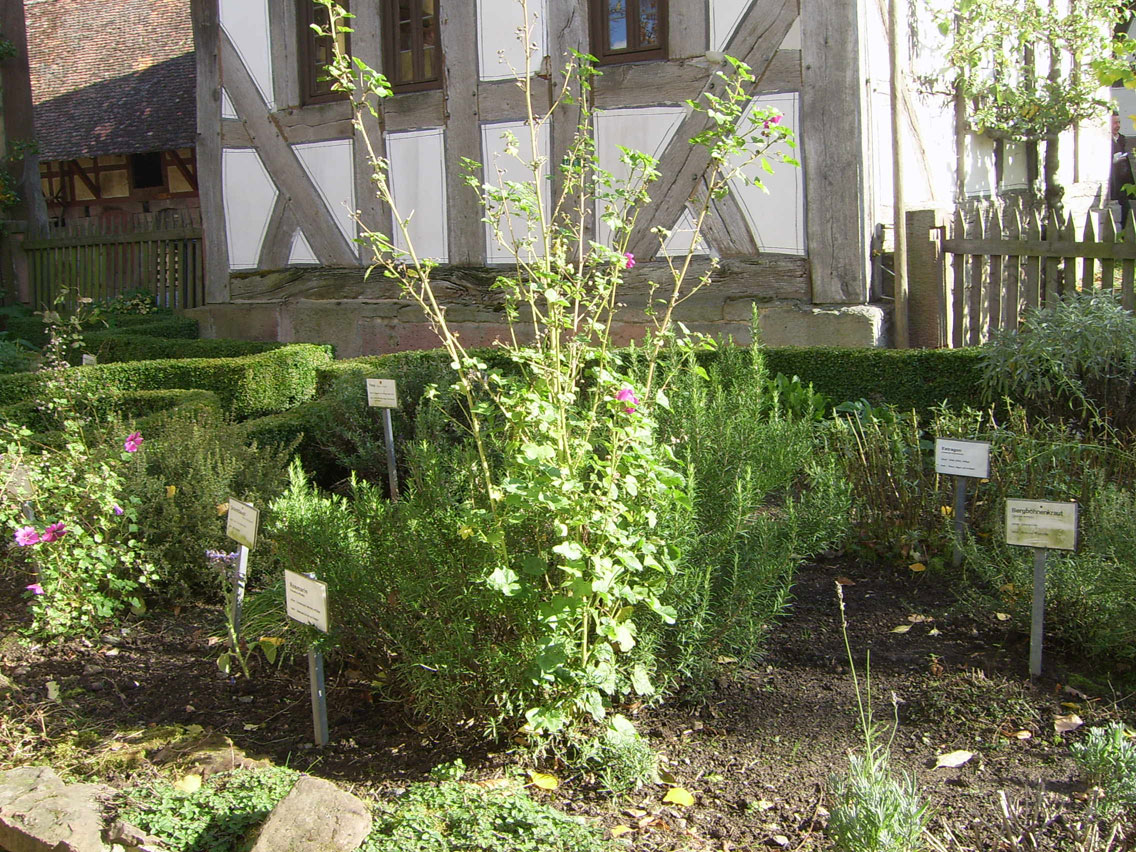 On to the herb details! German name first, then in English, and finally Latin. And then all the good stuff…
Kümmel – Caraway (Carum carvl)
Spice: Meat, cabbage, cheese
Remedy: Stomach problems, metabolism
Kerbel – Chervil (Anthriscus cerefolium)
Spice: Soups, salads
Remedy: Metabolic disorders
Knoblauch – Garlic (Allium sativum)
Spice: Salads, sauces, soups, meats, etc
Remedy: High blood pressure, atherosclerosis (arterial blockages)
Basilikum – Basil (Ocimum basilicum)
Spice: Soup, meat, vegetables
Remedy: Digestive disorders, kidney disease
Ysop – Hyssop (Hyssopus officinalis)
Spice: Many uses
Remedy: Coughs, stomach problems, tooth pain
Schnittlauch – Chives (Allium schoenoprasum)
Spice: Salads, sauces
Remedy: High blood pressure
Borretsch – Borage (Borrago officinalis)
Spice: Bean dishes
Remedy: Stomach aches, heart palpitations
Rosmarin – Rosemary (Rosmarinus officinalis)
Spice: Tomato soup, chicken, roast
Remedy: Bath additive for heart & circulatory system
Petersilie – Parsley (Petroselium crispum)
Spice: Salads, potatoes, soup
Remedy: Kidney & gall bladder illnesses
Majoran – Marjoram (Origanum majorana)
Spice: Roast duck, ground beef
Remedy: Colds, stomach cramps
Bohnenkraut – Summer savory (Satureya hortensis)
Spice: Bean dishes
Remedy: Bee & wasp stings
Beinwell – Comfrey (Symphytum officinale)
Spice: Tea additive, salad extra
Remedy: During bone fractures & bruises
Liebstöckel – Lovage (Levisticum officinale)
Spice: Stew, sauces, rice, ragout
Remedy: Bladder trouble, flatulence
Melisse –  Balm/Melissa (Melissa officinalis)
Spice: Salads, sauces, eggs
Remedy: Heart and nerve calming effects, anticonvulsant/antispasmodic
Wermut –  Wormwood (Artemisia absinthium)
Spice: Game, stews
Remedy: Stomach troubles
Thymian – Thyme (Thymus vulgaris)
Spice: Meat, stews, sauces, potota dishes
Remedy: Disinfection, anticonvulsant/antispasmodic
Koriander – Coriander/Cilantro (Coriandrum sativum)
Spice: Lebkuchen (Christmas cookies/gingerbread), canning spice
Remedy: Anticonvulsant for stomach & intestines
Dill – Dill (Antehum graveolens)
Spice: Pickles, salads, roast mutton
Remedy: Flatulence, indigestion/upset stomach
Kapuzinerkresse – Nasturitum (Tropaeolum mayus)
Spice: Salads, curds (cheese curds), soups
Remedy: Metabolism, coughs
Sauerampfer –  Sorrel (Rumex acetosa)
Spice: Salads, sauces, curds (curd cheese)
Remedy: Blood cleaning spring-time treatment together with Kresse/Dittander (Lepidium latifolum) & Brennnessel/Stinging nettles
Pimpinelle – Burnet saxifraga (Pimpinelle saxifraga)
Spice: Salads, eggs, fish, curds (curd cheese)
Remedy: Kidney & liver disease
Estragon – Tarragon (Artemisia dracunculus)
Spice: Salads, pickles, poultry
Remedy: Bladder, stomach & heart disease
Origano – Oregano (Origarfum vulgare)
Spice: Meat, sauces, soups
Remedy: Tonic, anticonvulsant/antispasmodic
Salbei – Sage (Salvia officinalis)
Spice: Meat, sauces, ragout, cheese, eel
Remedy: Sore throat