During our last few months at the farm, we had the opportunity to purge our house of a myriad of things that we needed to get out of our lives. The things were sometimes things we'd bought but no longer had a need for in our new apartment, things we found while decluttering and realized we hadn't been using, and things that came with the farm. A great majority of things actually were part of the farm, since we probably could have opened an antique shop with all the trappings left in the farm when we bought it. There was just so much in the house, probably because there were storage places all over, and in our 6 years there we filled up 19 large 10-ton trash containers with stuff that just wasn't worth keeping. Three of those containers were filled up in just the last two weeks in the farm!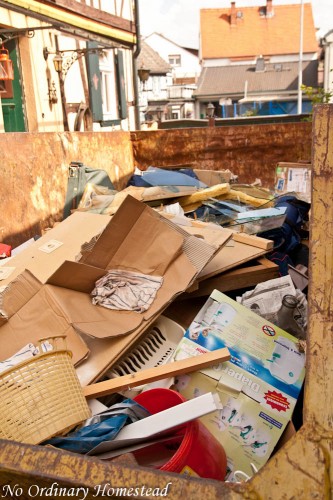 But in addition to everything we trashed, we also managed to give many things a new home with some wonderful people that we met through Freecycle. Interestingly enough, there doesn't seem to be any "type" of person that uses Freecycle. We have met people from all walks of life, young and old, who have happened across the forums (usually by way of a friend.) Some were first time users who will probably now be hooked for life. And others have been using it for years. But regardless of whether they were looking for furniture, a box of no longer needed glassware and china or an old bass box from my college days; nearly every one was refreshingly thankful and grateful — which gave us a wonderful opportunity to renew our faith in society.
Who did we meet and what did they take?
I do have to admit that at times some of the people were woefully unprepared for what they were embarking upon…
On one occasion, someone arrived to look at some scrap wood that was in the barn and wanted a pair of shutters to use for some sort of decorating project. She was not only bummed out that her husband had to climb a ladder to get them (we weren't even certain she wanted them before they arrived) but that they were covered in dust and cobwebs. But the best was when she asked if she'd be able to get "the smell of barn" out of the wood. How we managed to maintain straight faces is still beyond me.
And then there was the small-framed woman who arrived by herself and parked her trailer on the other side of the busy street to pick up a big, solid wood apothecary cabinet. I have to wonder what she would have done if it had only been me at home without Stefan and our other friend.
But for the most part, we had great experiences with Freecycle in the Frankfurt area — and we are looking forward to starting on our next Freecycle journey in Berlin. There certainly won't be quite as much to get rid of, but we do have 5 boxes of stuff already to give away, which I'd always rather do versus just tossing it out.
A hobby carpenter giving old wood new life
Because the previous owner of our house was a carpenter, there were piles of wood all over the barn. And pieces of furniture. And furniture. And more furniture… We knew we had to get the wood out of here somehow, but some of it just seemed to0 nice to trash. So we put an ad on Freecycle to see if we could track down any carpenters that might have a use for this stuff. We found a few people that wanted to use it for firewood but we also managed to connect with a guy who you'd swear is 35-40 years old, but had just celebrated his 50th birthday. He has one of those dream jobs, traveling around the world and building event staging for some major companies. And in his free time, he refinishes old pieces of furniture, builds new ones and otherwise just makes beautiful things.
The RV-loving travel guide who needed a new bookshelf
Because I was using my blog to host photos of the stuff we listed on Freecycle, several people noticed that the site was actually about us. So some would show up at the door speaking English, despite the fact that all our ads were in English. I bet a few of them are out there even now, reading this.
One particular woman (who ended up coming with her boyfriend who had already been to our house once to pick up a beer tap) had taken advantage of an 8-year stint living in Mexico to travel all over the US and Canada in an RV. She's an absolute free spirit who we've already become friends with on Facebook, and will almost certainly run into again in life. Her passion for life is just contagious and she's done several things we'd love to try; so I know her friendship will be invaluable.
An airline attendant who fell in love with a table
We also met a lovely woman and her dad who were some of the nicest people we've met while we've lived here. We connected because she was put out a search listing for a small table, preferably with a drawer, which she could turn into a dining table. And I was actually referred to the woman by someone else on Freecycle who had seen her request. Since we had about 5 tables of all shapes and sizes, I shot her a quick email with some photos. She picked out a table she liked, her dad started loading it in the car, and then she found a table we've been using as our command center in the courtyard which was even more fitting. So they unloaded the first one, put the second table in and were on their way. Then, once she had it all refinished and settled in, she actually sent us a photo of it. I have to say it really is the perfect fit!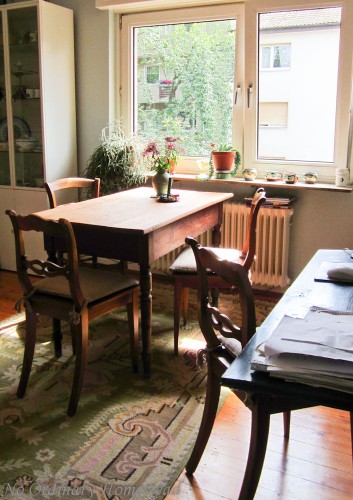 An expat couple we wish we'd met sooner
One particular couple we met was extremely similar to us and we ended up seeing them many times because they came back to get various things. As it turned out, most of it wasn't even on the Freecycle list; but rather things they saw when they came to us and just happened to ask about. They will hopefully be putting our aquaponics table to good use, as well as our salad table…and I'm sure their son who is slightly younger than Mackenzie is going to have a great time on her old trampoline. Those were some of the things that we might have just left there at the farm had they not asked us about them — but in the long run, I'm sure that these special things were better off with someone who actually knows what they are and how they can use them. And thanks to all I've written on this blog, we could also give them some extra guidance on how it all works! Plus, with any luck, they'll be looking us up the next time they're in Berlin.
A super heartfelt woman who has lots of great friends
If there's anyone in the group of people we met that I would want to have as a best friend, it would have to be a special woman we met right at the beginning of our decluttering mission. Not only does she peruse Freecycle listings on a regular basis for friends, but she is just one of the nicest people I've ever met. And she truly seems like that the type of person who would do anything for you, whenever you should need her.
So there you have it — a smattering of some of the very wonderful people we met recently via Freecycle. We can only hope that their lives have been blessed by the things they took and that some day, they'll remember to pass on the wealth.
What's your experience been with Freecycle? Have you used it often to give or receive?