Several years ago, I got one of the most wonderful Christmas gifts ever from my in-laws. If you saw the title of this post, you've probably already guessed what it was — a KitchenAid Pro mixer. And if you've got one yourself, or ever seen one of the Pro or Artisan mixers in the stores, you know why I squealed like a little girl when I opened that box.
It it without a doubt one of my favorite things in our kitchen, and not just because it's so awesome to look at it, but because it is a truly useful machine that will last for decades if you treat it well.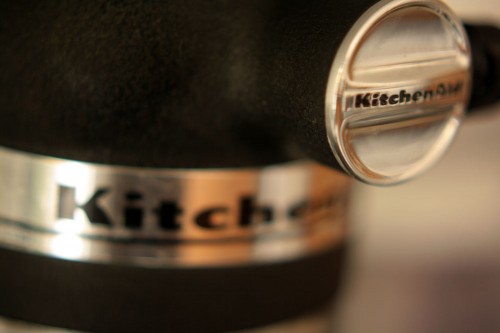 My particular mixer is no longer being produced. It was the KitchenAid Pro 450 series, a 300-watt mixer that comes with a powerful direct-drive transmission. The new version is actually even more powerful and rugged: the KitchenAid Pro 600, 5-quart mixer. You've still got 10 speeds to work with and all metal construction that is extremely stable.  The machine is also heavy enough that it won't scoot around on your counter when you're mixing and very durable. It's also easy to clean and I really like the bowl-lift design. It keeps the drips to a minimum, whether you are cooking for two or making 4 loaves of bread at once.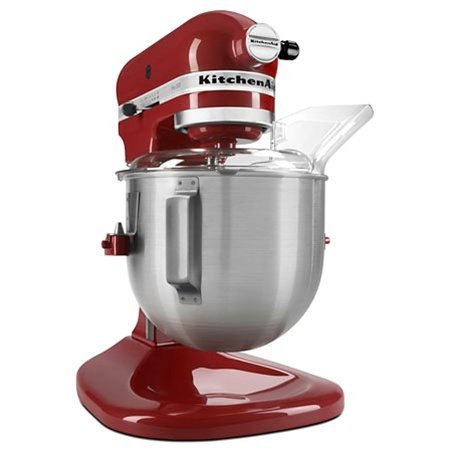 I like that the machine itself is almost a work of art. It's absolutely pretty enough to leave sitting out on the counter all the time…and is one of the few appliances that I allow such a privilege. It also now comes in a bunch of different colors like Cobalt Blue, Tangerine, Majestic Yellow, Imperial Black (with a matte finish), Pearl Metallic, Onyx Black, and Empire Red (just to name a few)…so you can really enjoy having it being a focal point in your kitchen if you want it to be.
But you have to make good use of a machine like this. The Pro series actually like to be used at least once a month or they start to feel neglected and may react unfavorably to you from time to time. But since you can replace a bunch of other appliances in your kitchen when you load up on attachments, you shouldn't have any objections when you start baking and cooking more often at home, right?
I personally am a sucker for the attachments. The KitchenAid 600 comes with its very own accessories in the form of a burnished flat beater, burnished dough hook and a wire whip.  I was also blessed enough to get the very awesome pasta attachments for the KitchenAid which makes it a whole lot easier to make your own pasta at home, from angel hair to fettuccine to lasagna noodles. There are also tons of other attachments like the food grinder, sausage stuffer, the slicer/shredder and the juicer. But one of the next investments for us has to for the ice cream maker attachment. We had a separate ice cream maker in Germany that we loved…so this one has got to be totally fab.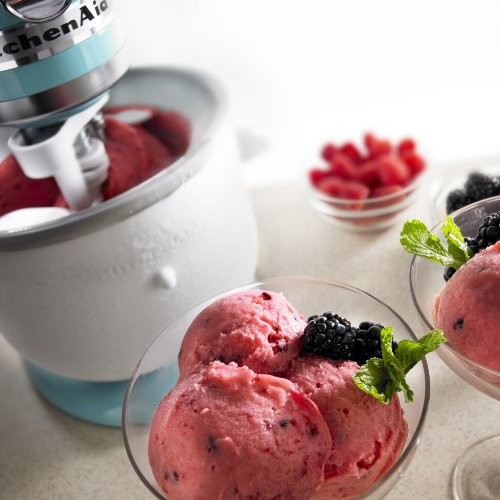 The KitchenAid Pro mixer really gives an all-around functionality that comes in very handy for a wide variety of kitchen tasks and it is always up for a challenge. It can quickly replace a myriad of other appliances in your kitchen which I really love — from your bread machine to your pasta roller. And everything is so robust and well built that you'll probably be able to pass your machine on to your next generation. My mother-in-law has had hers for decades and you can't tell the difference between hers and mine.
 The Final Verdict
PROs about the KitchenAid Pro Series:
Quick, complete mixing
Seamless design, easily cleaned
Bowl is dishwasher safe
Fast and powerful
Good motor
CONs about the KitchenAid Pro Series:
Little room to put ingredients when hook/beater/whip is attached (I usually turn off the mixer when I add ingredients and sometimes lower the bowl)
It's heavy (I see this as both a plus and a minus since you don't want it walking across your counter when you make bread)
If you're thinking of giving her (or him) the ultimate gift this Christmas but think maybe it's too impersonal — trust me, a KitchenAid mixer is very personal. Plus she'll know you think her cooking is good enough to encourage her to feed you more often.
Do you have a KitchenAid? What do you love about it?
Note: The opinions expressed in this post are my own. I have not received any products or payment from the manufacturer for this post. There are however affiliate links, and if you purchase something at Amazon via one, I may receive a small commission. I appreciate your support if you do. Feel free to visit my disclosure page if you have questions about this post or any other posts on NOH.