On Monday, I shared with you one of our favorite new recipes for beer roasted chicken in a clay pot. And I mentioned that we've really been getting creative with the leftovers and having some fun when it comes to cooking. This is one of those recipes. So if you've made that chicken already and somehow still have a bit in your fridge, you can whip these up.
One of the first things I threw together in the kitchen after our first batch of chicken had mostly been devoured by my 4-year-old was the following recipe. In recent weeks, I have been getting more brave about trusting my gut in the kitchen and just tossing ingredients together that happen to be lurking in our fridge — but making recipes that taste really awesome in the end. The following was one such recipe that everyone in the family was thrilled with.
We've always been big fans of wraps in our house, whether it was tacos, fajitas, chicken caesar wraps or just simple bean burritos. I love the simplicity that a wrap lends to a meal. And they can be super low carb if you need. Plus, if you are really adventurous, you can get different types of flavored wraps or even make your own. That's one of the tasks I've thought about doing many times — especially since I know the ones we buy in the store must be laden with preservatives since they rarely seem to go bad. And they seriously cost a small fortune here. But I've just never quite gotten around to it.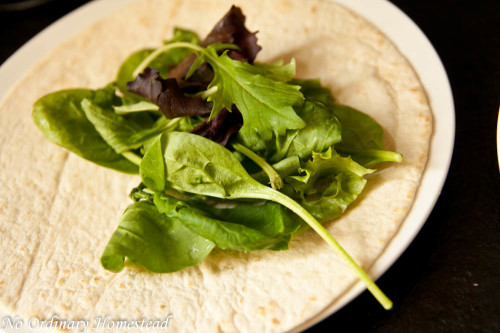 At any rate, this recipe is extremely simple and totally delicious. It will use up quite a few of the things you have left over from your chicken feast the night before (assuming you serve it with gravy and rice) and you can actually eat it right out of the bowl like it is. But I thought the aspect of putting it in a wrap was just too fun to pass up. It's also something you could eat cold if you wanted, or even take on a picnic since there's nothing in it that will spoil.
So here's the chicken leftovers recipe for beer chicken wraps. Hope you enjoy it as much as we did!
These chicken wraps are a great way to use up leftover chicken -- or you can use a rotisserie bird from the grocery store as well. Quick, simple and delicious!
Ingredients
1 cup cooked chopped chicken
1/2 cup cooked rice
1 can cannellini beans (huge white beans)
2 small fresh tomatoes, chopped
2 tablespoons chicken gravy (leftover from beer roasted chicken)
Handful of lettuce and baby spinach
4 small tortillas
Instructions
Add all the ingredients to a small pot and cook at medium heat until warm.
Warm tortillas in oven or a small frying pan.
Add lettuce to tortilla then top with chicken mixture. Roll it up and devour.
http://www.noordinaryhomestead.com/leftover-chicken-wraps/