When I was growing up, my mom made a lot of things from scratch and I vividly remember the smells and tastes of a big pot of spaghetti sauce or vegetable soup cooking on the stove all day long. She also canned veggies and fruits from our garden, which she allowed me to help with, and for months later we were eating as delicious bread and butter pickles, making tomato sauce from our own canned tomatoes and enjoying the spoils of our labor long after the winter had arrived.
My mom was always a bit of a supermom in the kitchen (and she still is) who had no trouble just pulling a huge meal together off the top of her head. No planning, no recipes, just going by feeling. Sure, she had some basic outlines in her head of how it all worked, thanks to years of cooking experience. Not only was she amazing with food, but she also ran a very tight ship around the rest of the home too. I never realized until later in life just how much work she must have been investing into keeping things spotless and the house running in tip top shape while also working full time and more or less being a single parent.
Unfortunately when I was younger, I didn't have much interest in learning how to be the perfect housewife or even how to really learn to cook for myself. I mean I knew a few basics and wasn't completely helpless in the kitchen; but I'm sure it would have come in handy later in life if I had watched her a bit more closely in the kitchen and learned from her routines. In college, I basically lived off of microwave dinners, Taco Bell and big bags of Cheddar Cheese Combos, washed down with a bottle of Coke. And while I'm still a fan of Combo's and Taco Bell (as long as I don't think too hard about what I'm eating), I would have been a lot better off in college if I'd at least known how to throw together a couple of basic pasta dishes.
I don't know exactly when the turning point was for me that I truly needed to make things myself versus buying them, but there are certainly more things in our fridge and pantry that are homemade or from scratch than things that are pre-packaged, pre-made or otherwise convenience foods. A big influence for me to start making my own condiments like ranch dressing and picante sauce occurred when we moved to Germany 11 years ago. There was no option to just run to the store to pickup things like that — because bottled salad dressings didn't start to hit the market here until a few years ago, and you still can't get a decent picante sauce anywhere.
It seem that once I started there, I began to notice how easy it was to make other things myself — and they tasted about 10 times better. Plus I knew exactly what was in the food instead of being worried about all the preservatives, chemicals, food colorings and other things that get throw into pre-packaged foods everyday. And don't even get me started on the glucose, corn syrup and modified corn starch…
In this day and age, when the health of the world is at stake, it's more important than ever to think twice about ever food item you put in front of your family. Just a small change in diet can make a huge impact. My husband and I learned that recently ourselves…
Usually we drink home brewed ice tea by the gallon and very little else. It's inexpensive, it tastes better than tap water and it keeps you hydrated. But what we didn't realize was that the sugar we were sweetening our tea with was actually worse for us than we ever imagined. Once I started using homegrown stevia leaves and other natural sweeteners in our tea, we both began to look less bloated and actually began to lose a few pounds.
Introducing Easy. Homemade.
Do you want to learn how to make your own homemade versions of the things you use regularly in your kitchen so you not only save money but also can eliminate many of the questionable ingredients that the store-bought staples contain just to boost the shelf-life of those items?
Does reading the labels on the foods available in the grocery story make you go cross eyed or make you feel sick as you see the list of items included just to make those foods cheaper to make, and provide flavors and colors that wouldn't otherwise exist?
Do you want to save more money on food while improving your family's health?
If you're answering "yes" right now, then Easy. Homemade. is exactly what you need.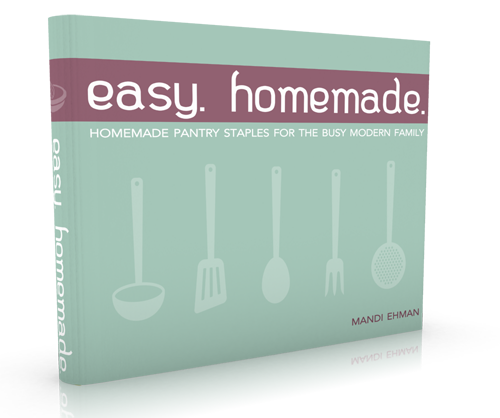 The ebook Easy. Homemade. is a collection of over 60 tried and true recipes for all sorts of cooking essentials, from sour cream to chocolate syrup, from baking mixes to beverages. While you can find many recipes online to make all sorts of staple foods, you usually only have one person's word of advice to go from — not a team of experienced home chefs (and parents to picky-eater kids!) But you don't have to take my word for it. Go over to http://easyhomemade.net/download-a-sample/ and snag a couple of recipes from Easy Homemade right now, plus see the entire table of contents so you know exactly what recipes you'll be receiving. Everything from pantry staples to beverages to dairy basics like butter are covered — and far easier to make than you ever imagined.
And not only are these great tasting, but they are also extremely easy to make. So any busy mom or dad can throw them together while preparing other meals, or just devote some time one day a week to make sure you stay stocked up. Mandy (the author) is a busy mom to four girls, she works full time on her impressive blogging empire, homeschools her daughters and likes to enjoy life as well — so the last thing she wants to do is spend hour upon hour in the kitchen every day. But with a little pre-planning and a few handy kitchen gadgets, most of the things in Easy Homemade can be made without sacrificing a lot of time. There's also something really empowering about watching your homemade mayonnaise emulsify and ladling your homemade spaghetti sauce into jars for future meals.
If you buy today or tomorrow (8/21), you'll get your copy of Easy. Homemade. for just $0.99! And as a special bonus, you'll also receive a set of printable recipe cards, the Nook and Kindle files to load to those devices, and access to all of the recipes from the book on PlantoEat.com. After Tuesday, the price goes up to $3.99 and this offer will never be available again.
So what are you waiting for? Do yourself and your family a favor now and go buy this great ebook, Easy. Homemade., for one-quarter of its retail price as part of the exciting new introductory offer!
Now I'm off to make myself a frappaccino thanks to the super simple recipe in this ebook!