Hi friends,
You may or may not be aware that I am not a friend of harnesses. For the first few years of my life, mom and dad thought a collar was good enough. But as I got bigger, I got crazier ideas in my head and formed my own agenda…and I discovered that I could really have a great time on my own when I slipped my head out of the collar.
You see, us Newfies have a rather big waddle…and basically it's all just loose skin and fur from our chin down to our shoulders. So the region where a collar sits is actually bigger around than our heads…and once we discover this, we are virtually impossible to keep under wraps and in a collar. That's in addition to the fact that we are stubborn like mules, especially us girls, and can be rather hard to control even with a lot of training.
So several years ago, mom and dad wisened up and got a harness. Boy was I devastated. No longer did I have the ability to wiggle free when I saw a rabbit I needed to chase or a friend I wanted to greet. AND they were able to keep me reigned in and under control a lot better, which you know I wasn't too thrilled about.
Thankfully, that first harness only lasted about 2 years (which mom and dad still thought was a pretty good life span for it)…but then they got the ultimate harness of all time:
The Julius K9 Power Harness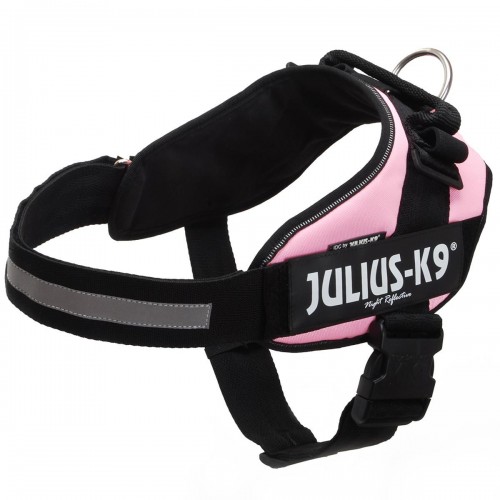 The Julius K9 Powerharness is the big leagues, and these things are actually used on all sorts of athlete and working dogs across Europe. The company is based in Hungary, and the first products were developed and tested in 1997, including muzzles, leashes and other accessories that were supplied to the Hungarian and Austrian police. After that, the growth of the company was rather explosive and whenever you walk down the street here in Germany, you will see multiple dogs with them on.
But it's not just because they're trendy (although they are) — these harnesses are tricked out and well designed. There is absolutely no contact or stress on your dog's neck, and it slides on and off quickly. Not that I actually like having the thing put over my head. Some seem to think I'd be eager to put it on since it means we're ready to go for a walk… But something about knowing that once that harness goes on, I have to submit to the humans just makes me want to run and hide. I think explaining the complexities of my thinking when it's time for a walk is not going to possible in just one post so let's move on.
The harnesses come in a variety of sizes, from the tiniest of toy Chihuahuas to dogs way more massive than I am. In fact, I only wear a size 3 harness, but there is actually a size 4…so this company really has been thorough about offering something that fits every dog. There is one chest strap which is adjustable and after the first time it's been put on you, adjustments are rarely needed. In fact, I don't think the people ever touched the chest strap on mine again after that first fitting. The whole strap is covered in Velcro so it's very easy to size…and on the outside is a reflective strip. With furry dogs like myself, you never see that strip; but I figured it's a nice feature for my short-haired friends.
There's also a practical handle on top which you can use to lift your ankle biter, give your "real" dog a boost or just to grab your dog if they decided to try to eat a neighbor. Because of the way the harness is built, it's actually intended to be used for lifting your dog up without injuring them… but since it takes at least two people to lift me without someone's back being thrown out, we've never tested that feature. It's mostly just used to restrain me if I try to wander into oncoming traffic absentmindedly…or decide to show another dog just how fearless I am.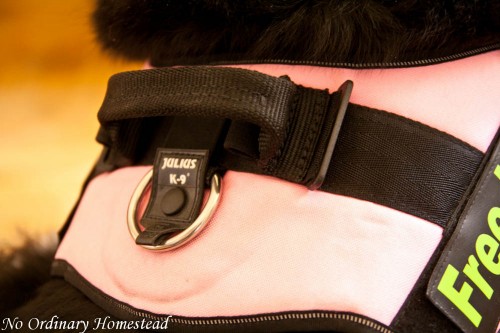 That little snap you see is actually to secure the handle in place. So if a dog is doing search and rescue or tromping through the woods, the handle is not going to get snagged on anything quite as quickly as it might when it's raised up off the harness.
The humans bought the first Julius K9 harness about old one about a year ago and I have to say that for the same price as my first harness, it's just in a whole other world of luxury. After daily use in rain, snow and sunshine, it has shown hardly any signs of wear and tear — and believe me, I tried for a while to break the thing off of myself by casually leaning against walls as we walked along. The only thing it has to show for my efforts is a bit of discoloration on the strap. Lame.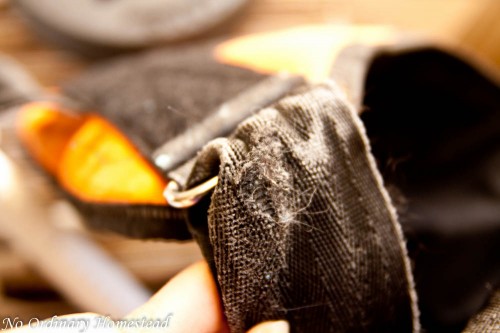 So even though I didn't really NEED a new harness, the people wanted me to look cutesy in the city — and they ordered me a pink harness. It's probably for the best since a lot of people eye a big black dog in a neon orange harness a bit funny…but when I'm wearing pink and wagging my tail, the last thing they are usually thinking is, "That dog is going to try to eat me."
Our new harness, the Julius K9 IDC Power harness (versus the Powerharness without the IDC which stands for Innova Dog Comfort) is a slightly newer model but mostly the same in functionality. It does seem to fit just a tad better because the cut is a bit more narrow somehow and the way the straps lay on the harness seem to be at a slightly better angle.
On both the old and the new Julius K9 harnesses, there is one big buckle which fastens at the side and the whole harness is designed to fit snuggly around your dog without rubbing into armpits or shifting around uncomfortably. So far, I have never stopped to chew or pull on the harness so I can't complain about how it fits at all. The buckle makes for quick releases once we get home and I'm ready for some ice cubes and a cold tile floor…although I'm not totally fond of having this thing slid over my head. But better off than on I always say.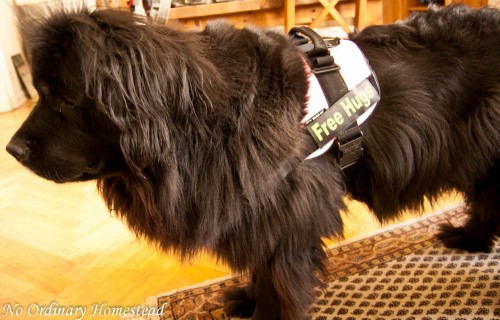 Something else really cool about these harnesses is that there a few ways to customize them, aside from selecting from one of 14 colors. Although there is a place to stick a thin flashlight through the harness in the winters (when it gets dark at 5pm here), there are also companies (including Julius K9 since 2012) that make LED strips which fit in the logo/label space. Since that area is completely Velcro, they just use a 3-LED-strip the same size as a regular logo (that panel on the side of the harness with writing on it). It works great although you don't want to leave them on if your dog is going into the water…unless you want to buy replacements for them really soon.
Another really fun feature is that the logos/labels can be changed out whenever you like because they are attached with heavy duty Velcro. There are probably 100′s of ready made logos that you can buy online…or you can have custom logos printed with your own saying on them. And depending on the company, you can also select different fonts and colors. When the humans bought my new pink girlie harness, they also decided to buy these: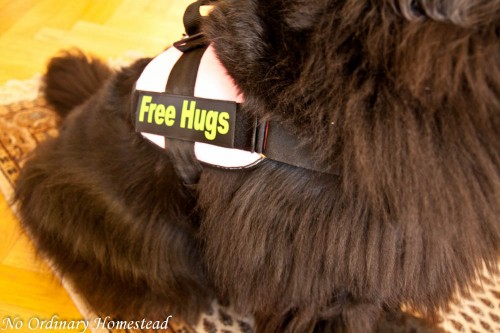 But the story of how that came about and if I've gotten my first hugs already is going to have to wait until another day!
All in all, we're all pretty happy with the harness. I tolerate it because they won't let me leave the house with out it, and it's comfortable and the new one is kinda cute (plus it gets me more attention which I adore). And the humans dig it because they have control over me and don't have to worry so much about frightening other people or dogs — or me running out into traffic!
Fellow dogs, do you have to wear a harness? Or are you not wily enough to escape?
Sloppy Newfie kisses!