When we woke up this morning, we thought we had our weekend all planned out. Get up, feed Mack, walk the dog, down some Burger King (I know, the healthy choice, right?), drop off the dead computer at the PC repair place, and finally visit Hornbach to buy the twin wall sheet panels for our greenhouse. (I don't know if that means anything to you, but I mean those plastic panels you put on greenhouses. Multiple walled sheets of plexiglass that help insulate.) Then we would come home and finally show that building some love and move the seedlings out of the dining room. Not that we don't enjoy having them around so we can watch their progress on an hourly basis.
Things went really awesome until we got to the PC place. We even stopped on our way out of town to check out a chipper that someone had set out. We brought it home but still need to see if it still works. Fingers crossed! As we pulled into the parking lot of the PC store, we saw the signs: "Closed for renovation." No mention of when they might reopen…and it didn't look like they had moved anything since the last time we were there. Not a great sign.
We continued the journey to a Hornbach we've never been to before…and probably will never visit again. It must be one of their smallest home improvement stores in Germany. But we found the plexiglass sheeting – and it appeared to be more than enough to get the job done. Unfortunately the price was not too nice. Somewhere in the neighborhood of €2,000. WAY out of the budget.
Crushed, we headed over to look for a few more things in the gardening section and did manage to find some cool new seeds and a few great herb plants for €1.99 (rosemary, parsley and sage). I'm going to use a window box near the kitchen for these guys and will put many of the other herbs I use regularly in containers around the courtyard. I'm hoping to start purple basil and dill seeds tomorrow. I haven't had much luck getting herbs to sprout in the past but I'm always willing to give it another go.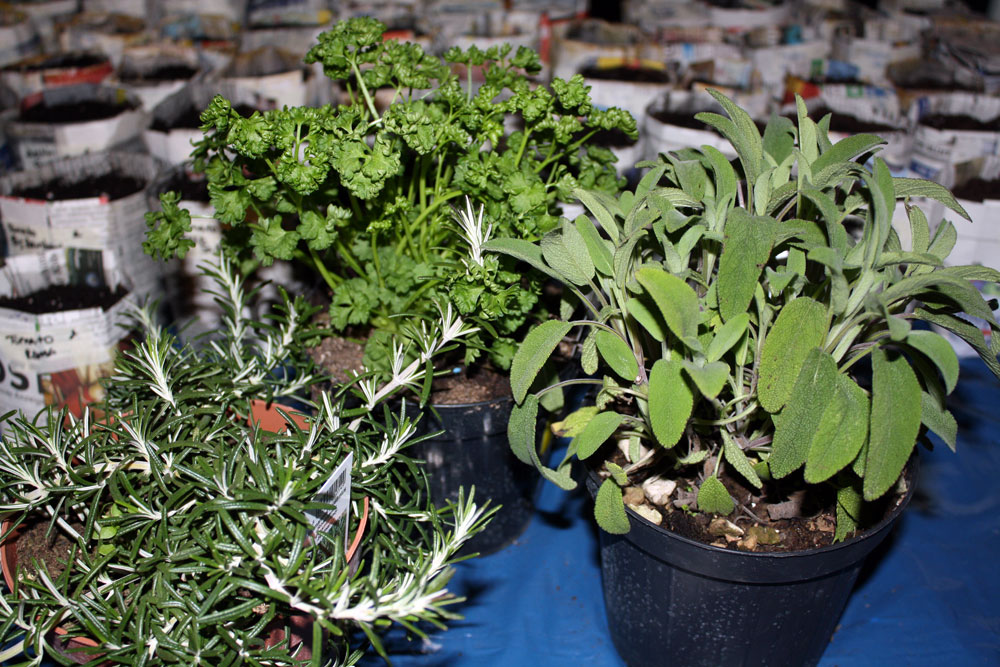 We also decided to finally try growing sprout in our kitchen and picked up a little growing box for them. This is the little tower we bought. It's completely plastic and there is a little dripper hole from one level to the next. The bottom layer collects excess water.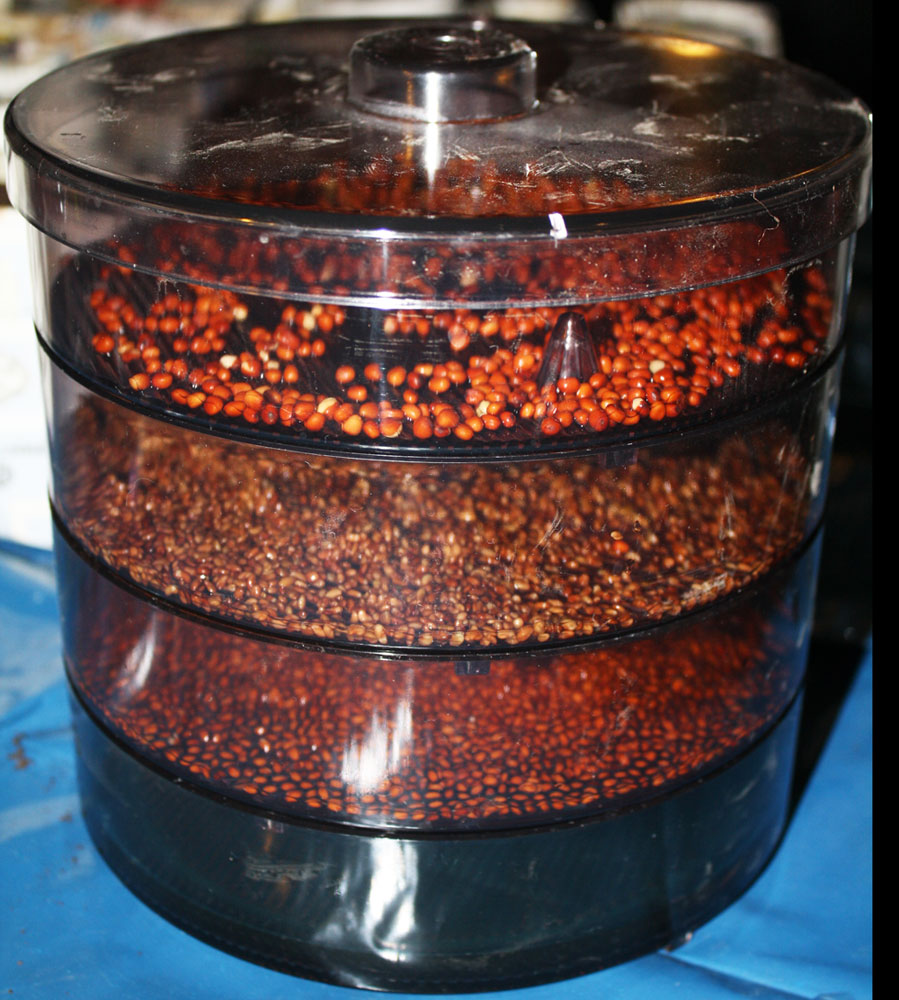 We've never done this before but sprouting seems extremely easy so far. By definition, sprouting is the practice of soaking, draining and then rinsing seeds at regular intervals until they germinate, or sprout. To grow sprouts you first need to take about one tablespoon of seeds and wash them using a sieve. (Be careful that the holes aren't small enough for the seeds to fall through!) Then you dump the seeds into the tray and put fresh water into the top tray 2-3 times a day. Just enough to filter through all the layers and wash the seeds a bit.
Sprouts are incredibly healthy for you and some of them are really high in protein too. They are very easy and quick to grow and I'm looking forward to seeing what happens with them in the next few days. I had no idea that so many types of sprouts existed, from radish to onion and even sunflower. These are radish sprouts below. The white spots are seeds that have already opened – after just 9 hours.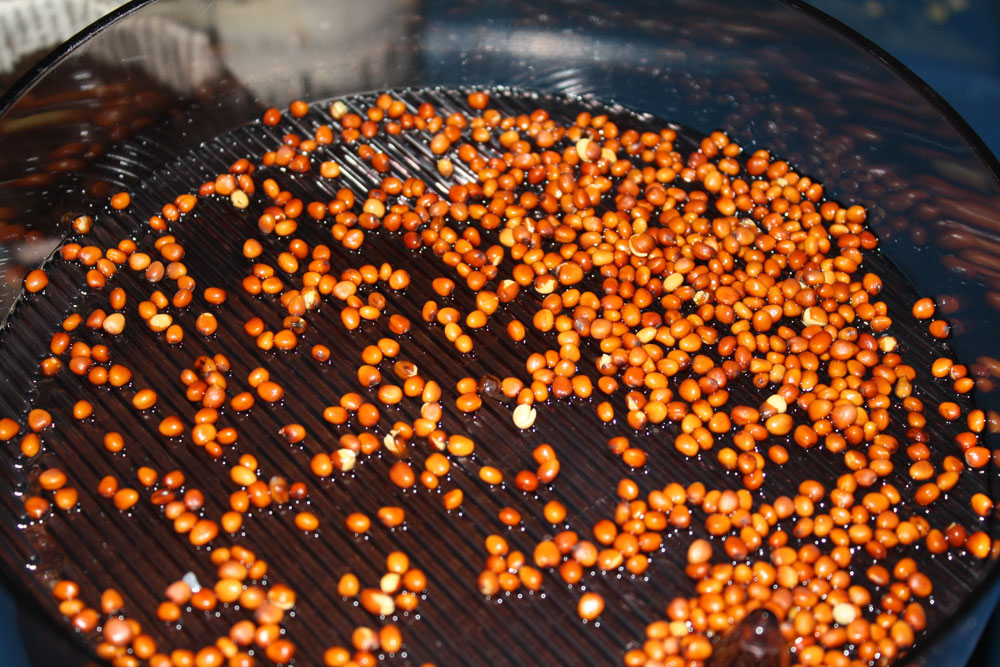 At least we still managed to get some planting done today despite being pretty bummed. Stefan also got online and fully researched places to get the plexiglass sheeting. He must have spent a few hours just looking at stuff, calculating insulation properties and what sort of heater we would need to keep things growing in there throughout the winter. We've come to the conclusion that we're going to have to wait a few more months to do this project since it's just not in the budget right now. But at least we know exactly what we need when we are ready to buy it. Plus we've found 16mm thick sheeting for around €800 which is a much more gentle price. That includes delivery and they'll even cut it to fit the greenhouse for us. That will save us even more money and time.