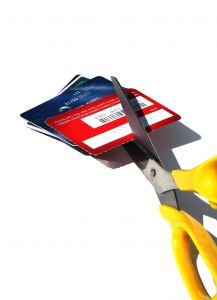 With the house being on the market a little over week, things are looking very promising here that we will sell it before we leave for Berlin. And I have to say, that will be a HUGE weight off of our minds. In fact, once we actually know where we're moving to (which should be decided in the coming month) we might even be able to sleep well again at night. Lately we've realized that once we sell the house, we'll be freed up a lot more physically and emotionally (because we're getting rid of so many possessions) but also financially — which is an incredible feeling.
When you look at the statistics about Americans and credit card debt, it's a bit alarming. On average, each person with a credit card owes nearly $16,000 to the credit card companies. The total U.S. revolving debt (98 percent of which is made up of credit card debt) was $801 billion, as of December 2011. And as of December 2011,  the total U.S. consumer debt was $2.5 trillion. These are not figures which should be taken lightly by anyone.
Thankfully, a decline has started in the number of people who use their credit cards and how much they put on them, probably because they realized the interest rates are eating them alive. But there are few other countries in the world where people willingly take on huge amounts of debt just so they can "keep up with the Jones'" or have the newest gadgets and gizmos.
Living Within Your Means
While I know it's fun to have the biggest and best of everything, IMO it's a whole lot more impressive to me when I meet someone who is living completely debt free and still has everything in life they could ever need or want. Because really, when you eliminate your debt, you free up a lot more disposable income. And so if you then want to have something new, you look at the money you have in the bank and you buy it if you can actually afford it. If you don't have all the money, you do something really radical — you save money each month until you do have it. Or you sell something; it might be your own belongings or your services or knowledge or even just yourself — to get a promotion or a new contract for your company, I mean — not putting yourself on the street!
Living within your means does not mean you have to live in a van down by the river, but it does mean that you actually think about what you are spending, probably set a budget for yourself and don't let yourself splurge every time you leave the house. If you're not happy with the amount of money you are bringing in, you don't leverage yourself and take on debt. You go out and make things happen so that your income is higher and you can therefore buy the things you want.
If you're thinking about tackling your own debt, you don't have to make a huge action like selling a house to get started. There's so much simple debt advice available that if you've got debt, you should really be looking for ways to get it paid off however you can. You're not doing yourself any favors by staying in bondage to the big banks — and trust me, they really do want you to pay 24% interest (or more, God forbid) for the rest of your life!