As I sit here typing this, Germany is playing Holland in the EM European Championships — and the usually busy street outside is absolutely dead. As the game plays on the TV in front of me, all of Germany is sitting on the  edge of their seats as Germany battles it out on the field. And every time a game is on, it's exactly the same way.
About a year ago, I wrote about German patriotism (or the lack there of) and the fact that you will rarely ever see people sporting a German flag on the front of their home or in their garden. It's just not something that is often done here, as opposed to what you see in America on any day of the year. My German husband supposes the lack of patriotism stems from an upbringing where Germans are often encouraged to reflect upon the things that occurred here during WWII with shame. And due to that, it's not exactly encouraged to show a lot of German pride.
But when the European or World Championships of Soccer come around, Germany is alive with black, red and gold flags. Cars, homes, pets and people display them in a frenzy to show off their love for the sport. A few might even go a bit overboard…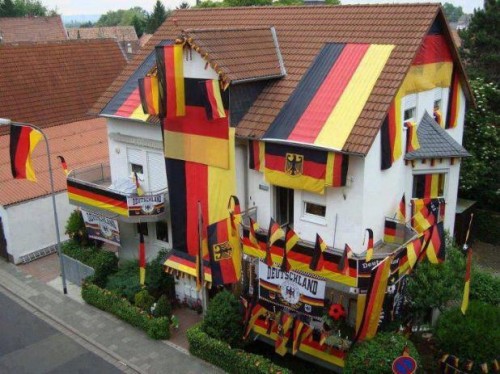 It's really a lot of fun to see the Germans so alive with passion and excitement. And you really can't help but get caught up in it all. Despite the fact that I'm not really a big soccer fan, I still get completely involved in when Germany is playing, and have learned enough about the rules to keep up with everything going on. I don't really care much about any of the other teams playing in the UEFA EURO2012 games right now, but if Germany is playing, you can be certain we're watching the game with a lot of anticipation, groans, screams and excitement.
People get together all over Germany (and the world) to sit together in front of the biggest screen they can find to watch as men run up and down a field, chasing a little white ball, shoving each other in hopes of having a foul called which will result in a free kick or another way to gain an advantage over the other team. Public viewings in Germany are a big deal — and the longer the team is in the playoffs and finals, the higher the number of people who show up for each viewing.
Many of the local businesses work to cash in on the football fever which is no big surprise. But some, like Lidl, go out of their way to offer crazy deals that are perfect to accompany the game: a 4 pack of sausages for the grill, a 6 pack of beer and a Germany car window flag — for just €1.99. Even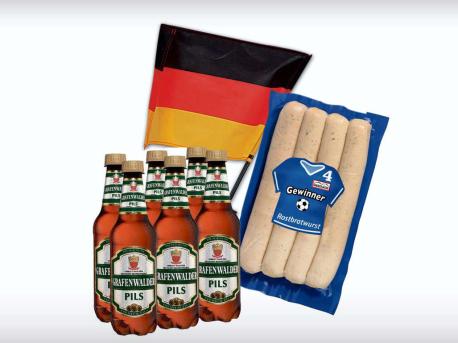 Whether or not Germany will manage to hang on for the next round is still up in the air. But they are certainly going to be giving it their best. And we will be watching with our hearts racing for the entire 90+ minutes of the game!
Wonder what other expats have to say about Germany and soccer? Check out the posts below from the Expat Bloggers Stammtisch, hosted every month on the 15th at NOH, Grounded Traveler, Country Skipper, Travels of Adam and Monkey & Maultaschen. Tune in next month for the topic: "Favorite Places in _______________" — where we'll fill in the blank with the city we're living in.