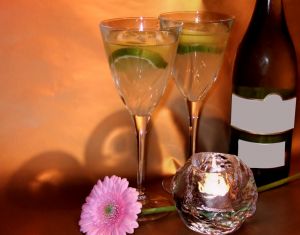 A few months ago (on Valentine's Day in fact) I was writing about how important it is to keep things fresh in your relationship with your spouse, from daily conversations to the bedroom. With all that each of us has going on every day, it can be hard for couples to really spend some alone time with each other once the kids have joined the clan. Sure, you get evenings on the couch when they're still young, and maybe a night here and there alone as they get older and start going to spend more time with friends elsewhere. But is that one night here or there really enough to keep the spark burning?
In most cases, it's not. So I'm thrilled that after not quite two weeks in Berlin, we've already lined up a babysitter and will be going out for "date night" on Saturday to explore a few new places in our neighborhood. Have a mentioned that Schöneberg is fantastic? Everything we could want or need is either right down the road or just a quick U-bahn ride away. It rocks.
There's all sorts of options for us in the Berlin area — and there is literally something going on somewhere in Berlin at all times. Whether you're into concerts (regardless of your music preferences), museums, exploring, the outdoors, food or just about anything else, Berlin has it going on. Seriously. We've heard about just about everything, from parties to kid's stuff to big fireworks competitions that last for several days.
And sites/locations like Hekticket.com and StubHub UK are definitely going to become our friends. Many times, if you are willing to wait until the last minute, you can get some great steals on tickets that you definitely wouldn't have gotten otherwise. I do kinda wish that there was more of a theater scene here in Berlin like in NYC — but there are plenty of other cool things to keep us entertained so I imagine that in the end I won't even miss it.
The key to keeping your marriage happy
One of the primary things that can kill a relationship is boredom. That feeling of being in a rut where the days just pass by, as task after task is completed and nothing new is fed in to keep the love glowing. And one of the easiest ways to break down that wall of lameness is to do something new — or revisit something you liked but haven't done in a long time. Whether it's starting something new like a cooking or dance class, starting a new hobby you can enjoy together, trying out a new restaurant together, planning a special get away or anything else, it's just important that you throw some spice into the game to keep things from getting stale.
Since Stefan and I have now been together for 12 years and married 11 years in December, it's definitely nice to be able to finally start scheduling some time for just the two of us on a regular basis. We tried it while living at the farm — but we always lived so far from "the action" that you'd spend an hour or more driving to and from the place and there weren't even that many places that interested us. But as I mentioned earlier, that's definitely not the case here…
We're really looking forward to spending more time with just the two of us and checking out a few of the places in the area that we wouldn't be able to visit with Mackenzie in tow. And of course we're looking forward to reconnecting with each other too. But it makes me wonder — how are things going in your love life at home? Would you be up for a challenge? Maybe something on a weekly basis to help you keep the flames going and add some fun & spice to the every day grind?