Have you ever wanted to learn more about yoga, pilates, meditation or just living a more healthy, fulfilled life? Were you just completely overwhelmed with the amount of information out there, feeling lost about where you should even get started? Do you ever fear that doing yoga at home could lead to you doing the poses incorrectly which could lead to injuries?
My Yoga Online has a solution for all of those problems.
Have you ever wanted to learn to belly dance? Is Pilates your preferred method of physical growth? Are you just hoping to find a new way to improve your health while feeling the support of a community and having everything you need in one place?
My Yoga Online was launched in 2005 by people who are passionate about yoga and wanted to share that passion with the world. Focus is placed on yoga, Pilates, meditation, dance, nutrition and holistic living. They offer one of the most diverse Mind-Body video and article libraries in the world, and have teamed up with world renowned yoga teachers and experts to bring you hundreds of videos which people watch every day around the globe.
As long as you have access to the Internet, you can practice nearly anywhere, whether you are traveling, at home, at work or elsewhere. And you can also snag yourself some great gear for free during their frequent giveaways via Facebook.
Learn all about yoga before you start practicing it — or during. Find out what the different styles of yoga are, learn more about the different Chakras in your body, discover proper meditation techniques and tips, and even learn about the anatomy of yoga poses and how each pose is supposed to interconnect the muscles in your body, like those for Ardha Chandrasana, the Half-Moon Pose.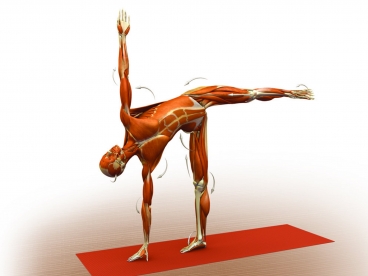 If all the information on the site seems overwhelming, paying members can sign up for one of their great programs which will help you tackle elements in your life that our out of balance. The 8-stage programs are set up to run at your own pace, so you can receive email reminders at the time of day you choose, and arriving daily, weekly or monthly to remind you to walk through the next step in the program. Their current programs include:
De-stress your body
Gain energy
Sleep better
Get lean and healthy
Learn about yoga if you're a beginner
…and soon, you can use a program to gain focus in your life
At each stage in the program, you'll be given an overview of the stage, be able to read tips about that particular area of your life to get things moving along, watch videos related to that program and read articles from experts. You can also interact with the MYO Community within each program, so you know others are sharing your disappointments and triumphs right along with you.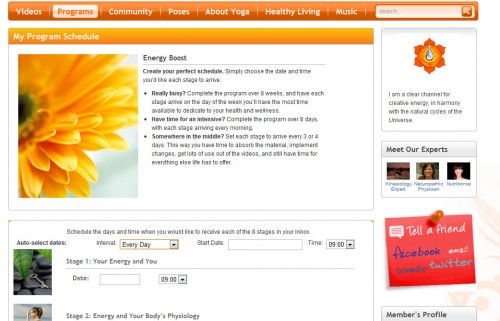 You can join My Yoga Online for free and gain access to tons of resources — but there are actually lots more high-definition videos available to paying members. Plus the great programs I mentioned above. If you'd like to get a feel for the community, follow My Yoga Online on Twitter and receive a free week-long trial membership so that you can explore!
---
My Yoga Online is one of the many awesome partners of the Refueling Power Moms Giveaway (October 6-10) right here on No Ordinary Homestead. Be sure to come back during the giveaway for your chance to win 1 FULL YEAR of unlimited premium from My Yoga Online (a value of $119.40)!!