If you are furnishing your home, catalogue shopping is one of the easiest ways in which you may choose to buy your furniture. As a matter of fact, it allows you to compare the entire inventory that several vendors carry, both new and old items, from the comfort of your home. Further, you can find great discounts and pricing when you know where to shop. These are a few of the top sites to shop if you are living in the UK.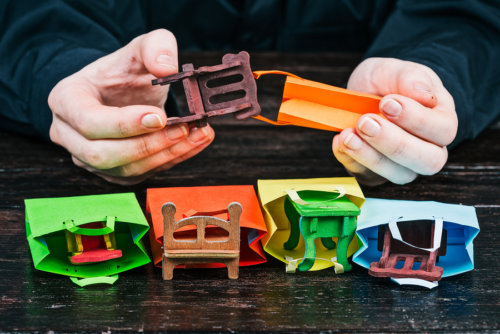 Argos
Bedroom and living room sets, dining room furniture, and accessories for your home, are all available through this catalogue vendor. Customers can also browse outdoor patio sets, lighting, and decorative pieces such as throw rugs or accent lighting, for their home's interior and exterior space. Affordable pricing, financing options, 7 day shipping, and the catalogue will hold your items for up to 7 days (depending on when you need items shipped), are some of the benefits of choosing this site. They also offer same day delivery if orders are placed by 6 PM on certain items.
Freemans
Living room, dining room, and whole home furniture sets, can all be found on this catalogue's site. You can find fun items such as bean bags for the kids bedrooms, new drapes or blinds for your living room, chairs, clocks, and outdoor sets for your patio and garden area. Renovate your entire home for a fraction of the price you would pay at a local boutique furniture shop. With sheds and outdoor shacks you can even find storage solutions for your tools and garden accessories. Free standard delivery is offered 7 days a week, and new customers receive a 25% discount at checkout, for their first order. The catalogue also offers buy now pay later, as well as other financing options for higher priced ticket items you order.
House of Bath 
With hard to find items for your home this is yet another great option when shopping for living room sets, high end accessories, homeware, and furniture for the entire home. They even off an in home, 28 day trial period, and if you aren't happy with the new look, you can return the items via their easy returns online. Chairs, stools, benches, sofas and armchairs, or storage solutions. No matter what you are looking for when furnishing your home, you can find it here. An additional 20% off the first order is also being offered for new customers, so take advantage of the additional savings when ordering new furniture for your home today.
Every home and every homeowner has a different designer as it pertains to decorating their home. So you have to find selection, high quality, and high end pieces when you are ready to buy. When refurnishing your home, you have many unique pieces you can choose from, and several great furniture brands to consider. When the time comes to order online with a top catalogue vendor, these are a few of the many options you have which offer selection, great pricing, and guarantee your satisfaction as a customer as well.