There are some foods in life that just equal happiness and comfort. For me, grilled cheese sandwiches and tomato soup has always been one of those. In fact, it was one of the very first things I learned to cook, along with Kraft Mac & Cheese.
I can't remember exactly when the first time was that Stefan and I made grilled cheese sandwiches with tomato soup over here in Germany…but I know it was a long time ago. In fact, we had even bought a can of Campbell's tomato soup (the condensed stuff), which was horribly expensive, but totally worth it.
And once we started making that dinner combo, we just had to have it as one of our regular meals. Since then, we have tried every brand of tomato soup on the market here in Germany. And for the most part, the more expensive ones were worth the money. But I kept thinking that it had to be possible to make my own tomato soup without too much hassle.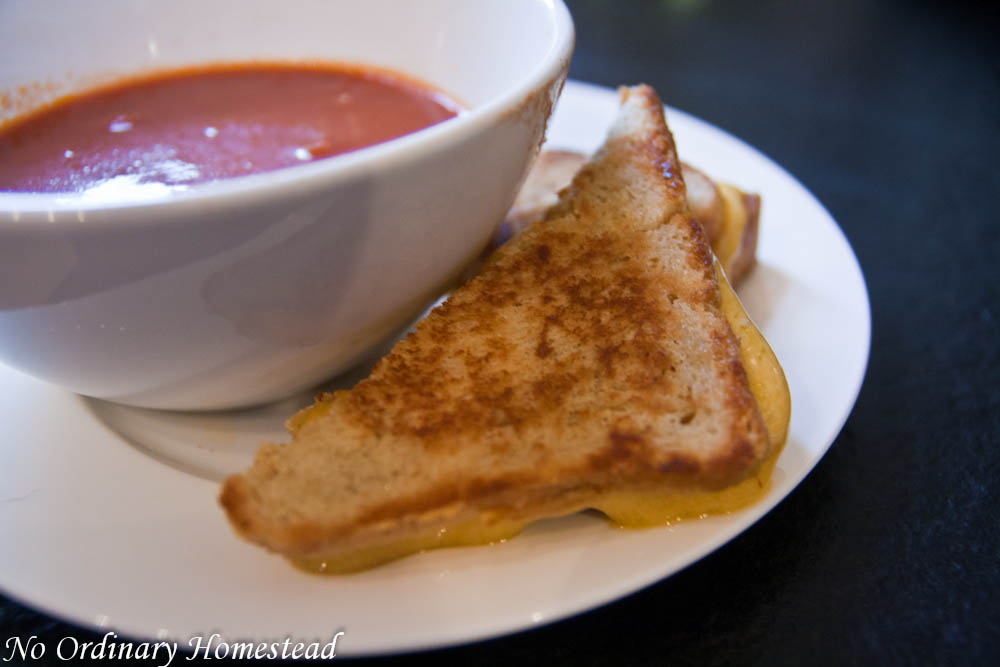 Once, while we were living at the farm, I came across a tomato soup recipe that was based on tomato juice. The recipe called for way too much salt and we ended up having to boil a potato in the soup while we warmed it up for months afterwards as we thawed out the huge batch from the freezer. Needless to say I never made that recipe again, especially since it was just kinda missing something. Mostly texture and flavor. So while I think one can probably make a decent tomato soup from juice, I don't entirely recommend it unless you're adding some crushed tomatoes in there as well.
Shortly after we moved to Berlin, Mackenzie discovered the joys of tomato soup. Honestly, she wouldn't even TOUCH soup in the past, and then all the sudden, it was as if someone flipped a switch and she was ready to give it a try. So on a rainy, cold day, I warmed up some tomato soup for her and she was hooked. There was no turning back. And thus began the quest once again for good tomato soup. I even bought some wildly expensive, all organic, fresh soup which is locally here in Berlin — but unfortunately it didn't even taste like tomatoes.
So I went back to the old standby soup in a can, even though they seem to have changed their recipe lately and it just doesn't taste right anymore. And since we all like our soup, we ended up having to open two cans of soup at a time just so everyone could get enough soup to dunk their sandwiches in.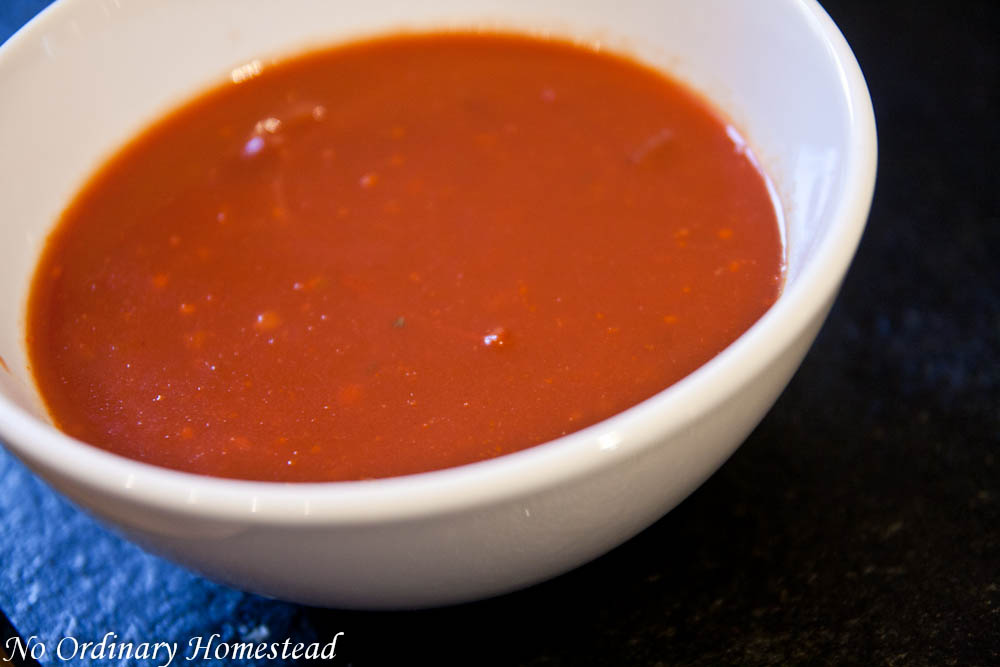 Until a very special recipe popped up in my Google Reader. It was a note from Elle's New England Kitchen and as soon as I tasted this soup, I knew my search for a good tomato soup recipe was officially over. The following recipe is so delicious but you can tweak it a bit for your own desires (like adding a bit of cream or a twist of freshly ground black pepper). All of us find it pretty much perfect just like this — especially with a plate full of grilled cheese sandwiches in front of you!
I even sent it to Mackenzie preschool class (we have to cook for the kids every few weeks) and it was such a huge hit that parents were sending me emails and asking for the recipe!Because there are some kids who are vegetarians in there, using vegetable broth is excellent in this recipe. But personally, I really like the flavor that the chicken broth adds.
So without further ado, go whip up some of this soup and enjoy!
The best tomato soup recipe ever
A rich, delicious tomato soup recipe that is full of flavor and perfect with grilled cheese sandwiches.
Ingredients
2 (14 oz) cans of crushed tomatoes or 20-24 fresh tomatoes
1 (6 oz) tube/can tomato paste
5 cups vegetable or chicken broth
1/2 teaspoons garlic powder
3 tablespoons sugar
2 tablespoons butter
Instructions
In a medium-sized pot, combine tomatoes, tomato paste, broth, garlic powder and sugar and simmer over low- medium heat. Stir occasionally to make sure that the tomato paste and sugar mix with the other ingredients.
When the paste and sugar fully integrated, add the butter and stir until melted.
Serve with grilled cheese sandwiches or your favorite bread.
Store any leftovers in the fridge or freeze in smaller portions.
Notes
Using chicken broth gives it a fuller flavor, but if you are aiming to keep this vegan, vegetable broth works great as well. Also, you can add just a bit of cream at the end to make it a little bit richer. Or a twist of freshly ground pepper to bring some heat to the soup.
http://www.noordinaryhomestead.com/the-best-tomato-soup-recipe-ever/