Hi everyone,
I come to you with a heavy heart today. My bestest friend in the world, Maya, passed away last week. She was only 4 years old like me and taken long before her time by cancer.
Maya was a Bernese Mountain Dog and we were best buds from the first moment we met. We were the only two young big dogs on the block so we could rough house with each other and stir up all kinds of trouble. Maya was always trying to teach me new things like how to jump on hay bales…but this black pup can't jump.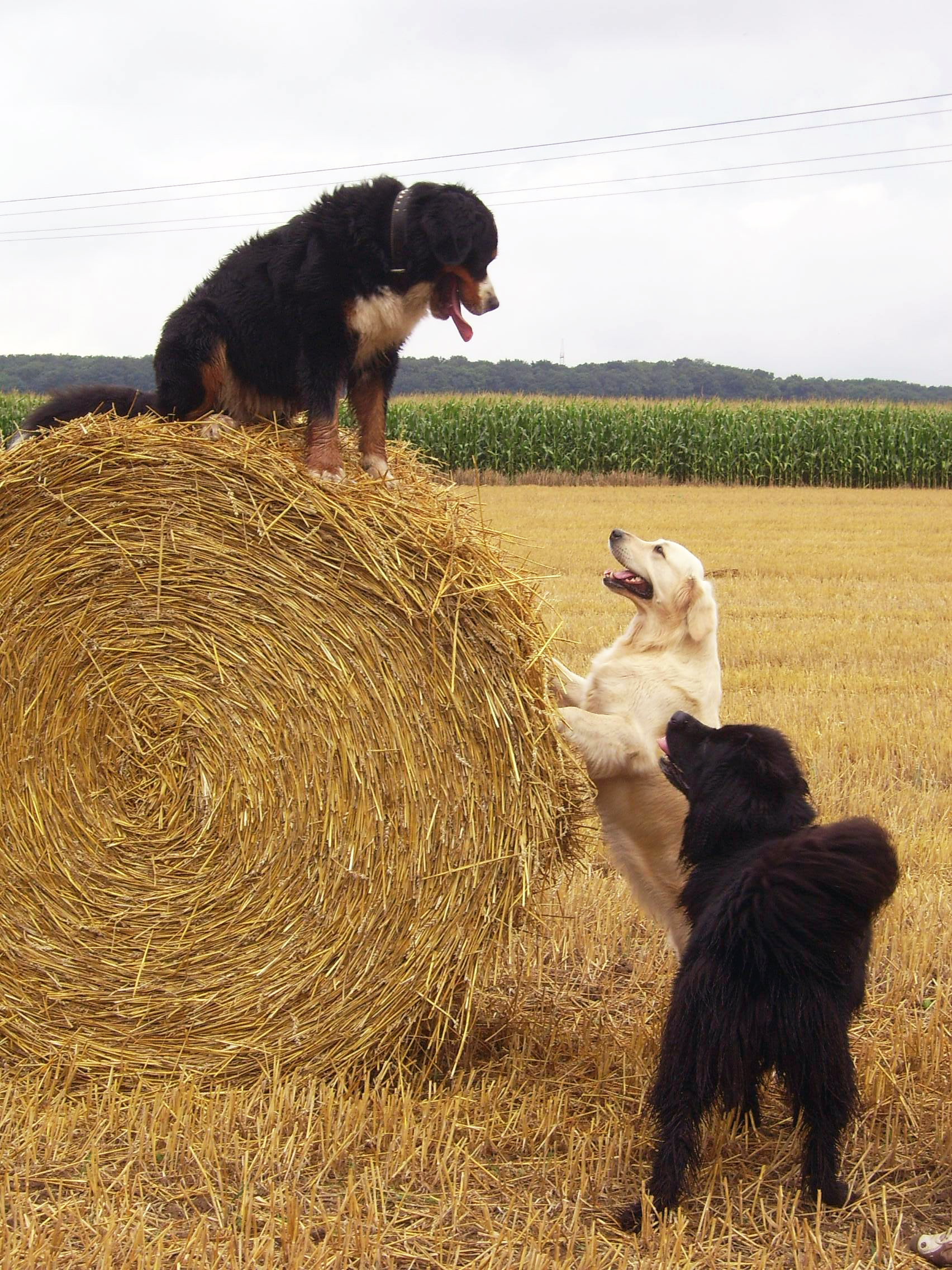 Maya was a proper lady and always trying to teach me better manners. She almost stopped talking to me once when I ran her mom down during a walk…but thankfully she had a forgiving soul.
Whenever I would go by her house and she was outside, she would come running to her fence to greet me with her happy whimpers. Now I only look to her gate in hopeful anticipation of the happy tail wags that never come.
I'll miss our wonderful romps in the snow and the spring flowers. I'll always remember to wade in the spring where it's muddiest like we loved to do. And I promise to make sure Dexter grows up to be a good dog with all four of his paws planted firmly on the ground…and none of my ears in his mouth.
You may be gone for now, Maya, but I will never forget you.
Sloppy wet kisses,
Ayla
P.S. I'd like to share a poem that was posted once on the Newf-L mailing list. I don't know the author but I think if Maya could send her family a message, it would be something like this…
I stood by your bed last night,
I came to have a peep.
I could see that you were crying,
You found it hard to sleep.
I whined to you softly
As you brushed away a tear.
"It´s me, I haven´t left you,
I´m well, I´m fine, I´m here."
I was close to you at breakfast,
I watched you pour the tea.
You were thinking of the many times
Your hands reached down to me.
I was with you at the shops today.
Your arms were getting sore.
I longed to take your parcels,
I wish I could do more.
I was with you at my grave today,
You tend it with such care.
I want to reassure you,
That I´m not lying there.
I walked with you towards the house,
As you fumbled for your key,
I gently put my paw on you,
I smiled and sat "it´s me"
You looked so very tired,
And sank into a chair.
I tried so hard to let you know,
That I was standing there.
It´s possible for me,
To be so near you everyday.
To say to you with certainty,
"I never went away"
You sat there very quietly,
Then smiled, I think you knew …
In the stillness of that evening,
I was very close to you.
The day is over … I smile and watch you yawning
And say "goodnight, God bless,
I´ll see you in the morning."
And when the time is right for you
To cross the brief divide.
I´ll rush across to greet you,
And we´ll stand, side by side.
I have so many things to show you,
There is so much for you to see.
Be patient, live your journey out …
Then come to be with me.