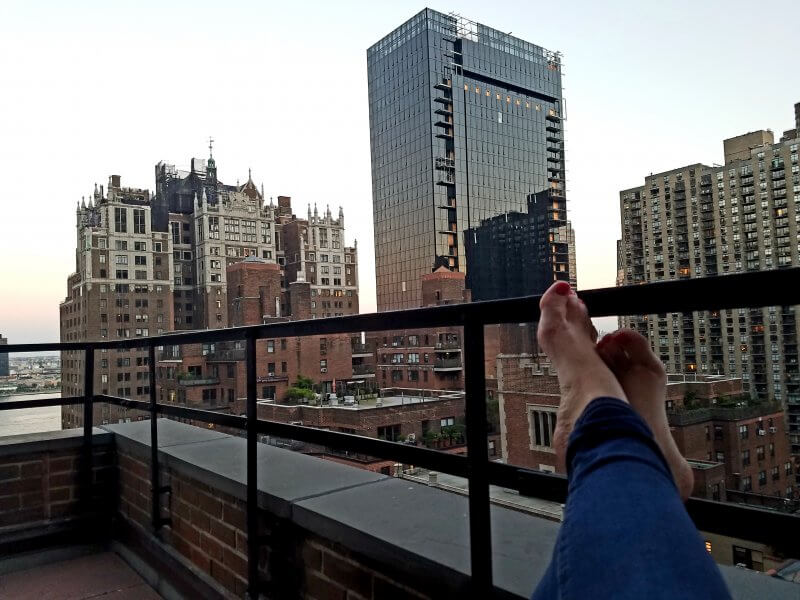 Visiting New York City could be one of the most wonderful trips you ever experience. Arguably the most vibrant city on earth, NYC offers a diverse culture with plenty of entertainment options, iconic events like Manhattanhenge and so much more you cannot experience in just one trip.
Careful planning may be necessary to get the most out of the experience. Where you will stay, how many rooms you will need, how close should your hotel be to the places you want to see, are all factors to be considered. To get you started, we have put together this list of great hotels on 42 street in NYC that are top-rated in comfort and service and close to the sights and scenes you will want to visit. Best of all, the hotels on this list offer outstanding balcony views of the city and NYC skyline from every angle so you won't miss a thing!
Westgate New York Grand Central
Nothing beats a breathtaking view of the world's famous city from a private balcony just outside your room. Just imagine the Instaworthy snaps and incredible pics of the city scene and NYC skyline to be taken straight from your dream balcony at the historic Westgate New York Grand Central Hotel.
In addition to the perfect balcony view, a stay here also offers easy access to LaGuardia Airport just 20 minutes away. There are also various types of rooms and suites to choose from and special offers are always available for guests to save on their stay. If you want to explore attractions easy to access from the hotel, rest assured that you will be close to Grand Central Station, United Nations, Empire State Building and other iconic landmarks. It's time to treat yourself to a vacation you'll always remember, so be sure to stay at Westgate New York Grand Central, located on the quiet side of NYC in Tudor City where you won't miss a thing!
A sophisticated and vibrant place to stay, The Cosmopolitan Hotel of Pestana CR7 Times Square, is ideal for travelers who don't want to miss a beat of New York City. The hotel is generally inspired by Portugal colors and art, which are depicted in its modern and comfortable style. It is a newly built hotel that gives off a great and positive vibe complete with friendly service with a smile.
The hotel has guest rooms ranging from what they call comfort room, comfort ADA room, comfort double, comfort double ADA, comfort plus, comfort plus ADA, superior room, superior double, and more. Each room is equipped with a refrigerator, Nespresso maker, USB ports, Bluetooth, USB ports, WiFi, and HD-TV screens. Guests can also enjoy their Portuguese snacks and other international dishes and work off calories at the onsite Fitness Center.
If you are looking for attractions near the hotel, check out Central Park, Times Square, and Empire State Building. With its prime location, guests are just steps away from the epicenter of NYC where almost everything takes place.
One of the luxury hotels in Downtown Manhattan is the Sixty Les (Lower East Side). The hotel immerses you with rooms that feature great balcony views that you'll surely love. They have rooms that have different vibes and views and you can choose depending on what you want. You can select from their rooms, suites, and penthouse. Moreover, the whole hotel is designed with modern finishes with a pop culture taste.
Sixty Les will also let you savor delicious cuisine of their various onsite restaurants including Blue Ribbon Kanpai Garden, Make Believe, and Blue Ribbon Sushi Izakaya. In terms of amenities, the hotel has free WiFi, a pool, and a 24-hour cardio room or fitness center, where sign-up is required. Currently, the hotel offers different deals like End of Summer Sale with 20% off, Truly LES Summer Pool Package with exclusive pool access, Stay Longer and Save at SIXTY Hotels with up to 25% off, The Suite Life with 50% off, and more. Located at 190 Allen Street, New York, you can easily reach the iconic landmarks around the hotel.
Located at 431 Broome Street, you can find SoHo's peaceful hidden place, The Broome NYC. It is a small boutique hotel that provides its guests a different balcony scenery. The hotel has available deluxe queen, deluxe queen retreat, deluxe junior suite, and penthouse with private terrace. If these rooms are something you're not interested in, you can explore their best rate guarantee offers and other deals.
The hotel features a wholesome farm-to-table breakfast every morning which includes milk and yogurts of Ronnybrook Farm, and bread and pastries of Balthazar Bakery. You can enjoy these quality tastes at the Parisian-style Broom Cafe.
Being consistent with its Parisian-style aesthetic, The Broome showcases an eclectic ambiance in a private guest house while still providing personal amenities and services. The hotel offers free wireless internet, elevator access, an open-air courtyard, infused water, coffee, and tea, suit press, and professional concierge services. Visit Madison Square Park, Central Park, and The High Line, Tenement Museum, and MoMA near the hotel, whenever you want to.
Marmara Park Avenue is just right on the world's most storied metropolis, where balcony views are indeed perfect. The hotel is a 21-story building founded way back in 1927. They offer tailored and polished rooms and suites starting from the guest room, deluxe guest room, studio loft, one-bedroom, the penthouse of two-bedroom, and more.
Since the target of the hotel is to make their guests feel at home, they blended their rooms with luxurious amenities for an extended stay. They have a tea kettle, fully equipped kitchen, washer and dryer, dual dishwasher, wine cooler, and a child-friendly environment. They also want to prioritize their guests' minds and bodies with their wellness center, semi-warm relaxation area, experience shower, Turkish Hammam, signature spa services, and subterranean lap pool.
With almost 1,500 square feet of functional space, business travelers would also love to hold their meetings and events with this hotel. If you feel like heading out for a stroll, the Empire State Building, boutiques of Fifth Avenue, and Madison Square is just around the corner.
Located in central New York, The Gotham Hotel features private rooms with balconies with the 46th street view. The hotel has rooms ranging from the metro king and queen room, midtown balcony king, grand balcony king, skyline queen with terrace, and more. These loft-like rooms are equipped with minibars with Astor chocolates, Whish bath amenities, and decent private bathrooms.
If you crave steaks, the Wolfgang's Steakhouse at the hotel would surely fascinate you with their dry-aged steaks and wine. They also feature business event spaces and meeting venues for entrepreneurs. The hotel is situated near the Grand Central Terminal, Times Square, St. Bryant Park, and Rockefeller Center, which won't bore you even if you plan to have an extended stay in NYC.
The World Center Hotel located at 144 Washington Street of NYC features luxurious rooms and excellent service. They have mobility and hearing accessible rooms, one suite room, superior room, standard room, classic room, and rooms for an extended stay. Guests can enjoy free WiFi, complimentary snacks, free bottled water, gym, and yoga equipment, ambient sound system, free coffee and tea, and mobile check-in.
The hotel's dining service has a rooftop restaurant and bar, and their famous Morton's The Steakhouse is the prime location for prime rib. If you want to check their offers, they have automobile club discounts, senior citizen discounts, and more special offers.
The boutique hotel of Dream Downtown takes its priority in giving its guests a great service partnered with perfect rooms. They offer platinum suites, a south tower terrace suite, and a guest house.
The hotel's dining service and nightlife start from their Natura Cade, PHD Rooftop lounge, Philippe Downtown, Dream Beach, Bodega Negra, and the Electric Room. All of these have unique offerings and features that guests can try. The hotel is nearly situated in the iconic high-rise buildings of NYC, which would lead you to a sure explorer.
The Nolitan Hotel could be one of your options if you want a well-tended, connected, and comfortable stay in NYC, while enjoying a balcony view. The hotel has accommodations such as the neighborhood, neighborhood balcony, corner room, accessible room, and the Nolitan suite. All their rooms are equipped with modern furnishings and details such as flat-screen television, Aveda bath toiletries, Xbox, PlayStation and Wii, electronic safe, gym membership, and more.
Moreover, if you want to eat and drink like a pro-Nolitan, you can try their Italian-Japanese cuisines at Kimika, and cocktails as Somewhere in Nolitan, which is their rooftop bar. If you want to host an event in Nolitan, no worries because they offer a private dining room and meeting room at Kimika to have intimate dinner events or even unique celebration options. Since the hotel is primarily situated in the metro, you can easily access the famous and fascinating NYC landmarks.
The world-class Smyth Tribeca offers modern rooms and suites perfect for any traveler who wants that breathtaking balcony view. They have superior queen and king, deluxe queen terrace, deluxe king, deluxe corner king, junior suite, Tribeca suite, Smyth suite, penthouse suite, and accessible rooms.
The hotel is in partnership with Butler, which serves food door to door. You can visit their in-room dining menu, which is available between 6:30 am to 11:30 am for breakfast and 11:30 am to 11 pm for their all-day fare. The hotel also has exclusive offers you can try such as Suite Life, Bed and Breakfast, Sojourn, and Park and Stay. Located at 85 West Broadway, you can witness the busy life of NYC.
0