Welcome back to Bikini Monday. This is the second installment of my bi-weekly series reviewing bikinis and everything swimwear related.
In the premiere episode, things got a little naughty as I was showing lots of skin in a few of my favorite Wicked Weasel bikinis. Today's episode is a lot tamer, with more family-friendly beach and pool worthy bikinis. To make it even better, all four of these bikinis and swimsuits cost less than $20.00 each on Zaful.com.
Check out Episode 2 of Bikini Monday below.
Or click here to watch it on YouTube. Please also like and subscribe!
While I like expensive bikinis as much as the next girl, there is no way I would risk ruining some of my fancier duds in chlorine waters of the pool or getting fish guts on them while fishing. Enter Zaful and other China-based vendors to help solve that dilemma. Cheap swimwear that looks good (in most cases) and is cheap enough to not cry over if the colors start to fade after too much pool time.
A word of caution: since the company is based in Hong Kong, it can take quite some time until you receive your order. It's not unheard of to wait 2-3 weeks until they finally arrive. But that is often the case with swimwear these days. I've seen wait times of up to 6 weeks on some site. On a positive note, though, shipping over $30 is free with Zaful…and it's not hard to find plenty of cute suits to fill up your cart.
Shopping on Zaful's website can be a bit challenging because many of their swimsuits are not actually modeled by a person. Rather, the pictures of their online shop just show the garment laying flat on a table (see below.) While it's not much of a problem to take a gamble on a cheap bikini, I am not sure I would shop their site for a more expensive swimsuit without seeing it on a real person first.
For the price, you can't argue with the quality of their product and I have found them to hold up well. In this episode I am reviewing four swimsuits from Zaful.com.
Zaful Braided Contrast Lace String Bikini
See more details on Zaful.com
This is probably my favorite suit of the haul and I have worn it quite a few times since I received it in the mail. It's held up quite well and the lace still looks nice after wear and tear.
The suit looks really cute with its braided strings and the lacey decoration looks pretty fancy even though the bikini only cost a few dollars. Since you basically adjust the suit to your own sizing by tying the strings looser or tighter, finding the right sizing isn't such a major issue for this bikini as it was for the other bikinis in this haul.
Zaful Contrast Piping Strappy High Cut Swimsuit
Check out this swimsuit on Zaful.com
This one-piece is cut hight on the leg and deep at the chest. I'm 5'11 and about 145 lbs and like the size Large for this suit. The deep-V cut is very flattering and this is one of my husband's favorite suits, and it's surprisingly supportive despite being low cut.
I do like this suit quite a bit, and the butt coverage is good too, especially for an all-purpose suit with family and friends.
Zaful High Cut Contrast Bikini Set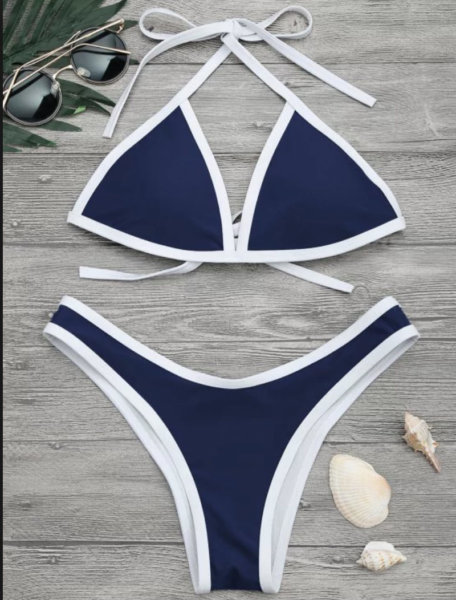 Get more details about this suit on Zaful.com
There's less flexibility with the sizing on this fitted bikini and the medium was a bit small on me. I would recommend going to Large on this one, although the top could be a bit loose then. This is an instance where I wish you could select various sizes but it's a cute, stylish suit overall and the fabric is very nice. I love the contrasting trim and this suit comes in several colors as well.
Zaful Textured High Cut Bikini Set
Buy this suit or get more info on Zaful.com
This olive green suit was not a win for me. The size large fit fine in theory, but the cut of the bottoms was very unflattering for my butt. I also am not a huge fan of the way the ties fit when they are on but I liked the concept.
All of the links in this post to Zaful.com are affiliate links and if you decide to make a purchase, I receive a small commission from Zaful.com. When you go shop at Zaful, use this 12% off coupon: Zaful 12% off coupon. Thank you for supporting this blog and our videos!
For next week's episode, I will be reviewing 4 more swimsuits I found for under $20. Episode 3 of Bikini Monday will go live Monday, April 2nd.
What are your favorite swimsuits on the Zaful site or other brands? Leave your thoughts below… 
1