Happy Monday everyone and welcome to the first installment of Bikini Monday, my new bi-weekly show where I review some of my favorite swimwear. Why? Well, because I spend A LOT of time in swimwear. In fact, I own more pairs of flips flops and bikinis than I do sweaters and closed toed shoes.
We live just shy of the tropics, spending our time enjoying the outdoors on our boat, scuba diving, snorkeling or fishing. And when we are not here – well…. we tend to head into areas that are even more tropical. Since my 9-year-old constantly tells me, "Mom…. unless you do product review videos on your blog and YouTube it's just not worth it" and nobody needs yet another KitchenAid unboxing video, why not focus on my favorite types of clothes in the world! Swimsuits, bikinis, and Monokinis…. of all shapes and coverage. I'll also eventually be sharing our best travel tips and city guides for our recent destinations. Please check out my new YouTube channel and subscribe so you don't miss any updates!
Watch the Bikini Monday Wicked Weasel Bikini Review:
Can't view the video above? Please click here to view this on YouTube.
Wicked Weasel Bikinis
To get this series started, I chose one of my all-time favorite bikini companies: Wicked Weasel. They are a boutique swimwear and knicker company based in Australia, and I have had a long history with their products, dating back about 15 years. I was first introduced to the brand by a friend and have been wearing their knickers almost daily. While they are super, super tiny panties, they have the most amazing fabric, quality and feel. They're also super cute and sexy.
While I am happy to go "wicked" under my day clothes, their swimsuits are a different story. I do have my fair share of them (by last count about 10), but I am selective about where I wear them. These are definitely not swimsuits for the community people with children in tow — well at least not to me. You'll find me wearing them in my own pool, during an afternoon on a deserted beach, at a Vegas pool party or on a cruise ship sundeck.
Also, while they meanwhile started offering suits that have a higher degree of bootie-coverage, their main products are micro thongs and micro bikini. Don't forget to apply plenty of suntan lotion on those tan lines…. these puppies really don't cover anything.
Speaking of coverage. My biggest gripe with the brand is the many fabrics that just disappear on your skin when they get wet. I have no problem strutting my stuff barely covered, but nobody needs to go full on public indecency arrest after taking a quick dip in the water. I'm not a prude and have been to topless beaches in Europe many times while living there, but these suits really leave little to the imagination.
Over the past few months, Wicked Weasels has added a few more non-see-through fabrics which makes the brand a little more "public consumption" friendly. For example, the Brazilian Bikini Bottom has a fuller bottom which covers about half of your rear. The Tri Top Bikini top is my favorite style as well, and if you order a size larger than usual, you get more coverage. Do keep in mind that none of these tops are lined, though.
The inventory and designs at Wicked Weasel are constantly changing and new designs are added all the time. It's not uncommon to have a favorite from them and find out that it has been discontinued. Thankfully, the styles (i.e. cuts) tend to stay very constant, but the fabric does change, so visit the website frequently to see what's new.
While the company is based in Australia, ordering is a breeze and shipping time is a very reasonable 5-10 days on average, although it can take a bit longer during the busy Christmas season. So, if you have a special tropical trip planned, make sure to get your orders in early. Since the swimsuits and knickers are so small shipping costs are also very small.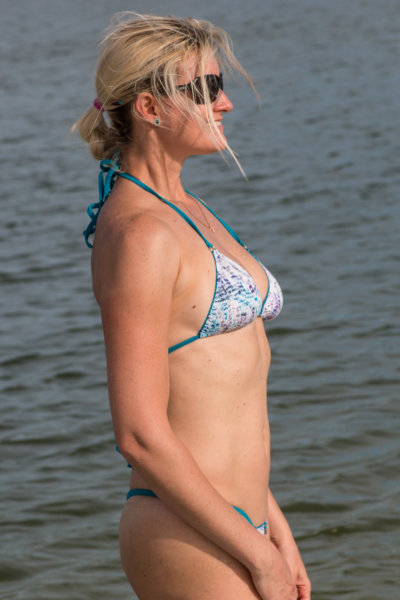 Speaking of small. I love my Wicked Weasel Knickers for traveling. Not only are they the most comfortable knickers I have ever worn, but I can pack two weeks worth of underwear into one shoe. How is that for space saving travel?
Make sure you subscribe to my YouTube channel to stay updated with all of my future episodes of Bikini Monday and our travel adventures. Next episode will drop March 19th and I will review four (much tamer and family friendly) bikinis and swimsuits I recently ordered for less than $20 each.
Note: This post contains affiliate links. Thanks for supporting this blog with your purchases so that I can buy more swimsuits!
7