The following recipe was developed by just throwing a few things together that were lingering in fridge after making other recipes. We sometimes end up buying a bit more than we actually need at the local market, simply because we get carried away. But we always find a way to make into something delicious in the end. So while we used zucchini, eggplant and green beans for this pasta (veggies we have never put into a pasta sauce together in the past), you could actually use many other types of veggie that you have on hand instead. You can even throw in some spinach if you have it or substitute other types of squash. Or, if you want to add a protein source, you can also throw in some cooked chicken chunks, shrimp or even your favorite tofu.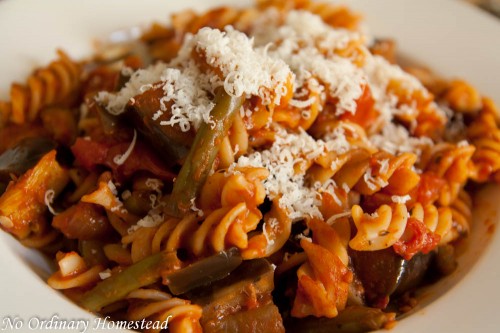 For dishes that we want to spice up (especially pasta) we add one of these extremely fiery canned peppers which were a gift from the garden of friends. They are some of the hottest peppers I've ever eaten, and I think some sort of Hungarian pepper perhaps. You have to be extra careful with how much of them you put into your dish because they will quickly make a meal inedible. But they are SO delicious and add nothing but HOTness to a meal, which I love. 🙂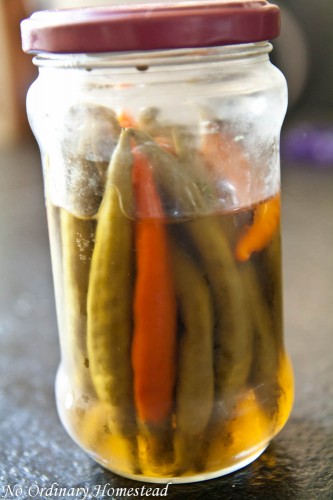 The beauty of many of the pasta dishes that we make lately is that they are simple and don't need too many ingredients. But just because you don't have the right ingredients for something in a recipe you want to try, doesn't mean you can't come up with something on the fly yourself. Don't be afraid to experiment and remember to always, always taste things as you go along and before and after you make any final seasoning adjustments. Even if you're not an experienced cook, you'll know whether or not it tastes good just by trying it out. And if it happens to go horribly wrong, well, you can learn from the experience, knowing that in the future, you probably don't want to make those exact flavor combinations again.
Fall vegetable pasta with zucchini, eggplant & green beans
This fall pasta dish is loaded with fresh vegetables to help you use up your harvest or just add a nice vegetarian option to your meal planning.
Ingredients
8 ounces pasta
2 tablespoons olive oil
1 small onion or scallion
1 medium eggplant, cut into 1-inch pieces
1 medium zucchini, sliced
1 fistful fresh green beans, ends trimmed and cut to bite-size pieces
1 1/2 cup fresh tomatoes, chopped or 1 can tomatoes
Salt & pepper, to taste
1 small chili pepper, diced (add more or less to your taste)
Shredded Parmesan to top
Instructions
Cook pasta according to instructions on the package.
Bring small pot of water to boil and cook green beans in it for 10 minutes or until tender.
Heat olive oil in pan until medium-high heat. Add onion, eggplant and zucchini and saute until onion is translucent and other vegetables have softened.
Add tomatoes and stir together, cooking until tomatoes have released their juice. Add diced chili pepper, salt and pepper.
Add green beans and pasta when finished cooking. Toss all ingredients together and top with Parmesan.
Notes
If you don't have enough of a tomato flavor from your fresh tomatoes, add more chopped tomatoes if you have them or a tablespoon or two of tomato paste.
https://www.noordinaryhomestead.com/fall-vegetable-pasta-with-zucchini-eggplant-green-beans/
12