The eggplant sat lurking in the fridge. It stared at me every time I opened the door to grab something else, begging to be cooked in some way. Half of a small one was used on pizza last weekend. And I thought about making eggplant Parmesan with the other larger eggplant and rest of the small one. But then I realized a needed one more egg and just didn't feel like venturing out into the cold for eggs. And so a new recipe was born. And it actually turned out quite well.
I've always been a fan of baked ziti but find lately that most recipes for it don't have much flavor. This dish is not one of those lacking flavor or inspiration. And you can mix up the ingredients based on what you have in your own fridge or even freezer. I used frozen grated zucchini in this dish which I usually add to zucchini bread. Since I freeze it in 2 cup sized portions for the bread, it was the perfect amount for this dish too.
In the future I would serve this with a nice green salad or maybe just a cucumber salad. It's fairly filling but a salad would have been nice to round it out a bit. Stefan also suggested adding a bit of cream to give it a creamier, saucier appeal. I think I will definitely try that next time. Or if you're a fan of sour cream on your pasta, you could give that a go also as a topping to the dish. Feel free to use fresh tomatoes if you have them. I think mushrooms would also taste great in it.
Make it in stages to help it fit into a busy schedule. Slice everything first, later make the sauce and let it simmer a bit for the flavors to combine, cook the pasta and combine everything then add it to the casserole dish. And whenever you're ready for dinner, just pop it in the oven and you're ready to eat in 20-30 minutes.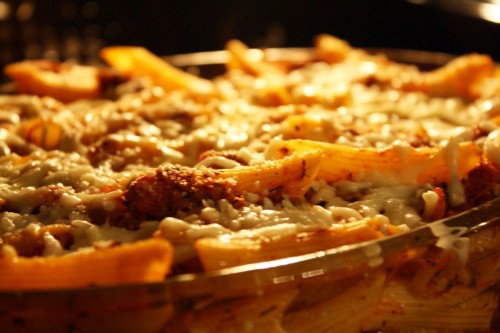 | | |
| --- | --- |
| | |
Preheat oven to 350 degrees F (175 degrees C); spray one 2 1/2-quart or two 1 quart baking dishes with cooking spray.

Heat olive oil in a large skillet over medium heat; cook and stir the garlic, onion, eggplant and bell pepper until the vegetables have are soft, about 10 minutes. Stir in the zucchini, tomatoes, tomato paste, basil, parsley, garlic pepper, oregano, salt, and black pepper; bring the mixture to a boil, stirring frequently. Reduce heat to medium-low and simmer until the vegetables are tender, about 20 minutes.

Cook the pasta as directed on the package; drain.

Once vegetable mixture is finished, combine with the pasta in the skillet. Fill half of the baking dish with the noodle/vegetable mixture, then layer half (or one-quarter if you are making two smaller dishes) of the Parmesan and mozzarella cheeses. Add more noodle/veggie mixture until the dish is full and top with Parmesan and mozzarella.

Bake in the preheated oven until the casserole is bubbling and the cheese is melted, about 20 minutes.
0