We had one of our new favorite meals last night – garlic Parmesan chicken breasts served as a sandwich with croquettes. SO good and super simple. I finally made fresh hamburger buns last week and they turned out awesome. Sometimes they haven't risen correctly and I end up with tiny buns, but definitely not this time. These buns freeze really well and I usually can't even tell they've been frozen when we eat them. That could have to do with us eating them so quickly after they go into the freezer but they're just too good not to eat at least one sandwich a week. That's only 6 weeks of buns which makes me think I may need to make a lot more of these for freezing when summer rolls around! They can also be made into hot dog buns for some killer chili dogs with cheese! Speaking of which, anyone have a really good Coney Island style chili sauce for hot dogs? Especially one that tastes like Sonic Drive-in? I know, fast food cannot be compared to REAL food, but their chili dogs are just SO GOOD.
It seems like a lot of steps because I let the hamburger buns rise twice, but they just seem to turn out best this way. I really don't find the extra rising step to be that much trouble, you just need an extra hour of time to prepare them.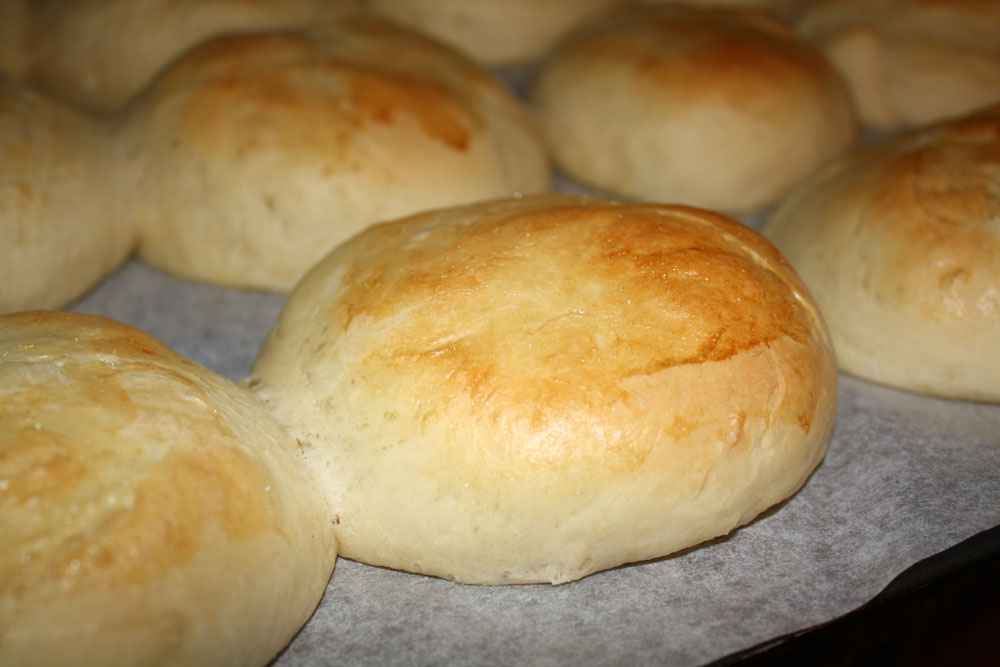 In a small saucepan, heat milk, water and butter until very warm, 120 degrees F (50 degrees C). This was a heat setting of about 3 on my stove.

In a large bowl, mix together 1 3/4 cup flour, yeast, sugar and salt. Mix milk mixture into flour mixture, and then mix in 1 egg. Stir in the remaining 2 3/4 cup flour, 1/2 cup at a time, beating well after each addition.

When the dough has pulled together, turn it out onto a lightly floured surface, and knead until smooth and elastic, about 8 minutes. Put dough ball into a greased bowl and allow to rise for 1 hour.

Punch dough down and turn it out onto a floured surface. Cut the dough into 12 pieces, form into balls, place on a greased baking sheet and flatten slightly. Cover and let rise for 1 more hour.

Once rising is complete, brush tops of buns with egg white and sprinkle with sesame seeds, if desired.

Bake at 400 degrees F (200 degrees C) for about 20 minutes, or until golden brown.
To make 16 hot dog buns from this recipe, shape each piece into a 6x4 inch rectangle. Starting with the longer side, roll up tightly, and pinch edges and ends to seal. Let rise about 30 to 45 minutes. Bake at 400 degrees F (200 degrees C) for about 20 minutes, or until golden brown.
To make onion rolls from this recipe, add 1 tablespoon dried minced onion and 1/2 teaspoon onion salt to the flour mix (before milk and eggs are added.) After second rising, brush with egg white, sprinkle with dried minced onion and bake as directed above.
0