I finally tried out one of the local Biokiste services here last week (something I'll have to talk more about later on) but some of the things which happened to be in the introductory basket were broccoli and carrots. Broccoli is something I rarely buy, because somehow hardly any of the recipes I come across feature it…and when making side dishes, it's one of the last vegetables my mind comes to. I did make up a batch of Ranch dip (the powder mix that you add to thick sour cream) and it was really tasty — but we had two heads to eat (is that how you refer to broccoli? Heads, crowns, stalks??)
On most days, I would make my own crust for chicken pot pie — probably exactly like this cheddar pastry that I love for our regular chicken pot pies. But when I was shopping a few days earlier, I discovered a few different types of crusts, and I wanted to see if I found any of them acceptable for whipping up meals more quickly. I'm finding that I have less and less time to cook lately, or just less desire because I'm worn down from all the work I'm doing and chasing Mack around for an hour or so (she is like a whirlwind at the end of the day!). So I've broken from my norm of making everything from scratch. And yes, I have come to regret it. The crust I used on the bottom of this dish was definitely not appropriate (something Rewe Bio brand which I honestly would not use for anything) — and the top crust was a Tante Fanny Filo dough which would make killer spring rolls, but was not so great for pot pie.
As you have probably gathered by now, it was a highly experimental cooking day, and even my filling was a bit experimental because I used broccoli, celery and carrots inside which is a somewhat new twist for me.
The verdict? Flavor explosion! I went with some slightly different seasoning as well and despite the fact that the crusts were just ok, the inside was really, really good. So next time, I will just make my own crust again and this filling if I have broccoli on hand.
This is also a great freezer meal for quick weeknight meals. This makes 6 substantial portions, or 8 if you serve it with a salad. So you you can split this up many ways. We went for eating it on night one, having leftovers the next day and freezing two portions for another time.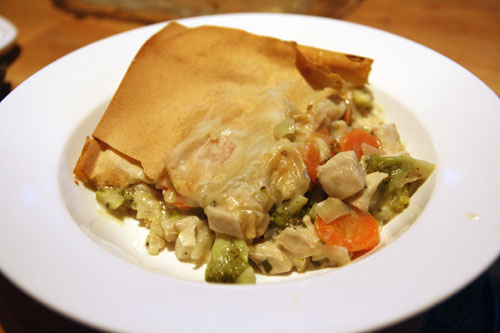 | | |
| --- | --- |
| | |
In a large saucepan, over medium-high heat, combine chicken broth, salt and pepper, and place chicken breasts in liquid. Bring to a boil and reduce heat to low. Cover and simmer for 30 minutes, or until chicken is no longer pink in the center and juices run clear. Flip chicken periodically if juices do not cover it.

Pre-heat oven to 400°F (200°C).

Remove chicken and let cool. Cut into 1/2-inch pieces.

Pour chicken broth mixture into a measuring cup and add about 1/2 cup heavy cream, or enough to make 2 1/2 cups of liquid.

In the same pan used to cook the chicken, melt butter/margarine over medium heat. Add onion, carrots, broccoli, celery and garlic. Saute while stirring periodically, for 3 minutes, until vegetables are slightly tender. Stir in flour until well blended.

Add flour and stir in until well blended. Set heat to a simmer and gradually add broth mixture, stirring constantly, until the sauce thickens and boils. Add chicken, parsley and thyme and mix well.

Lightly grease a 9-inch pie pan and line with first pie crust. (Some doughs may require you to prick with a fork and bake the crust for about 10 minutes before filling so that the crust cooks properly.)

Fill pie crust with pot pie filling and top with second pie crust. Roll edges and cut away excess. Flute edges by pinching, working around the crust with your index fingers side-by-side or by gently tamping with a fork. Any excess dough can be rerolled and cut into shapes, then laid on top to decorate. Cut slits in the pastry to vent.

Bake in pre-heated oven 30 minutes or until the crust is golden brown and the filling is bubbling. If your crust begins to burn but the filling is not yet bubbling, tent or cover loosely with a piece of aluminum foil. Let cool for 10 minutes and serve.
0