To me, Thanksgiving is not officially Thanksgiving without pumpkin pie.
There were several years here in Germany that we just let Thanksgiving day slip by, cooking something traditionally American for the day, but not really going to all the trouble. And a few times, we managed to get invited to someone else's Thanksgiving Day celebration which was great. But once we moved into our farmhouse, we decided it was time to be adults and start hosting our own Turkey Day soiree
Now it might sound funny, but in order to achieve pumpkin pie in Germany, we actually brought back cans of Libby's pumpkin puree whenever we visited and even had friends mail them to us from time-to-time. I didn't notice until about 2 years ago that Germans do sell canned pumpkin here. It's just in chunks which I never really anticipated. Whether or not it tastes like Libby's, I will probably never know.
Because this year, I took the big plunge and actually made my very own pumpkin puree. And I honestly cannot wait to see how the pies turn out.
Am I nervous about it? Most definitely!
But everything else I've made from scratch has tasted way better than the convenience food version — so I have little doubt that this will go the same way. After all, Libby's pure pumpkin puree is merely that. So what could possibly go wrong? 😉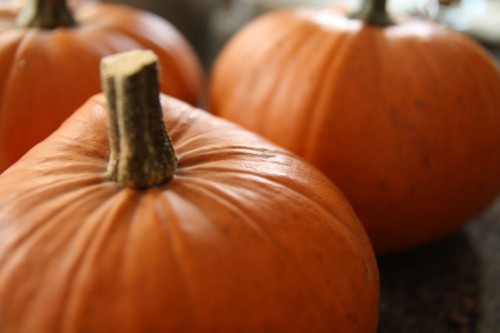 This year, I grew some fabulous little pumpkins in our courtyard garden. These are something like a Baby Bear — simply described on the card when I bought the seedling as mini-pumpkins which grow to be about the size of tennis balls (although they were more like large softballs or a kid's soccer ball) which are fantastic for pies. Needless to say, that sounded good to me!
By the way, the following process also works great for red kuri or hokkaido (very round, reddish pumpkins) which have a fantastic sweet taste. I tried this out on them first and I seriously was eating the roasted pumpkin pieces by the handful before I could get it pureed. A nice thing about them is that you don' t have to peel the hokkaido because the skin gets very soft and edible. So you can just puree up the whole thing. But I'm not sure it would work well for pies since a traditional pumpkin puree for pies isn't sweet on its own. So I suppose I will have to try that as a soup or maybe some pumpkin bread!
Basically, if you want to make your own pumpkin puree, you need to crack open the pumpkins (which is why small pumpkins are often better for this since they are easier to cut that the huge ones)…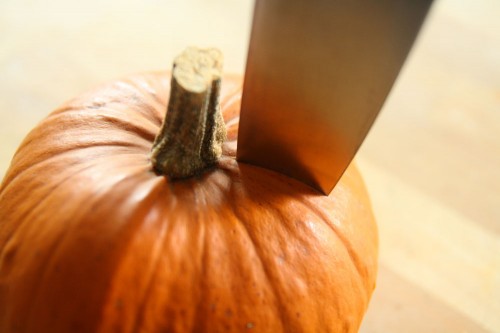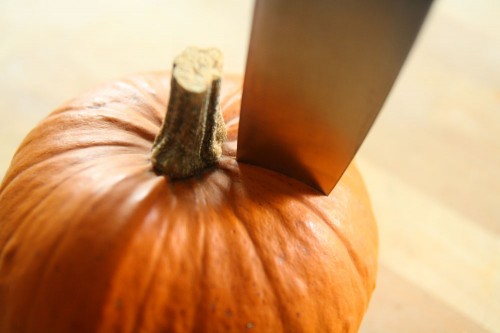 scrape out the guts (don't throw it all away though)…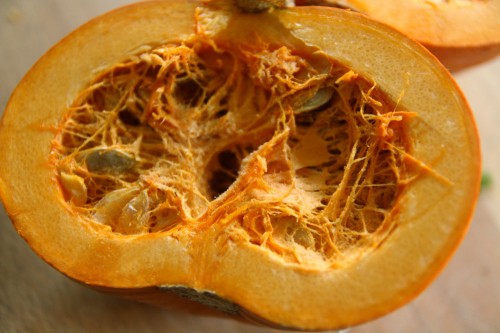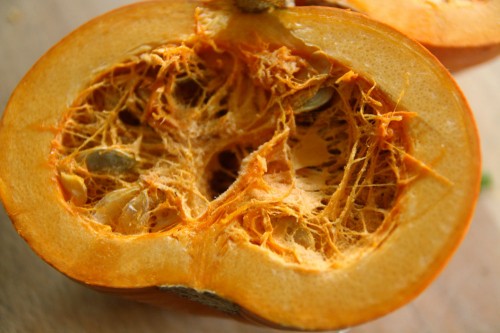 cut the halves into smaller slices…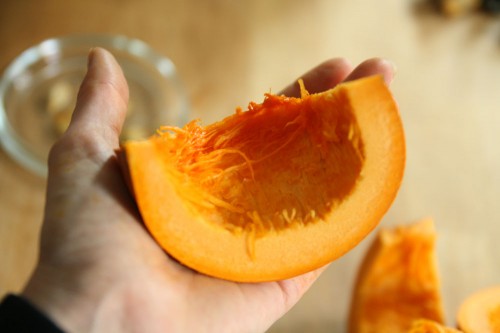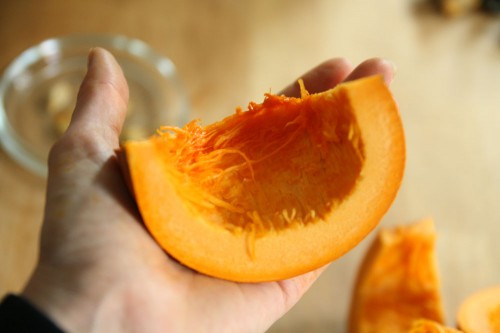 roast the pieces in the oven…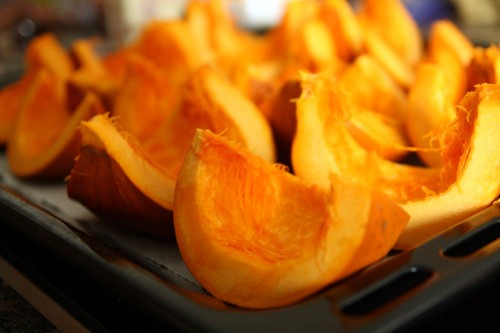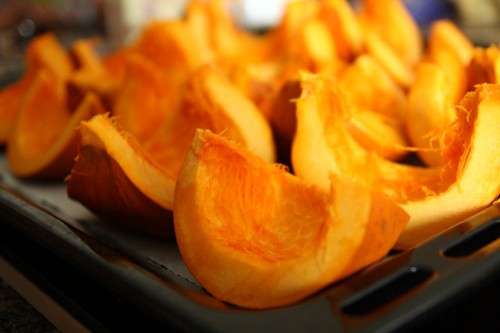 get them nice and lightly browned (about 45 minutes cooking time)…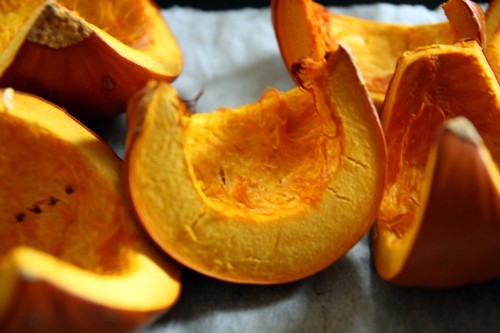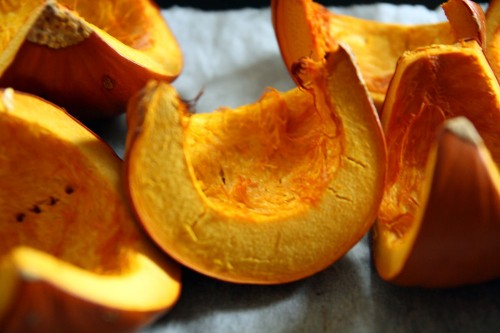 peel the pumpkin pieces…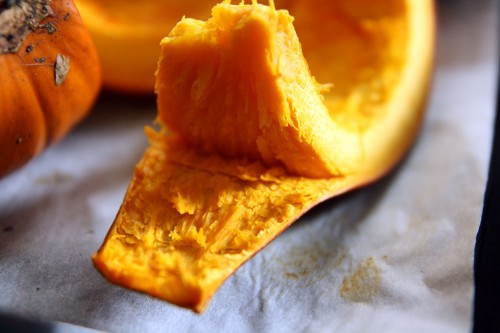 cut it up and puree/mash/etc…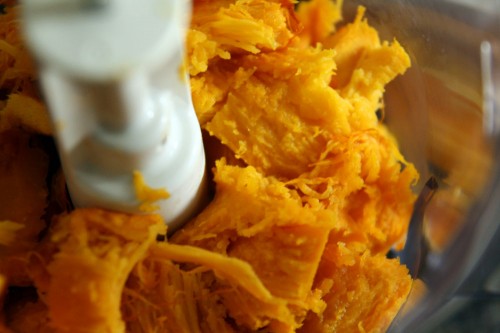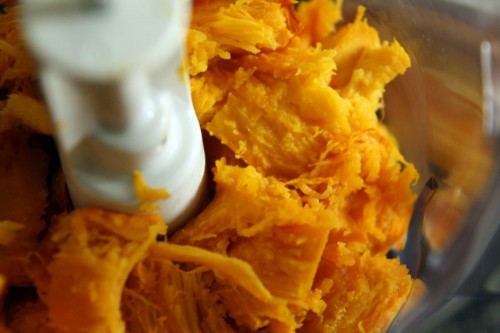 and you're good to go.
Looks simple enough, right? Why didn't I do this before??
Here are the details:
Preheat oven to 350°F (180°C).

Cut the pumpkins in half with a large knife. I use a butcher knife and stick just the tip in, then work it around the pumpkin until it's cut around, then pry it open and pop off the stem.

With a spoon or scoop, scrape out the seeds and the pumpkin guts into a small bowl (so you can roast the seeds later). Don't obsess about getting all all the stringy stuff out because it's not going to matter.

Place pumpkin pieces on a baking tray (either facing up or down, both ways work) and roast for about 45 minutes, or until a fork easily goes into the pumpkin meat. They should look nice and golden.

Let the pumpkin cool for a 5 minutes or so if you like, then peel each piece. I use my thumbs to work the big chunks off of the peel, then do a bit of scraping to get the majority of the pumpkin off. But this is also not something you need to get crazy about. Discard the hard peel and collect the pumpkin meat in a bowl or your food processor/blender. Break up the pieces into 1- to 2-inch chunks as you go along.

Puree the pumpkin chunks until smooth. Add a bit of water (2-3 teaspoons at a time) if you have trouble getting it to break down. You can do this with a food processor, blender, potato masher, food mill or whatever you like, as long as you can get a smooth consistency from the pumpkin flesh.

Collect your pumpkin puree in a bowl and keep pureeing the remaining pieces until you've gotten it all.

Use immediately (or refrigerate for a couple of days to use soon) or freeze. To freeze, place about 1 cup of puree into a ziplock bag. Close up almost the entire bag, leaving a small exit slit. Press the puree out in the bag until it lays flat.
0