The weather was cooler last week; a nice change from the blazing sun we'd been having. So I thawed out some minestrone soup and decided to make breadsticks to accompany. I've never tried making breadsticks before but as usual, with a bread machine, the process can go rather quickly and easily. The machine does the hard work for you while you can focus on something else.
Unfortunately it was a bit cooler than necessary for these sticks to double in size. They still tasted good but I think they would have been a lot better if they'd fully risen. Mackenzie and Ayla have made absolutely no complaints about them, though. Mack has been polishing them off all by herself and Ayla makes sure that any crumbs which escape are quickly banished into the depths of her belly.
I think I'm going to try making them again this week with lasagna. It's supposed to be much warmer weather so perhaps I will have more success with them. I planned to freeze the extra sticks last week but Mack has been enjoying them so much that I didn't get the chance.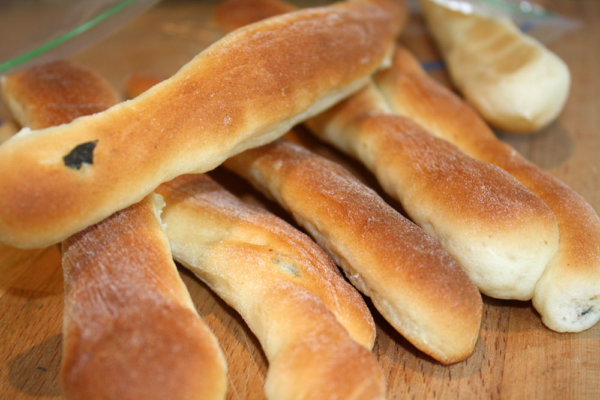 | | |
| --- | --- |
| | |
In bread machine pan, place the first nine ingredients (exclude the butter) in order suggested by manufacturer. Select dough setting (check dough after 5 minutes of mixing; add 1 to 2 tablespoons of water or flour if needed).

When cycle is completed, turn dough onto a lightly floured surface. Divide into 20 portions. Shape each into a ball; roll each into a 9-in. rope. Place on greased baking sheets. Cover and let rise in a warm place for 40 minutes or until doubled.

Bake at 350 degrees F for 18-22 minutes or until golden brown. Remove to wire racks. Brush warm breadsticks with butter.
0