If you haven't noticed, I've been on a pumpkin & squash kick around here lately. Roasted pumpkin seeds, pureed pumpkin…and the butternut squash soup. And as if that weren't enough, I also made some pumpkin bread last week that we have just been devouring!
My first taste of pumpkin bread came about 5 months ago when Mack and I went to visit some expats that are new to the area. They have a daughter who just turned 5 and another little girl about 9 months old — and Mack just adores them both. Their mother had just made some delicious pumpkin bread with chocolate chips in it…and that was really the first I'd ever heard about this delicious stuff. But clearly I was missing out!
My pumpkin bread has a very mild flavor but if you want something with more kick, you can add 1/2-1 teaspoon more of each spice. This is a big batch recipe, and makes 3 full-sized loaves of moist, delicious bread. So if you have no idea if you could eat that much or just don't want to, either cut the recipe in half, or surprise your neighbor or co-worker with a loaf of this delicious pumpkin bread as a gift.
You can save this in plastic wrap or foil for about a week on your counter if it's cool in your house — or up to two weeks in the fridge. It will get a bit moister as the time passes. I also think this would freeze really well but haven't tried it yet.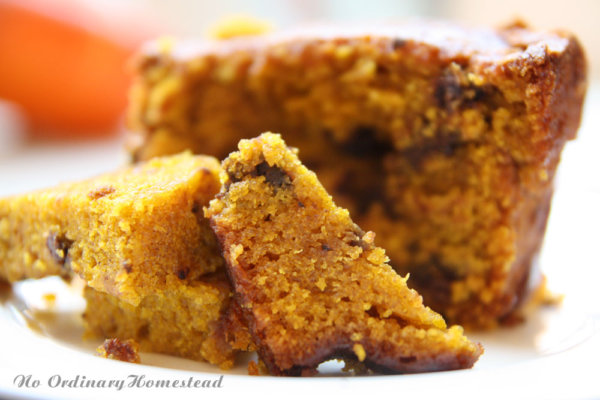 | | |
| --- | --- |
| | |
Preheat the oven to 350 degrees F (175 degrees C). Grease and flour three 9x5 inch loaf pans. (This is a sticky bread so grease them well!) Or grease the tops of muffin pans and line with muffin cups.

In a large bowl, mix together the pumpkin, oil, sugar, and eggs. Combine the flour, baking powder, baking soda, salt, cinnamon and nutmeg; stir into the pumpkin mixture until well blended. Add nuts or chocolate chips if desired. Divide the batter evenly between the prepared pans.

Bake in preheated oven for 45 minutes to 1 hour. The top of the loaf should spring back when lightly pressed and a toothpick should come out clean when inserted into the center of the loaf.
0