Since our move to SW Florida, we've been noticing a major change in our interests when it comes to food. While we still love throwing a steak on the grill, the excitement and challenge to outdo ourselves each weekend with exciting meals isn't really always there. Some of it comes from not being quite as inspired in the farmers' markets here as we were in Berlin. But at lot of it also has to do with the fact that life here is different. When it's 90 degrees outside and you've been hanging out at the pool or on a boat all day, you don't really want to come home and cook something major in the kitchen like Osso Bucco (although it IS super delicious).
So we've been experimenting a bit and focusing more on fish and local delicacies whenever we can. And one popular dish here is crab cakes. Now, many will say that they originate from further up North in Maryland, especially if they contain Old Bay Seasoning. But you will find crab cakes on menus all over the place here and they are often amazingly delicious (especially when you find the good ones  like at Swan River Seafoods here in Naples that are mostly crab and not all filler — so yum!)
The following crab cakes recipe is exactly one of those awesome recipes that not only tastes fantastic and is heavy on the crab, but also is super simple to make. And I have to thank Stefan, my lovely husband who developed this recipe and has been kind enough to prepare it a few times lately. It's so good, we could eat it every week!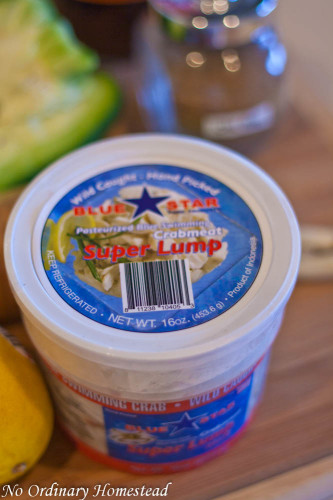 The primary ingredient is a pound of lump crab meat – not the imitation stuff. We like to get the crab meat from Costco just because it's about half the price of that in our local grocery store and it's a really nice quality.
We use plain Ritz Crackers in the recipe and one of the easiest ways to create crumbs is to place the crackers in a zipper bag and beat them up. You can use a rolling pin to make them finer but it doesn't need to be dust. This is a great job for kitchen helpers too!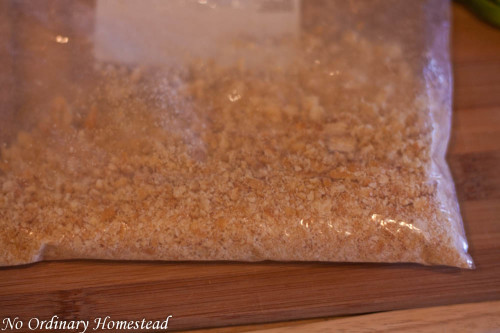 I always try to keep a kitchen helper handy…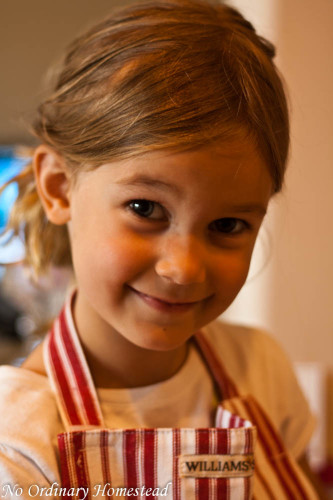 Once you've got the spring onions and bell pepper everything chopped up, mix all the ingredients together in a bowl and set it in the fridge for a while.
You can cook the crab cakes immediately, but the flavors always pull together a bit more nicely when its had a few hours to sit. You can also let it sit overnight if you need to. This is a great dish for a make-ahead appetizer or main dish for exactly this reason. Plus when you're ready to cook them, they only take a few minutes to prepare.
When you're ready to eat, take a large spoonful of the crab cake mixture (around 1/4 cup) and shape it in your hand. The crab cakes should be about 3/4-inch thick. Place in a dish of flour and quickly coat both sides, then place in the frying pan. This helps keep the crab cake together in the pan when frying.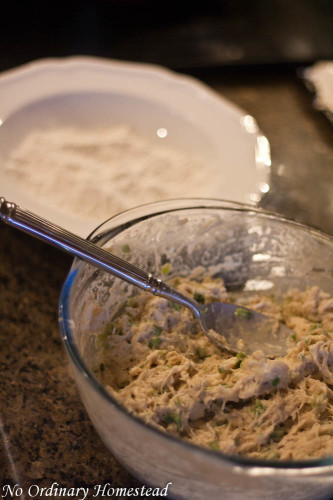 When finished, serve them with a side salad or a fresh sliced avocado… or just as they are with tartar sauce.
Prep Time: 15 minutes Cook Time: 15 minutes Total Time: 30 minutes Yield: 12-14 crab cakes Serving Size: 2-4 crab cakes per person (depending on sides) Super easy and delicious crab cakes recipe that will wow your family and friends. Lots of flavor and great as a main dish or appetizer.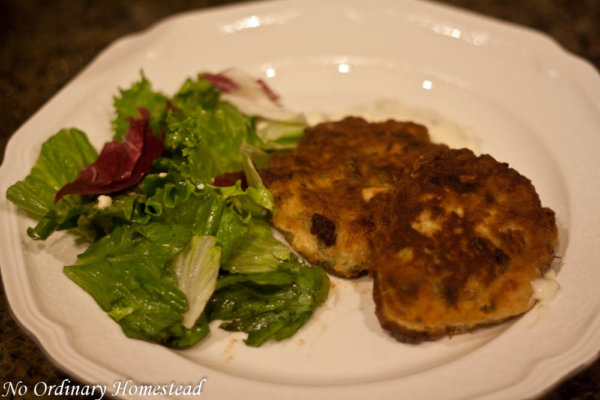 | | |
| --- | --- |
| | |
Combine everything except flour and oil in a bowl. Mix well with a fork, cover the bowl and refrigerate a few hours or overnight to let flavors blend together.

Remove from fridge, form crab cakes by hand, using about 1/4 cup mix per crab cake. Each should be about 3/4-inch thick.

Dredge in flour, lightly coating both sides, and fry in oil until golden brown all over.
0