Stefan and his dad have a serious love of stuffed bell peppers. Over the last year, I think they have probably talked about them every time they've seen each other in person, which is every few months. And I'm sure that there were a few phone calls in between when they also raved about how much they love them. I've never made stuffed bell peppers in my life, nor had them served to me, so I was a bit hesitant to try making these. The bar was set high by my MIL who apparently made them once a long time ago, got the guys totally hooked, and then never made them again.
So, being the loving wife that I am (who absolutely loves it when Stefan just goes crazy when he walks in the door after work, asks what's for dinner and finds out it is something he knows he is going to love) decided to finally swallow my fears and make stuffed bell peppers.
The end result was very delicious.
This recipe is similar to the bolognese I often make, but I chop the celery and carrots smaller for stuffing. And of course this also has rice and cream in it. Then everything is stuffed into bell peppers. I like to use red or yellow bell peppers, because I love the sweeter taste, but you can use any color bell pepper that you have handy.
This is a favorite dish in our house, and we would gladly eat it once a week.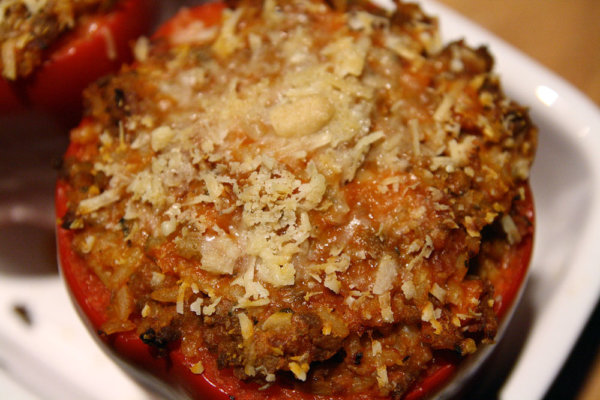 | | |
| --- | --- |
| | |
Preheat oven to 375 degrees F (190 degrees C).

In a saucepan bring water to a boil. Add rice and stir. Reduce heat, cover, and simmer for 20 minutes, or until tender and fluffy; set aside.

Heat 1 tablespoon of oil in a large skillet over medium high heat. Cook and stir carrots and celery until tender. Add ground beef and pancetta, and cook until browned and crumbled; drain off any excess liquid, and return to heat. Add marinara sauce, wine, and red pepper flakes, and simmer for 10 minutes. Stir in cream, half of the Parmesan cheese, and rice. Simmer 5 minutes more, or until most liquid has absorbed.

Place peppers in a shallow baking dish, sprinkle Parmesan cheese inside and fill with beef mixture. Drizzle with remaining olive oil and top with remaining Parmesan cheese.

Bake, uncovered, for 30 minutes in the preheated oven. Serve hot.
Freezer Advice You can easily make the primary part of this filling (minus the rice and cheese) and freeze it for another time. Usually we end up eating this for two back-to-back dinners because we love it so much. But when I do manage to box some of it up, it makes a super quick weeknight meal. You might also want to leave out the cream for freezing, but since it's so well absorbed in the end, it doesn't make much difference if you add it in. Low Carb Version If you like, you can substitute the rice for chopped cauliflower (a.k.a. "cauliflower rice.") There's no need to cook it beforehand, because it will cook during the time in the oven. I actually almost prefer to make it this way, because it stays a bit moister.
1