Words can barely express how much we love these ribs.
No seriously. We make them about once every two weeks.
Ok, I won't lie. Sometimes every week.
They are deliriously good. And I mean really delirious because that is how you will feel when you finally get to sit down and feast on them after they've been cooking in your oven for a few hours!!
How good are they? My German father-in-law who HATES to eat things with his hands and does not like foods that are messy devours them. He digs right into them and sucks the bone clean.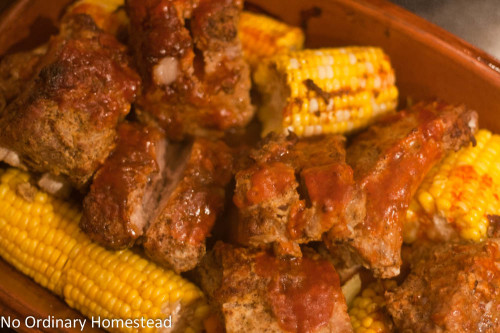 And the best news is that this recipe for barbecue ribs in the oven could not be any easier. It's one of those awesome set it and forget recipes — which is why I love my Romertopf oh so much. If you're not familiar with them, they are terracotta pots for your oven.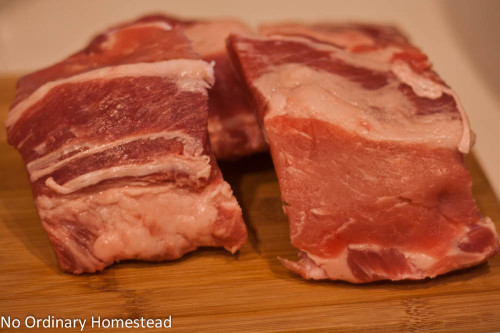 This is the kind of recipe that you get busy making and eating. And somehow, it just makes it taste that much better. So when you make this, call in an extra pair of hands or two. I usually prep all the veggies while Stefan and Mackenzie prep the ribs.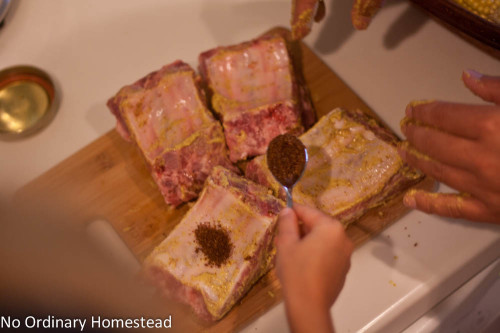 During the cooking process, you'll want to add some BBQ sauce. But you can also add some at the beginning to make them extra moist and tasty!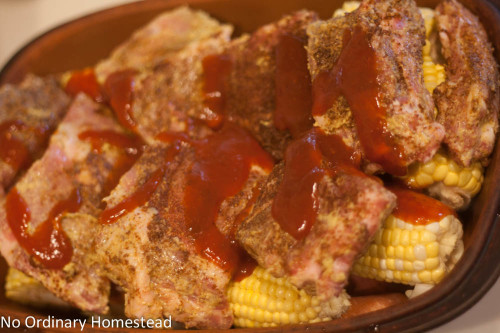 One of my absolute favorite parts about making these barbecue ribs in the oven, are the LEFTOVERS!
I know some people are not fans of leftovers, but the wraps we make with the potatoes, carrots, ribs and a bit of lettuce and the sauce below…SO GOOD. In fact, they are inspired by the wraps we used to get at the Wittenbergplatz market in Berlin from the Carnivore food trailer.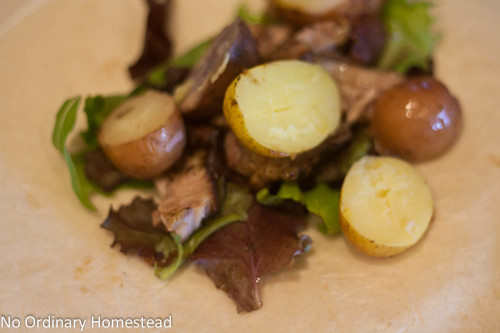 We use this Thai Sweet Red Chili sauce because I haven't yet figured out how to make my own without high fructose corn syrup. But it tastes yummy and they all have it so it's just the way it is.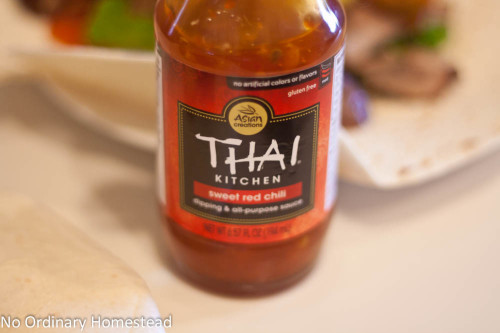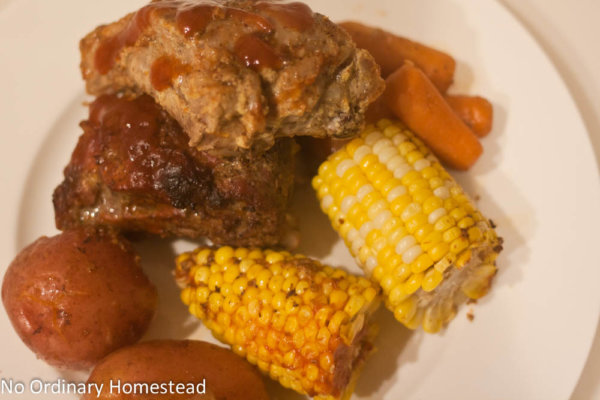 | | |
| --- | --- |
| | |
Place onions, corn and carrots in bottom of Römertopf or terracotta baker. Add salt and fresh ground pepper to taste and beer.

Remove fatty membrane on back of ribs. Coat ribs with mustard and then sprinkle with rib rub, coating generously. Add ribs to Romertopf. Cover.

Place Römertopf in oven and heat to 400°F. Cook covered for 2-3 hours. Check after 1 1/2 hours and add BBQ sauce. Cook until ribs are no longer pink inside.

For leftovers: Strip meat from bones. Slice potatoes into bite-size pieces. Heat in microwave or pan. Warm tortilla. Place meat, potatoes, carrots, onions and salad into tortilla. Top with a bit of spicy Thais sauce.