In an effort to be a little bit more self-sufficient, I've decided to stop buying candy bars at the grocery store. They are expensive and we consume far too many of them. They're terrible for us and we could be eating lots of other really good stuff that we've made ourselves instead. It may not necessarily be healthier but it will be cheaper…and made with love. 😉
The first word out of Stefan's mouth when I said I was going to start baking was: "Cookies." Chocolate chip to be precise.
After eating about a half dozen of them myself, I can say they are incredibly delicious. When they're warm, I think they taste just like the cookies I used to get at the cookie company in the mall growing up. You know, the place that made those huge cookie cakes? American Cookie Company or something like that. I would go and get a cookie and a cold cup of milk. SO good.
When I tried the batter, I thought it might be a bit too salty. But when the cookies are baked, they have the perfect mixture of salty and sweet. I baked 21 in this batch and decided to freeze the rest. I didn't want us to be FORCED to eat them before they went bad. It seemed like about half the dough and I wrapped it a few times in plastic foil. I don't think it will be in the freezer long though. 🙂 I think there's at least another 20 in there. I made some of the cookies really big so I think you could easily get 48 cookies from it.
The cookies stay nice and moist for a couple days in a Tupperware box. I leave the box in the kitchen and only take out a couple cookies for us at a time. That way, we have to walk all the way from the living room to get more and they last a bit longer. I could seriously make myself sick eating these cookies. They're just too good.
But don't take my word for it…go bake some yourself. Or share your favorite cookie recipe. Anyone have a good chocolate chocolate chip recipe for me??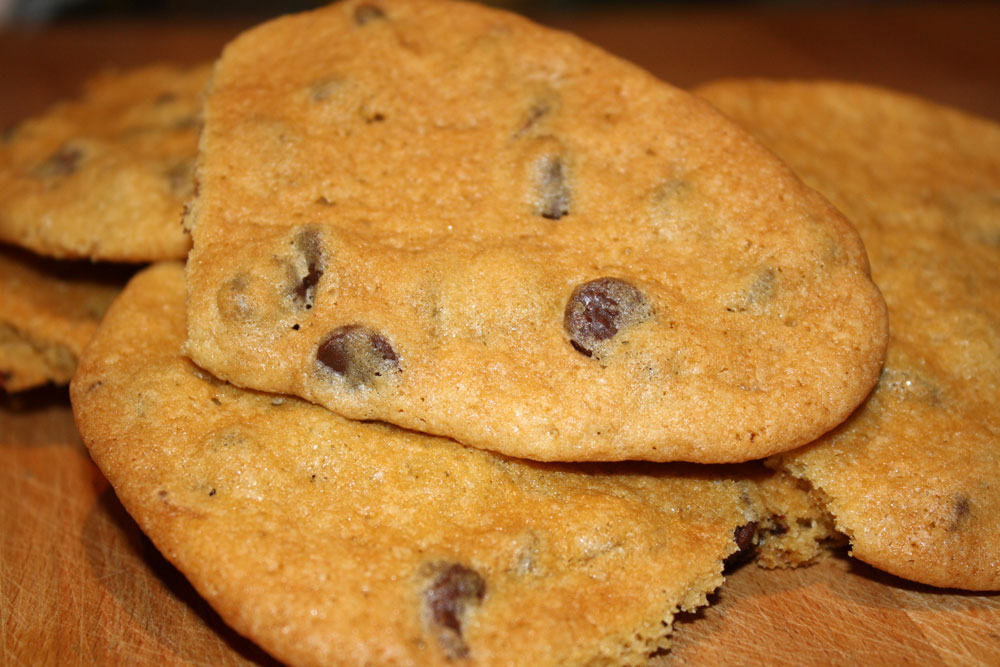 Preheat oven to 350 degrees F (185 degrees C). Grease cookie sheets.

In a large bowl, cream together the butter flavored shortening, brown sugar and white sugar until light and fluffy. Add the eggs one at a time, beating well with each addition, then stir in the vanilla.

Combine the flour, baking soda and salt in a medium sized bowl. Gradually stir the flour mixture into the creamed mixture. Finally, fold in the chocolate chips.

Drop by rounded spoonfuls onto the prepared cookie sheets. Space generously because they do expand quite a bit.

Bake for 8 to 10 minutes in the preheated oven, until light brown. Allow cookies to cool on baking sheet for 5 minutes before removing to a wire rack to cool completely.
0