Did you know that World Book Day is just around the corner? Lara Anderson has put together a fun post which will let your kids get involved in a very hands on way. Lara is an accomplished and experienced Australian freelance writer who has featured in a number of high profile publications. Follow her here: @LaraCAnderson
---
World Book Day has become one of the fun events in the global calendar. Celebrated for the first time in 1995, it's marked on the first Thursday in March in the UK, and worldwide on April 23. It's a great excuse for your kids to express their imaginations with their friends, whether they're getting involved in school fancy dress parties, or simply love imitating their favourite fictional characters at home.
Stuck for inspiration? Fear not. You don't have to create a costume from scratch if time is short. A quick look on eBay will show that you can pick up whole costumes or finishing touches to bring your little ones' favourite characters to life.
Here are five ideas for simple costumes that are sure to be a hit with your brood and their friends.
Horrible Histories
From the Romans to the Victorians, chimney sweeps to soldiers, Terry Deary's vivid stories have made Britain's history grisly, thrilling and hilarious reading for children. Pick up any of his books and you'll discover a cast of unforgettable characters, nearly every one of which is a great starting point for a costume.
Will your child become a knight for the day? A big, scary Viking? Or maybe even King Henry VIII himself?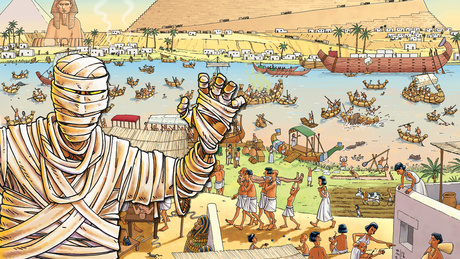 Harry Potter
Instantly recognisable and almost universally popular, J.K. Rowling's Harry Potter stories are packed full of heroes and villains. What's more, transforming your muggle into a student at Hogwarts School of Witchcraft and Wizardry only takes a shirt, tie and a Gryffindor cape.
For Harry Potter himself, a pair of round glasses, a plastic wand and a small zigzag flash on the forehead completes the effect.
The Gruffalo
Half grizzly bear, half buffalo, Julia Donaldson's The Gruffalo is the much-loved tale of a wily mouse's walk in the woods. You can buy a gruffalo costume in full, often as a onesie complete with head, mitts and feet, or you could easily design one from scratch.
All you need is a thick brown woolly jumper, brown leggings or trousers, some brown face paint and card to fashion the gruffalo's bulging goggle-eyes and great big teeth.
The Hobbit
The timeless adventure from J.R.R. Tolkien is now even more prevalent thanks to director Peter Jackson's smash-hit movies. There are many full costumes to choose from, or you could cut a pair of old trousers at three-quarter length and find an old waistcoat.
Extra hairy feet would help, too.
And some all-time classics…
Why stop there? Pick a children's classic and there is more than likely to be a ready-made costume available for it. The titular heroine from Alice's Adventures in Wonderland, Dorothy from the Wizard of Oz, street orphan Oliver Twist, magical chocolate manufacturer Willy Wonka… Take a quick look through the books on your child's reading shelf and you'll have the basis for a memorable costume
This year's event is the 17th World Book Day, and in the UK it's the largest celebration of books annually. It's even been designated as a worldwide event by UNESCO and festivities occur in more than 100 countries globally.
For more information on World Book Day 2014, check out www.worldbookday.com
0