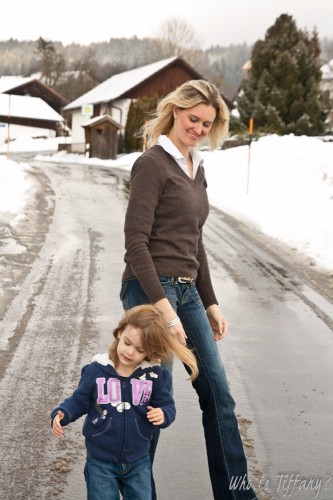 No Ordinary Homestead is published by me, Tiffany Muehlbauer (you can contact me here.) I am a passionate woman in my early-30's who enjoys being a mom, wife and entrepreneur. About 14 years ago, I began fulfilling my dreams of becoming a successful business owner with my husband. We have always been the types to put multiple pots on the fire at once, and still continue those ideas today.
In 2008, I became a full-time mom in addition to running our full-time businesses. It quickly became apparent that I could not just keep up my old routine. I was getting nothing done and feeling guilty for not being with my daughter enough and for not getting enough work done. I knew I would need to find a way to balance family, business and home in a natural and healthy way…and once I achieved that, I knew I just had to share it with you.
I was born and mostly raised around Houston, Texas; spent my high school years in Northern Virginia and met my husband while studying at the University of Miami (Go Canes!!) After graduation in 2001, we hopped the "pond" to try out life in Germany…for what we thought would be only 2-3 years. After 12 years abroad, we made our way back to the US and have settled in Southwest Florida where we are loving life.
NOH, started in 2006, began as a way for us to let our friends in family around the world keep up with all that we were doing. In the beginning, it was actually 4 blogs that I was writing to detail various aspects of our lives. It innocently began with the addition of a Newfoundland dog to our home, and shortly thereafter, we bought our 1830's farmhouse near Frankfurt. In mid-2012, just 6 years later, we decided to make a major change in our lives and moved to the middle of Berlin into an apartment which we adore. And in late 2013, we completed the circle and moved back to Naples, Florida.
My husband and I have been running businesses together almost since the day we met in March 2000.  In 2001, we started a  natural bath & body care company because all of our friends were spreading the news about the products we'd made for them on the side, and we knew it was time to get professional. In mid-2010, we began our digital marketing business, and in 2011, we decided to form arma communications so we could reach out to other small- and medium-sized businesses like our own who needed guidance in order to achieve their dreams and goals.
Connect with me online
Awards, Memberships & Recognition