When you've got tons of peaches and tomatoes…and nearly as many apples to match, this fruit ketchup is a pretty good way to get rid of them fast. It tastes a lot like a sweet and sour sauce, and tastes fantastic on chicken nuggets or chicken burgers…or even french fries.
This recipe is a bit time consuming because you need to press the pulp through a sieve and cook the ketchup down. But it's totally worth it. And you'll end up with a bunch of pulp when you're done that is still quite moist but doesn't have enough juice left to contribute to the ketchup. I decided to use that in batches of meaty spaghetti sauce and chili which turned out really nicely. The flavor was very noticeable in the meat sauce, possibly because I threw it in with the beginning and fried it a bit. But in the chili, it's just a bit of fruit/veggie filler with no change in the flavor at all. You can also use any juice/pulp that you end up leftover with into sauces since you're supposed to use only 5 cups when creating the rest of the recipe.
This recipe is out of my Ball Complete Book of Home Preserving which is a great source of canning knowledge for both experienced and unexperienced canners. Not only does it include all the basics like canning straight fruit and veggies, but also tons of salsas, relishes, chutneys, condiments, pickles, jams and more.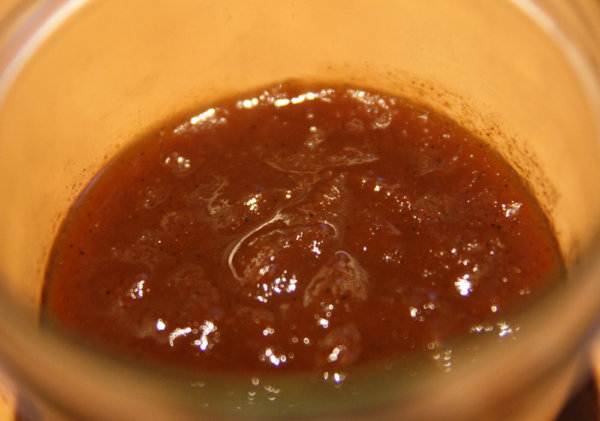 | | |
| --- | --- |
| | |
To peel tomatoes and peaches, place them in boiling water for 30-60 seconds or until the skins start to crack. Immediately dip in ice cold water. The skins should slip off easily.

In a large stainless steel saucepan, combine tomatoes, peaches and apples. Over low heat, using a large spoon or potato masher, mash the fruit until juices flow. Add onion and garlic. Increase heat to medium-high and bring to a boil, stirring frequently. Reduce heat, cover and boil gently until fruit is heated through and onions are transparent, about 10 minutes.

Working in batches, transfer mixture to a sieve placed over a glass or stainless steel bowl and press with the back of a spoon to extract all the liquid and pulp. (You can also do this in a food mill.) Measure out 5 cups and discard solids (or use them in meat sauces like I did). Use overage of liquid/pulp in spaghetti sauce or tomato-based soups.

Return liquid and pulp to a saucepan. Add honey, vinegar, mustard, salt, pepper, allspice and cayenne. Bring to a boil over high heat, stirring occasionally. Reduce heat and boil gently, stirring occasionally, until mixture is almost the consistency of commercial ketchup, about 45 minutes.

Meanwhile, prepare canner, jars and lids.

Ladle hot ketchup into hot jars, leaving 1/2 inch (1 cm) headspace. Remove air bubbles and adjust headspace, if necessary by adding more hot ketchup. Wipe rim. Secure lid.

Place jars in canner, ensuring they are completely covered with water. Bring to a boil and process for 15 minutes. Remove canner lid. Wait 5 minutes, then remove jars, cool and store.
0