Not too long ago, you had a chance to check out a new book with me called The Weekend Homesteader by Anna Hess. And today, I'm back with not only a great interview from the author, who is going to share some of her homesteading tips with us…but at the end of this post, you get a chance to win your own copy of the book! So scroll on down and leave a comment!!
Hi Anna. Thanks so much for joining us today. I'm always curious to know what brought people to the place they are today. How did you start out on your homesteading mission?
My parents were back-to-the-landers, so I spent my early childhood on a farm and fell in love with the concept.  Unfortunately, their dream didn't work out and they moved us to town, at which point I vowed I'd have my own farm someday. After college, I made that dream a reality by buying the cheapest chunk of land I could find.  It took a couple of years and the acquisition of a husband before we were able to move onto that ugly duckling property, then several more years of hard work before things are (starting) to feel like we live on a homestead, not in Sleeping Beauty's thorn-covered palace.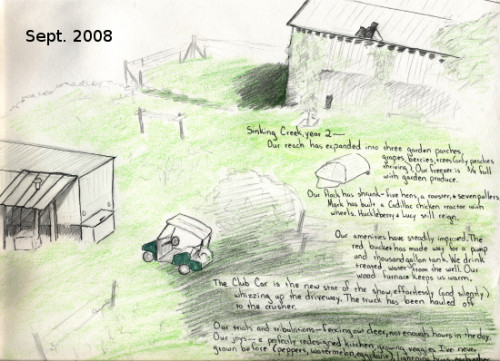 It seems like you've already experienced many of the ups and downs of homesteading in the last 6 years. What about homesteading calls to you and makes you want to live a self-sufficient lifestyle?
There's so much I enjoy about homesteading that it's hard to sum it up in a short answer.  I've always been in love with nature, so having baby turtles show up in my yard and hermit thrushes come to visit for the winter is paradise.  I take a hedonistic delight in our homegrown produce, which is so much better than anything you can buy in the store.  Not having to answer to a boss is definitely a pro, and so is not having any neighbors within sight or hearing distance.  Finally, I like the idea of being responsible for my own livelihood, so I can choose environmentally-friendly techniques that help the earth.
What does a typical day look like for you & how do you keep yourself going?
I start my chores at 8:30 in the morning, giving our farm dog a training walk, feeding our chickens, and rotating their pastures.  Then, around 9, my husband and I head out into the garden to do whatever needs doing — weeding, mowing, harvesting, and so forth.  We take a lunch break from 12 to 1, then work on inside chores (writing, building our chicken waterers, or otherwise keeping our home business on track) until 4.  At 4, we each make a blog post about our day, I cook supper while my husband does the evening version of my morning chores, and then we relax.
I'm a type A person, so staying motivating isn't the problem; trying not to do it all at once is.  I keep extensive lists — yearly goals, monthly goals, weekly goals — to keep us on track, and my husband makes weekends and evenings a mandatory down-time to keep us both sane.
What are the current projects you are working on at Walden Effect?
At this time of year, it's all about the garden.  Last week was our frost-free date, so I put out a lot of tender vegetables and thinned the fruit trees while my husband hauled in a lot of horse manure from a neighbor's farm.  In bits and pieces, we also pay attention to our chickens (currently three flocks — layers and two ages of broilers), honeybees, and compost worms.  We save new projects for the winter when things slow down a bit.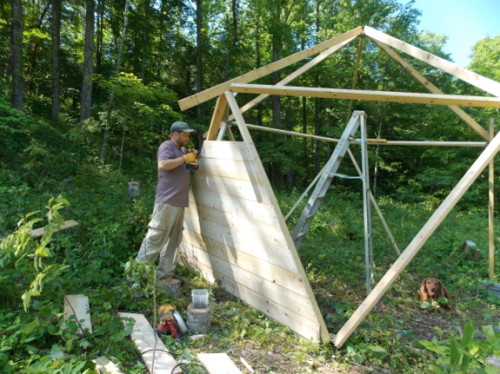 We're all looking for inspiration and ideas to keep things moving. What are a few of your favorite homesteading blogs?
My favorite blogs are constantly changing.  At the moment, they include:
Sugar Mountain Farm Blog  — I love reading about pastured pigs since we don't have any livestock bigger than chickens, and the great photos are an added bonus.
Throwback at Trapper Creek — Here's where I get my pastured cow fix.  I also enjoy the fact that this blogger and I share a similar take on many homesteading issues.  And, of course, her photos are top notch.
Holy Scrap Hot Spring — These two homesteaders blog as a couple just like my husband and I do, and they remind me of us in other ways too.  And did I mention the pretty pictures? 🙂
You seem to have come to peace with your surroundings and homestead in the last year or two. What advice do you give to those starting out with their homestead?
Begin with a few small projects that you know you'll have time to complete.  There's nothing worse than planting a huge garden, then having the weeds take over so you don't harvest a single tomato.  Similarly, two well-cared-for chickens will make you much happier than a large flock who have scratched their run bare, and larger livestock are better saved for a later year.  My book, The Weekend Homesteader, is all about these small projects that I wished I'd focused on in our early years…rather than bringing home a pair of "working" mules.
I have a bad tendency to try to do everything at once, then melt down when the work load becomes too intense.  Luckily, my husband backs me up every step of the way, and he's very good about bringing me down to planet earth when I want to jump ahead and add dairy goats without any pasture, for example.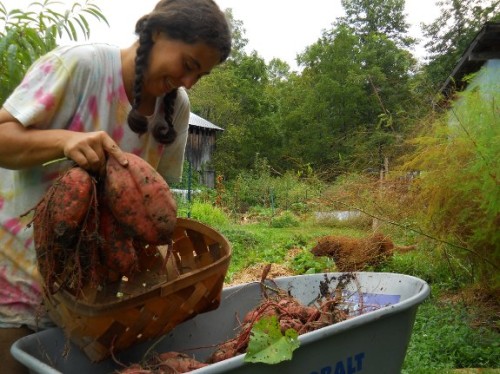 Is there something you wish you'd known when you started?
Rather than concrete facts, I wish I'd had a bit more peace of mind during our early years on the farm.  It's taken me a while to learn that every failure is an opportunity to learn and grow, and that if we keep plugging away through setbacks, we'll reach our goals eventually.  You will too!
The Giveaway (US & Canada only)
Here it is — time for you you to win your very own copy of The Weekend Homestead by Anna Hess, which will help you get the foundation of your homestead (large or small) laid so that you'll be more prepared for whatever lays ahead. This book isn't only for homesteaders — but for anyone who has ever dreamed of having their own garden, wants to preserve and can food, would like to learn to save seeds or just wants to become a little more self-sufficient without jumping off a cliff into a farmers abyss.
How to Enter
Leave one comment below answering the following:
What one thing do you want to accomplish this year in your home or garden?
Winner Selection
The giveaway will end on Wednesday, June 5th at midnight EST.
One winner will be chosen randomly via And the Winner Is… (a WordPress plugin). Winners will be contacted via email and have 48 hours to respond. If no response is received, another winner will be drawn.
Disclaimer: I received a free copy of The Weekend Homesteader by Anna Hess for review but was in no way paid for this giveaway or to express my opinion. The thoughts are my own and have in no way been influenced by outside parties.