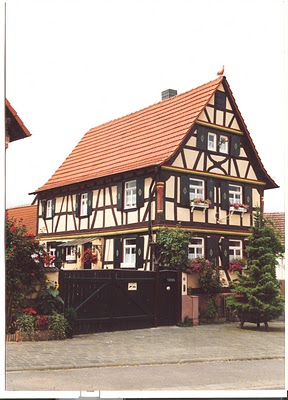 With our house on the market for a little over a month now, we have learned some really eye-opening things. Since this is the first home we've ever owned, and therefore the first time we've sold a house, everything is new for us. And the fact that it's here in Germany, where there's apparently differences in every state of the country, is even more unnerving. Thankfully, we've already learned a lot — and not suffered much in the process (well, a little bit emotionally but we've recovered). So I thought I'd share a bit about what we've learned so far, as well as a few things that most of us probably already know but often forget when it comes time to sell your home.
1. Go with a real estate agent to save headache. My mom was a Realtor while I was growing up and is still very involved in real estate, so I probably should have known better than to think we should sell our home ourselves. But the fact of the matter is that many real estate agents in Germany are a bit on the lethargic side and they do very little to earn their money. So before we let someone come in here that was going to be useless, we wanted to see if we could get the job done quickly ourselves first.
2. Double check your home data before you submit anything. We put our for sale listing online on a whim, just to see what kind of nibbles we got. Unfortunately we guesstimated our square footage and noted the wrong property size — two things which could really have bitten us in the butt with a serious buyer. If you have to, measure out your rooms and calculate how much space you have. And Google Earth is pretty useful for calculating the size of your property. But it's always better to double check versus being proven wrong later — and paying a price for it.
3. There is no escrow in Hessen. It's not even allowed. Now this is something that could possibly have eliminated a bit of hassle for us…by asking for a down payment and getting a show of good faith that the buyers were serious. But as it turned out, we wouldn't have been permitted to do so here anyway. So always make sure you know what the laws are about selling your home in your current market and don't base it on what was true for you somewhere else.
4. Make sure they have the money lined up. It can be hard to prove that someone has all their financial data in place before you go to sign everything, but usually a good real estate agent will help make sure this is the case.
5. Anticipate a longer wait for the payout than you thought. For us, it's probably going to be at least 6-8 weeks for a payout after the paperwork is signed. It's not fun but it's important to know just when you will be able to settle your debts on your mortgage and take that world cruise. Or not… Very rarely do you just get a stack of cash in your hand to seal the deal — but that sure would be a nice way to go about it! 😉
6. Don't just stop with your plans to clean stuff out, sell stuff, etc, even if you think you have a firm contract (unless those things are mentioned in the contract). We "inherited" a lot of stuff with this farm and had been putting off a major decluttering effort for a good while. This was something we knew we'd probably have to do anyway (since few people are as crazy as we are to buy a barn and attic full of all furniture) but we did kinda hope it might happen. So we wasted some time when we thought we'd sold the place and should have just kept up our efforts. The fact of the matter is, we don't want to move all this extra baggage with us either and there was still plenty to dive through in our house itself. So just getting it done and having it off our to do list has been wonderful. Plus we can save money by not moving stuff we don't care about and forgot we had yet again. And if your home has less "stuff" in it, it usually appears a whole lot bigger too!
7. Take down anything personal (photos, expensive art, etc) and pack it away. For starters, it's usually easier for someone to visualize themselves in your home without pictures of you everywhere. And secondly, you don't want nosy folks who may also be up to something mischievous to "case" your house and rip you off.
8. Fix up as much small stuff as you can from the get go. If you have some little finishing touches to do around the house that somehow just never got finished in the past, just get it done already. For us, we have a few cosmetic things around here like doing some painting and there were the shutters to build for the guest house. They were simple and quick things that should have been done already, but we always put off for another day. And they're things that get noticed easily and others may try to use to get the price down, but really shouldn't decrease from the value of the house. Plus you want the place to look like you're taking good care of it — not letting it fall down around you.
9. Bring up your curb appeal. This sort of goes hand in hand with #8, but also think about what your house looks like from the street. Do you have hedges or trees that need to be trimmed, that are maybe hiding your cute house? Could you plant a few inexpensive flowers in the yard or planters to make things look more colorful and habitable? Try to think about what you would think and see if you came across your house for the first time. The last thing you want to do is send a potential buyer packing when they first pull in the driveway.
10. Get a professional analysis of what your home is actually worth before setting your final price. A good Realtor should be able to quickly put together a comparative price analysis for you, based on what other homes are currently on the market and have recently sold in your immediate area. You can also do a bit of digging yourself on local real estate listing sites, like Realtor.com or Immoscout24.de here in Germany. Don't forget to contact your bank to see how much is actually owed on your house and find about about any extra fees you might have to pay for any early payout. We're not talking about equity release information here, but an actual payoff sum so you know if you're going to be free and clear afterwards or still have debt to get rid of.
Have you put a house on the market before? What are your best tips for selling a home? Do you have any horror stories to share?
2