In case you don't know by now, we went to Florida for two weeks over Christmas — and 4 of those days were spent in Orlando. We decided to visit SeaWorld and had the absolute best time. We really couldn't have asked for a better vacation — and to think we almost wasted it on an intimate getaway for just Stefan and myself to celebrate our 10-year wedding anniversary. Not that celebrating that way would have been lame or unappreciated — but being able to go to SeaWorld with Mackenzie and spend that quality time as a family was priceless. Not to mention we all just had an absolute blast and can't wait to go back.
So what really rocks about SeaWorld?
1. Unbeatable prices on vacation packages
We got an incredible deal for our hotel and 2 days of SeaWorld plus one day of the All Day Dining at just over $500. If we had decided to go to Animal Kingdom or anywhere else Disney for just one day, we would have paid $275. Even if we'd bought the tickets for SeaWorld outright, we wouldn't have come close to $275. I know Disney is the greatest, but really? Those kinds of prices are just unwarrented. The only way we're going to where the magic happens is if we stay for an extended period of time since the tickets become cheaper then — and if Mack is much older so she can enjoy the rest of the elements of the parks. And if you're worried about what might happen while you're out and about, worldwide travel insurance is a great thing to help you stay protected wherever you go.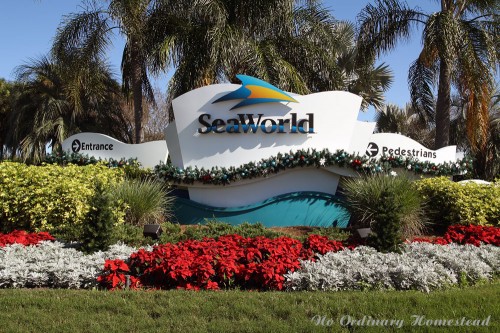 2. All Day Dining
One of the days we were at the park, we had free All Day Dining passes. I have to say that this is seriously one of the coolest ideas these parks have yet to come up with. Basically you buy the dining pass and get an armband. If your kiddo doesn't want to wear it, no worries — you can wear it for them. With that pass, you can go through the dining line as many times as you want during the day for food and drinks, breakfast, lunch or dinner. Each time you go through you can pick up one appetizer, one main dish and one side or dessert. Bottled water and soft drinks are included — not alcoholic beverages.
But if you're thinking that you wouldn't possible want to feast on burgers, nuggets and hot dogs all day, have no fear. Of the 6 restaurants that are part of the program, you can have your choice of salads, wraps, pizza, pasta, burgers and more. And the food is GOOD. I mean like really good. Especially the death by chocolate 8 layer cake we happened across one day. I would like to see a few more options for the kids like an optional salad (since mine isn't a huge fan of hot dogs and chicken nuggets), but otherwise we were totally happy with the program. In fact, we liked it so much that we bought it the second day we were there as well.
3. The Quick Ticket Stands are GENIUS!
We booked this vacation online, so we not only got an awesome deal, but we also didn't have to wait in any ticket lines. Before you go, you are emailed your e-tickets which you print out. Once you arrive at the park, you scan one of your tickets (if you bought multiples at the same time, you can redeem them all at once automatically), it verifies you and you get a little printed ticket. Then you're good to go.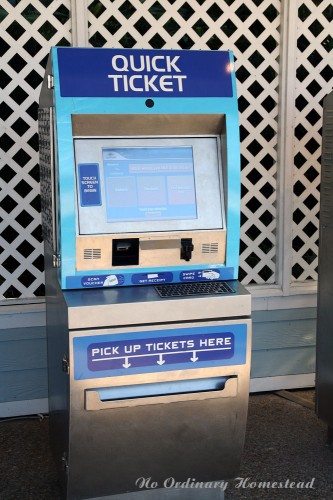 4. Reasonable prices in the park
Most of the time when you go to an amusement park, big or small, you can be sure that you're going to get ripped off. But we didn't feel that way at all in SeaWorld. Stuffed animals, food, souvenirs, etc were all comparable to what you'd pay in a regular mall. In fact, we saw some stuff they were selling at SeaWorld at another shop in Naples (some fish statues) and they were actually more expensive in Naples. That's definitely never happened to us before.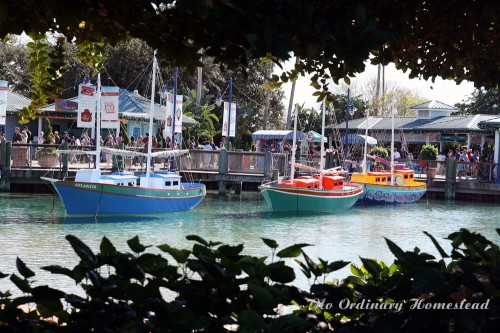 5. Super friendly staff & very knowledgeable
It seemed that everywhere we looked there were staff members around cleaning things up or just waiting for your questions. In most of the aquariums, you could ask questions about the fish and animals you were seeing. And one of the exhibits that Stefan remembered was missing — so when we asked about it, the employee quickly responded that he not only knew what we meant but that it would be open again in a few weeks. In Germany, the answer would have been short and sweet: "It's not here."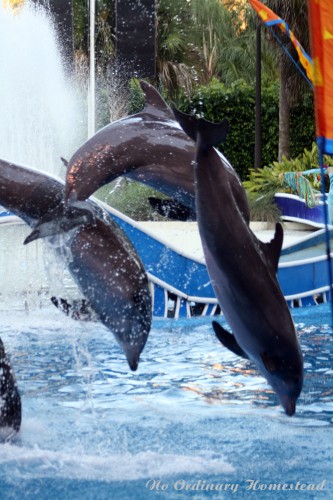 6. Tons to see and do for a toddler / pre-schooler
One of the reasons we ended up going for SeaWorld instead of another amusement park is because most of the information we read online said that SeaWorld was a much better fit for toddlers and preschool-age kids…and I couldn't agree more. Mackenzie absolutely loved the shows and the sting ray tank where you can pet the rays was a HUGE hit. We almost couldn't get her to leave there. A lot of amusement parks only focus on the rides, but SeaWorld is more about the shows as well, which made it just perfect for us.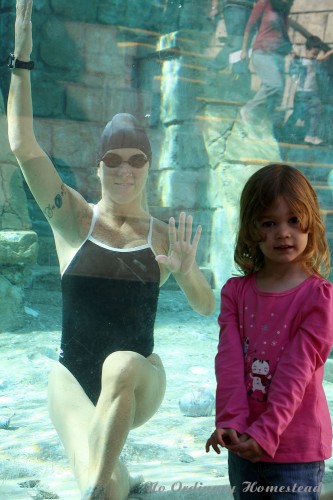 7. The animals rock
After seeing the shows and the animals, we wanted an aquarium at home more than ever. A BIG one. But I don't think we'll be bringing home our own Shamu any time soon. The animals, fish and mammals at SeaWorld were just incredible. It's amazing what animals can be trained to do with just the flick of a hand…and bit of fish. The sea lions were some of our favorites…probably because they were silly and goofy just like our Newfie.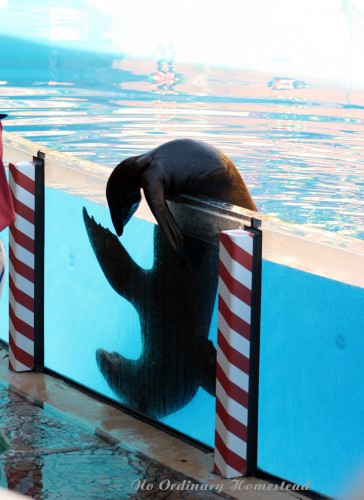 8. The park is easy to get around
Our second day at the park, we felt a bit like we'd been going there for years. The first day took a bit of navigating. But after we'd gotten the lay of the land, we were able to move around the park and hit every show we wanted without any trouble. Two days is probably the perfect amount of time to spend at SeaWorld at once — because there is virtually no way to hit all the shows plus check out the exhibits in one.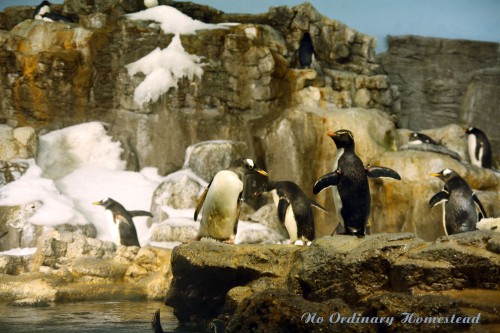 9.  The shows were totally awesome
I was pretty amazed by the variety of shows they had at SeaWorld, from huge dancing puppets (oh my word did Mackenzie love this) to dogs and cats rescued from local animal shelters to dolphins and whales. There was so much to see and do. And even Santa was there. One of the most impressive shows was Blue Horizons (we saw it both days) which involves a bunch of dolphins, big birds, some incredible costumes and impressive aerobatics. Seriously fantastic.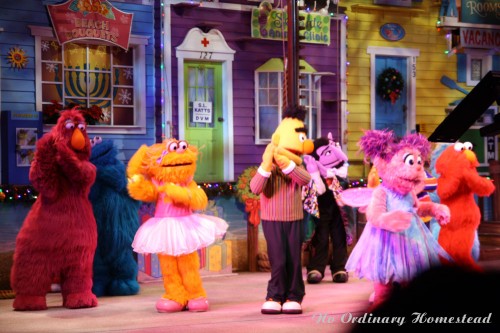 10. SeaWorld at Christmas is magical
When I was about 5, we went to Disney. It was just incredible with the parades and decorations. But SeaWorld is no less magical. Ok, they don't have a parade. But the whole place is decorated really nicely and we gained so many ideas for our own decorations for years to come!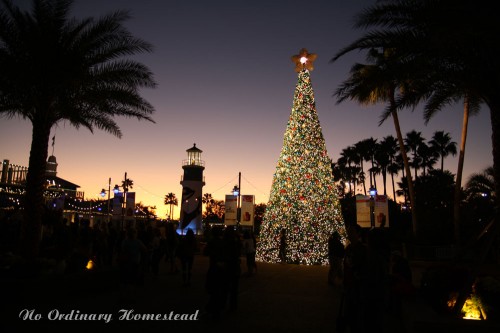 Have you been to SeaWorld? What was your favorite part? Or what would you really love to experience there?
0