Do you ever wish you could have more of a connection between your indoor and outdoor lives? Thanks to new home decor and design developments, it's easier than ever to bring the two lives closer together and a few options are discussed below.
---
Once upon a time, English homes were very formal and highly-structured places. This formality meant that often people did not feel able to relax, even in the comfort of their own rooms. In the modern era, however, people are becoming much keener to relax and express themselves throughout their homes. An approach to home design that is gaining great popularity amongst people of all backgrounds is to try and incorporate a little bit of nature into their day-to-day lives.
One of the most noticeable examples of this is the inclusion of conservatories on many newly built homes; however there are some more interesting ways to include, and encourage, nature into your living-space. There is an added advantage that you can escape the white plastic look which spoils some of the older conservatory buildings.
Freshen up your home with bifold doors…
Bifold doors are a good example of how 'inside' and 'outside' do not need to be separate concepts within your property. These doors can be made of premium selected slow-grown hardwood and oak, giving that natural look to your home while maintaining an air of quality, yet can also be available with an aluminum cladding on the outside for that sleek, modern look. When the weather is nice, the doors open much more than traditional doors do, enhancing the way that the natural climate enters your home – bringing with it the healthy, fresh and invigorating feeling that only fresh air can give you.
The large transparent glass design also has another benefit, allowing you to admire and watch over your garden from the comfort of your own living room. The bifold door truly comes into its own when you are entertaining. The ease of moving from the often cramped interior of a busy party-house into a well-looked after, calm and beautiful garden is an experience your friends are likely to remember. One of the nicest features of bifold doors is the fact that they come in a huge range of styles and sizes so can be fully tailored to suit the home in which they are to be fitted. Those contemplating fitting bifold doors can now choose from a wide range of stylish options including sliding, folding and split doors to suit a wide range of tastes as well as budgets – take a look at this piece for further insight..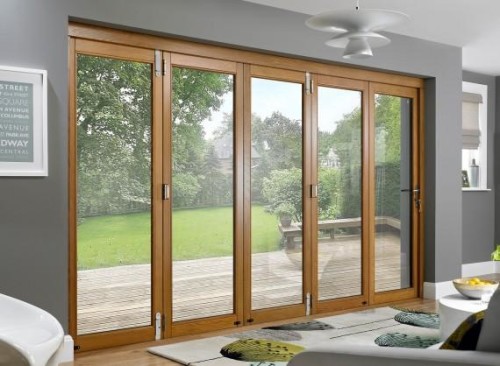 Image ©Vufold
Inspire yourself with a garden office…
Another increasingly popular option is the garden office building. These are, in essence, a wholly individualised internal, custom-built environment manufactured to meet your own business needs but sited in the midst of your own garden. Garden office buildings can be converted to meet almost any type of requirement. The outer shell of the building can be made to blend in perfectly with your own garden, many people choose to make their garden offices look something akin to a small countryside cottage.
In fact, there are some weird and wonderful examples of the type of buildings people have requested, many of which are available to view online. Alternatives these buildings have been created for have been things like playrooms, external spare rooms or even recording studios, which are made using extremely well-insulated glass and materials. They tend to be connected to basic utilities (electricity, etc) in order to allow the owner to access their computers and other equipment.
The real strength of the garden office is that it allows you to work while being surrounded by the natural world; on a nice day you can simply open the door and let the sound of the birds and the warmth of a summer breeze relax and inspire you and your work. A garden office remains a different yet pleasant place in which to work.
Image ©Matt's Homes
A more traditional approach…
Although there are many new and alternative ways of combining the outside and inside world, it is worth mentioning one of the best methods is a very traditional approach. The marquee has recently made something of a comeback. A marquee can be better than some of the more modern designs because these are removable structures giving you the ability to be able to enjoy your garden to the full when it is not in use.
The marquee can be a truly magical space, the way they allow the owner stand on fresh grass with a roof over their heads may sound simplistic, however, it means that they really do blur the line between the outside and inside world like no other structure does. This magical effect has led to the current fashion for marquee weddings, concerts and family parties. In fact, when you are under a marquee, you feel in the heart of nature. On warm summer days you can be both totally aware of the temperature conditions outside and yet completely protected from any sudden rainfall.
Perhaps the best feature is the size, it can allow you to feel totally free – there are plenty of instances of people dancing or doing yoga in the private and protective atmosphere of their own marquee. An interesting evolution is the many wonderful smaller marquees, which can easily fit into the standard garden while simultaneously retaining their inherent charm.
Image – Flickr ©Zimpenfish
These are just a few suggestions to allow the nature of your garden into your home and extend your home into your garden. If you have any other suggestions, please feel free to let me know in the comments section below.
Written by Emma-Jane Swaffield, Mum to two and keen DIY enthusiast who still finds time to write the odd article before "The Next Big Project" at home.
Feel free to visit my disclosure page if you have questions about this post or any other posts on NOH.
0