Germany is not the most ideal place to grow many of the fruits and vegetables we love to eat and have grown used to while living in places like Miami. So finding a way to extend the growing season is essential if you want to get beyond the typical backyard veggie garden and include some "exotics" like chilies.
So off we went on a wild Internet search trying to find THE perfect greenhouse for us. WOW there are a lot of different styles of greenhouses out there, ranging from the ultra low budget to extravagant English manor style garden houses.

There are actually quite a few sites on the Internet which have plans for building your own greenhouse, an option that appeals to us since we will pretty much need to customize it to be exactly what flows with the style of our barn. One pretty good website to learn all about greenhouses and materials, sizing, locations etc. is from the University of West Virginia – you can read it here
Ultimately what we want is a lean-to type greenhouse which leans directly against the back wall of the barn. But this design below is also very, very nice and would make a perfect addition to our backyard…who knows, perhaps the plans can be modified. The greenhouse below is made by The Sun Country Green House Company – they offer the plans for sale, as well as kits to save yourself a lot of hassle.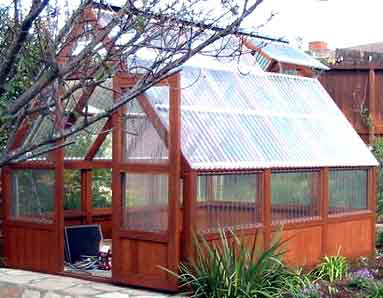 Anyways, we will see where we end up. As always it seems the to-do list is getting longer and the borders between "want" and "need" is getting a bit blurrier, but thankfully there really is no rush on these things. For now, it's just fun making the most of the farm and really feeling like this is home